Retail Briefing: DTC brands embrace the online waitlist
August 22, 2018 • 6 min read
• By
Digiday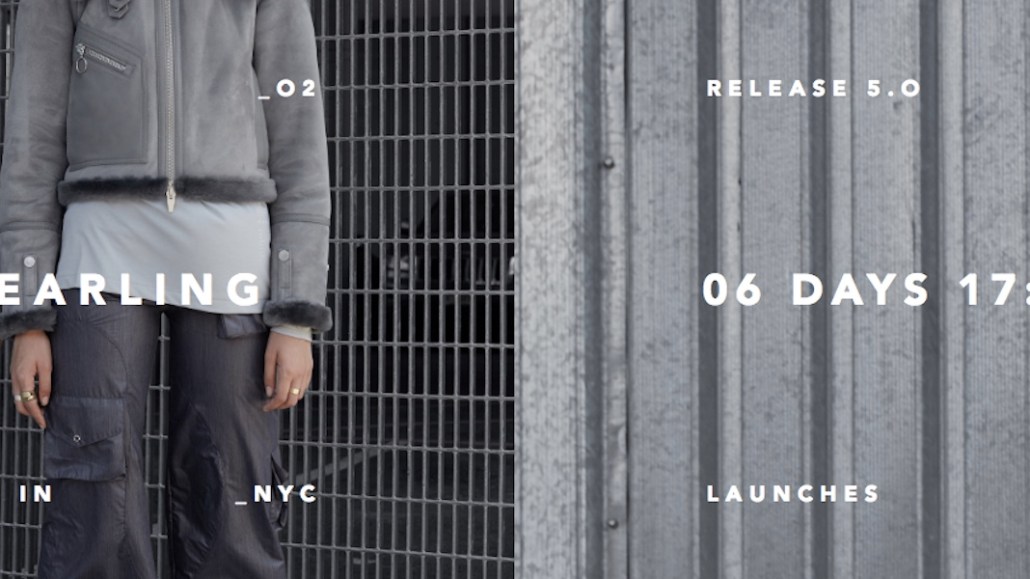 The Digiday Retail Briefing is a weekly newsletter from Digiday that will take you behind the scenes of an industry in upheaval. To get this in your inbox, sign up here.
Online waitlists have become de rigueur for DTC brands, but there's a lot more going on behind the scenes than building a basic marketing buzz.
DTC outerwear brand The Arrivals uses online waitlists, pre-sales and back-in-stock email notifications (which it just rolled out this week) to plan its inventory in line with customer demand, reward people who have participated in brand surveys and focus groups, and stay in touch with the people it considers to be valuable customers.
The Arrivals' waitlist strategy works on a seasonal timeline. The brand releases updated staple items like knits and leather jackets twice a year, but each season, it experiments with new styles, materials and categories that it wants to highlight. For example, while the new fall collection went live on The Arrivals site on August 8, a new jacket will be released on September 28. The waitlist is currently live, and in the time between now and the release date, the brand will plan volume for its second inventory order based on waitlist demand, by communicating with factories and making sure there are enough resources in place. Two weeks before the release, the waitlist will open up to a pre-sale to reward people who have waited, and to help them get their hands on the smaller first run of product. On the actual release date, the remaining inventory will open up to the public – if it sells out, they can sign up to be notified when it's back in stock, which will be in a matter of weeks rather than months, thanks to the early-on inventory planning process
For the fall-winter season, The Arrivals has planned for five different waitlist-releases.
"It's like holding your hand up to the wind to get a feel of what people want, how certain styles will perform, what's not resonating, and how we can gear up our production to meet demand," said Johnson.
It's a common tactic used to drive buzz around new product releases, that shows big, potential interest before anyone spends a dime. Everlane was one of the early waitlist-mongers of online retail, with waitlists going into the 10s of thousands. It can feel like a gimmick: Any product can sell out when you only produce 50 of them.
And indeed, some of The Arrivals' new launches are only made in batches of 50 — others that have more historical data to back them up will be produced in batches of up to a few thousand.
But for these brands, which are often running on VC fumes, the waitlist is a key part of predicted demand, particularly for new category launches.
AYR, the DTC denim brand incubated by Bonobos, started a waitlist when it made its first T-shirt. According to co-founder Maggie Winter, the brand didn't know if customers would care to go to a brand that was built on denim for T-shirts, but the waitlist ended up being picked up by the press, and 3,000 people joined. It didn't have 3,000 T-shirts in stock – all first-run products are ordered in batches of under 1,000.
"We could tell before launch that we needed to reorder," said Winter. "This helps us manage inventory more efficiently, use capital better, make bigger bets on things we weren't sure of, and pull back on things that didn't land."
It's a tricky balance: Waitlists can result in quick sell-outs, which can make a brand seem in-demand, but ultimately means the brand is missing out on a sale. That's where The Arrivals' out-of-stock email prompt comes into play.
"Those customers are then immediately added to pre-sales for the next product release," he said.
And then the cycle starts over.
Overheard
"Driving direct sales is not just about sales with a bigger margin, although it is in some ways. But the entire retail landscape has taken it on the chin recently, and in our own stores, we can control the look, the sound, the smell. We can do the best we can with a partner in stores but at the end of the day, we can't control what happens in there."
– Kendra Scott CMO Tom Nolan on the state of wholesale
What we've covered
Walmart is seeing its e-commerce investment pay off. As a result of revamps to its website and app, and its online marketplace, the company expects e-commerce sales to be up 40 percent for the full year. The company is improving capabilities and adding more online-exclusive brands, but success is also thanks to the stores: Walmart sets itself apart from online-only retailers through added benefits of physical stores, letting customers buy items online and pick them up at physical locations or get products delivered to their homes.
Home Depot is installing online order pickup lockers, in-store navigation tools and digital product information screens to drive customers to physical stores. The company is building its strategy around the idea that customer experience needs to go beyond having physical stores and e-commerce sites; it needs to cater to customers who want to communicate with the retailer in multiple ways as part of one transaction.
Nordstrom is building out new retail strategies that will drive sales and promote customer loyalty, and it's using its largest market, Los Angeles, as a test bed. In LA, it plans to open two more Nordstrom Local stores, in addition to the one that's already in the city, open a fulfillment center to experiment with aligning inventory schedules with in-store performances, and roll out more offline-online capabilities.
On Wednesday, the French beauty brand L'Occitane will open a new store with a retail concept that leans heavily into experiences, and it's full of flashy tech. Customers can experience try a VR tour of France while getting a real-life hand massage, test new products and watch an Instagram live feed on digital screens.
Farfetch filed for its much-anticipated initial public offering on Tuesday, a move that aims to value the luxury e-commerce aggregator at up to $5 billion. Farfetch is competing in a crowded space for luxury shoppers' dollars, and once public, the pressure will be on to grow its user base. In the filing, Farfetch reported that in 2016, it spent $48 million on customer acquisition, up from $34 million in 2015.
By the numbers
The RealReal released its midyear 2018 luxury resale report on Tuesday, which provides insight into what brands are trending up, and which ones are on the decline, based on their consignment value and action. Here are the biggest takeaways.
Gucci is maintaining its hold, with sales growing 62 percent this year over last year on The RealReal, across all age groups. Millennials are the most interested: searches for Gucci grew 48 percent among that age group in the last year, faster than any other group. among millennials on The RealReal.
But millennials are spending the most money on Hermès: Sales in the 18-34 age group for that brand increased by 71 percent in the last year.
Vetements is losing buzz: The brand's resale value dropped 22 percent this year for women's items and 20 percent for its menswear.
Demna Gvasalia isn't struggling on all fronts, though: Menswear sales for Balenciaga, where he's serving as creative director, jumped 16 percent in the last year
And finally, the top 5 brands that women are buying and consigning most often, in order: Chanel, Hermès, Louis Vuitton, Gucci and Christian Louboutin.
https://digiday.com/?p=299968