Manolo Blahnik takes on e-commerce, with an assist from online marketplace Farfetch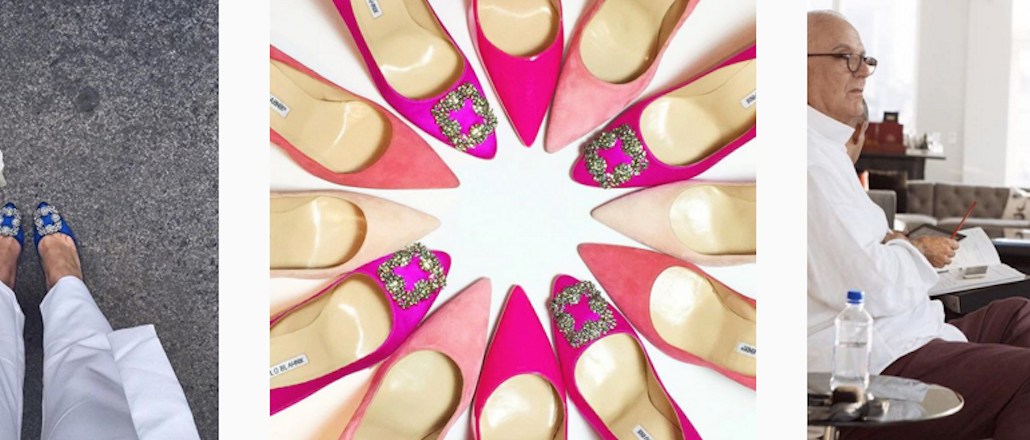 Manolo Blahnik is jumping into online sales with both high-heeled feet.
The luxury British footwear brand launched its global e-commerce store on Wednesday in partnership with online designer marketplace Farfetch, where it will sell all of its products (heels, flats, men's shoes and handbags) online and ship them from one of its several flagship stores.
Luxury brands that don't sell goods through their own online stores could be missing out on big potential sales. According to the Global Luxury E-tailing Market report, the luxury e-commerce industry is slated to hit $41.8 billion by 2019. However, Manolo Blahnik claims its concern is on the creative opportunities for its own digital corner — not the money to be made online.
"We don't see this as a commercial venture, but instead as a site curated to showcase the depth of Manolo's creativity for the first time in the digital realm," said Kristina Blahnik, CEO of Manolo Blahnik (and niece of the brand's namesake and designer) in an announcement.
Farfetch, however, recognizes the business potential. In September, the company announced it was launching Farfetch Black & White, a service-led solution designed to work directly with luxury fashion brands to help them operate an e-commerce store. To handle the logistics of its e-commerce store — the transactions, the shipping, the customer experience — Manolo Blahnik is working with Farfetch Black & White.
Manolo Blahnik is Farfetch Black & White's first brand partner, but Farfetch CEO José Neves is planning to expand the service further throughout 2016, and the company has also opened its API, allowing any brand to connect its existing infrastructure to the e-commerce services.
Farfetch is a fashion-tech "unicorn," with a valuation of over $1 billion. It doesn't share annual revenue, but sources projected that in 2015, its annual revenue was set to hit $125 million. The company is angling to compete with existing e-commerce providers like Demandware and Yoox Net-a-Porter, the online luxury fashion marketplace that also powers the platform for brands' online stores, such as Emilio Pucci and Roberto Cavalli. In 2015, Yoox Net-a-Porter made $1.7 billion in sales. And in February, the company announced a partnership with IBM to improve its backend features, including streamlined order fulfillment, mobile responsive capabilities and smarter, personalized product sorting and search.
Neves' plan for Farfetch is to provide similar all-encompassing customer experience features for luxury brands, to ensure what feels like a "premium" end-to-end transaction. Farfetch Black & White will allow brands to streamline inventory, enabling buy online, pickup in store and ship from store — all features now operating within Manolo Blahnik's e-commerce store, along with high-level imagery and product description.
Online marketplaces like Farfetch and Yoox Net-a-Porter are smart to put their e-commerce strengths to use by powering singular luxury brands' forays into the channel. Those luxury brands have been slow to keep up with the demands of an online store, even as customers continue to expect more advanced capabilities.
"Farfetch, much like Yoox before it, has recognized that it's built a digital skill set that it can apply not only to its primary business as a retail platform, but to other brands who lack a native digital and e-commerce culture," said Tamar Koifman, head of sales and marketing at the Digital Luxury Group. "The benefit for Farfetch, of course, is that it opens up a completely new revenue stream with little to no cannibalization to its core business. This new source of income generates value for shareholders and puts the business in a better position for — who knows — future IPO activity."
Neves told Business of Fashion in September that he wasn't sure how big of a piece of the overall business Farfetch Black & White would become, but that the mindset is about angling to be "pioneers of the new retail future" by working with boutiques (sold on Farfetch's marketplace) and outside brands.
"This is a strategic move for us," Neves said. "Consumers shop mono-brands, they shop multi-brands. They don't come out of a store and say, 'Oh I just shopped at a mono-brand' or 'Oh I just shopped at a boutique.' They just shop where they feel like shopping."
https://digiday.com/?p=169765