High-end fashion brands are turning to Facebook Messenger as their modern concierges.
At Facebook's F8 developer conference on Tuesday, the company announced the launch of its chatbot tool, opening it up to brands and companies to use artificial intelligence to connect with customers. Mobile fashion marketplace Spring's live messaging and personal shopping service, Spring Bot, was demonstrated on stage as an example of how brands and retailers can use the platform to help facilitate online and mobile purchases and answer customer questions.
"Customers aren't spending their time on a sprawl of apps anymore," said Spring founder Alan Tisch. "But, there's a high concentration of engagement on Facebook Messenger. So we created an experience to fit into the natural behavior that's already happening on the platform."
That natural behavior, Tisch said, is "conversational commerce."
"That isn't new — talking to an associate and getting advice, and training retail associates to work with customers, is an old pastime," he said.
The difference now is how customers are seeking out that advice, but Tisch said that a well-made chat service will be digital complement to that seasoned, warm-welcoming employee in physical retail stores — an important touch point for high-end brands selling pricey items and looking to build long-term relationships with customers. As these retailers recreate their premium experiences online, a virtual concierge is a key component of the online luxury purchase.
"There are a lot of things that luxury brands can do in digital to ensure they have that high-touch feel," said Neda Whitney, group account director at R/GA. "One major feature is the online concierge customer service live chat. The luxury clientele expects a certain type of experience when they walk into the store, and this translates that online. The question is how do you achieve the same level of prestige."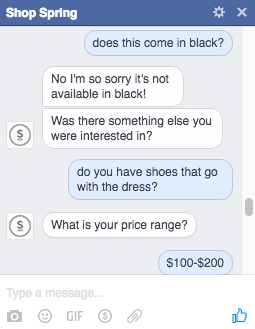 Spring Bot's personal shopping assistant on Facebook walks customers through a series of multiple-choice questions to help them find suggested items. Prompts include "What are you looking for today?" (women's items or men's items) and "What's your price range?" (under $75, $75 to $250, over $250). The interactions feel authentic, not robotic, but Spring Bot's one flaw is not getting the hint when your shopping trip on Messenger is over.
Even after formally signing off with the chatbot, Spring pops up again in your Facebook Messages hours later to ask if you'd like to continue shopping.
The bot also acts as a point of contact after purchases are made, and can send customers receipts, shipping and tracking information and answer order-related questions. Since Spring's marketplace sells items from brands like Balenciaga, Givenchy and Lanvin, this streamlined, chat-driven customer service is already touching on luxury retailers that don't have their own commerce stores.
Tisch said that the goal is to use Spring's chatbot as a template to enable these brands to launch their own personal shopping assistants on Facebook Messenger in the future.
"A priority is to partner with our brands to build bots here too so they don't have to do too much work," Tisch said. "They want to get their products in front of millions and millions of consumers, and one of the things that excites us is the potential opportunity to work with our partner brands to build bots."
Premium retailers like Louis Vuitton and Everlane have been using Facebook Messenger already as a customer service live chat tool to answer questions, share online order information and help shoppers find products.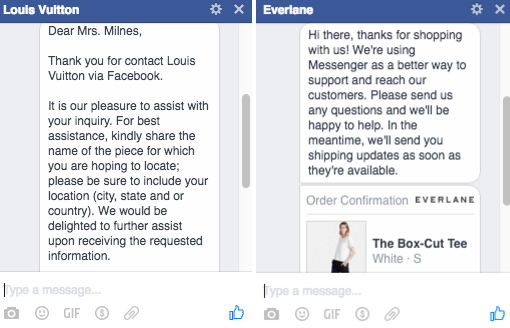 Now that Facebook has opened its bot store on a bigger scale with retailers like 1-800-Flowers and brands like Bank of America using the chat function, premium retailers will have to offer more to make their messaging service feel elevated compared to others.
"When you go into a high-end store, there's a consultant, a point of inspiration or influence, and a particular look or image that the customer is trying to achieve," said David Hewitt, vp at Sapient Nitro. "A chatbot's pace and flow should tease out that inspiration point and shape the sale by telling the customer about the brand's narrative. Even if it's transaction-driven, it should start at the point of inspiration."
The type of conversations that luxury brands facilitate on Facebook Messenger should imitate what a salesperson should say, and incorporate the inspiration and image that the brand can help a customer achieve. Whereas 1-800-Flowers might focus on delivery speed and convenience, Louis Vuitton should focus on offering related items that will build an outfit, or sharing what the brand's current featured products are, according to Hewitt.
"The pace of conversation, immediate responses, not getting lost in e-commerce navigation and getting recommendations is all going to boost this tool," said Hewitt, who added that widgets, like carousels and swipe functions, were unexpected additions to the announcement. "I believe it's going to explode faster than we can even imagine."
https://digiday.com/?p=172258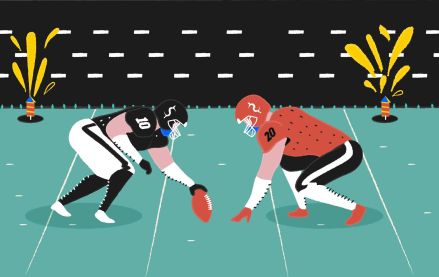 December 6, 2023 • 4 min read
In response to this challenge, the NFL's Detroit Lions have adopted a proactive strategy, introducing an extra channel for their local NFL broadcast. The objective is to broaden advertising opportunities, leverage direct-to-consumer distribution, and establish stronger connections with local fans, with the ultimate goal of increasing preseason viewership.
December 6, 2023 • 4 min read
It's been over a decade since the most recent entry in the wildly popular "Grand Theft Auto" series came out in September 2013, meaning anticipation for "GTA 6" has been building for years. Rockstar titled yesterday's trailer as "Trailer 1," making it clear that the company is poised to launch a massive marketing campaign in the lead-up to the game's 2025 release.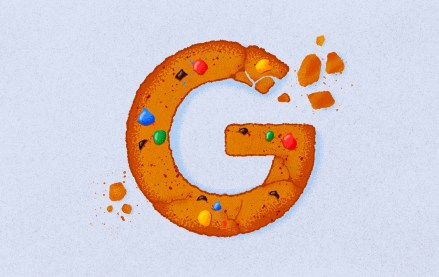 December 6, 2023 • 4 min read
A healthcare client that decided to scrap all conversion tags and cookies within weeks provides a case study for what will likely be a common experience in a year's time.