It's not just Coke — the entire soda sector has slashed ad spending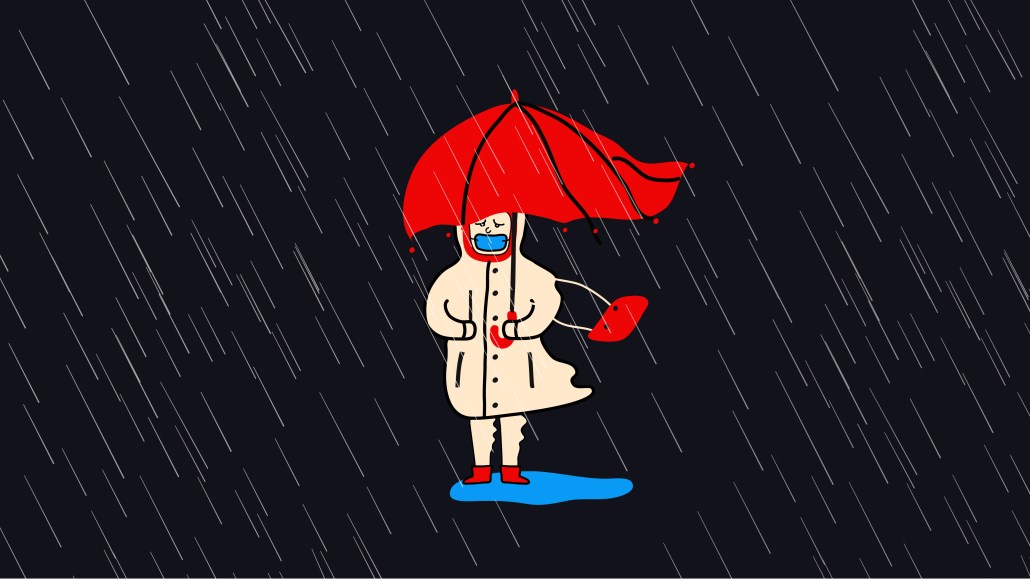 Ivy Liu
The advertising industry's optimistic mantra to spend through a recession so that your brand comes out the other side stronger doesn't appear to be getting through to soft drinks companies during this particular crisis.
An analysis of 11 different brands in the U.S. soda sector by iSpot.tv, requested by Digiday, found that soda advertisers spent 78% less on national TV ads between Mar. 16 and Apr. 26 — down to $22.5 million.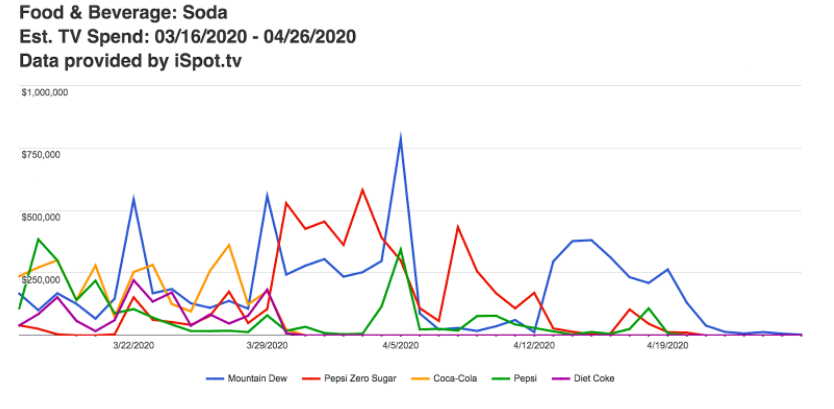 The cancelation of live sports has hit spending — at this point in the year in 2019, almost half (47%) of soda brands' TV spending was directed toward the NCAA Tournament, NBA and NHL, according to iSpot.tv.
But the lack of live sports doesn't tell the full picture. This slump is largely down to a loss in sales following the closure of bars, restaurants, movie theaters and stadiums — plus the decline in impulse purchases made at convenience stores — during the quarantine period.
Coca-Cola has been particularly impacted by the lockdown-enforced shift in consumption habits. Net sales fell 1% in the three months to the end of March, versus the year-ago quarter. But Coca-Cola said its when reporting earnings on Apr. 21 that April sales volumes had slumped by 25%.
Coca-Cola warned its advertising partners and vendors early into the crisis that "from April and until further notice, we're putting commercial advertising for Coca-Cola and all our brands on hold," as Digiday previously reported.
"We have determined that in this initial phase there is limited effectiveness in broad-based brand marketing," said Coca-Cola CEO James Quincey on the first-quarter earnings call. "With this in mind, we have reduced our direct consumer communication, [and we have] paused sizeable marketing campaigns through the early stages of the crisis and will re-engage when the timing is right."
As far as its national TV spend was concerned, Coca-Cola appears to have shifted its efforts away from soda and toward juice, energy drinks and sparkling water. The company launched its AHA flavored sparkling water brand in March and spent $3.8 million on TV ads in the period analyzed — 21% of the estimated TV ad spend in the water category over that time, according to iSpot.tv. Coca-Cola also spent an estimated $2.1 million on advertising its Simply Beverages juice range and $6.1 million on Powerade ads.
Coca-Cola declined to comment.
PepsiCo — which owns a variety of food brands as well as drinks like Pepsi and Mtn Dew — expects second-quarter sales to drop by a low single-digit percentage. Declines in its beverage business outweighed gains in sales of grocery staples like Quaker oats and Tostitos chips.
Hugh Johnston, PepsiCo CFO said earlier this week the company is "reducing nonessential advertising and marketing spend to reflect the realities of the current environment." For Mtn Dew specifically — in which the company had been investing heavily, including a Super Bowl ad in February — CEO Ramon Laguarta said while the brand has been hit by a drop in impulse purchases, "as soon as people are driving around and moving around, we'll see that brand coming back and we'll be ready with our commercial programs when that circumstance occur."
PepsiCo did not respond to a request for comment.
Across the soft drinks industry as a whole, spend stayed at fairly normal levels throughout the first week of the analysis in mid-March. But by the end of March and early April, most brands had pared back their TV ad spend significantly. By the end of the analysis, Mtn Dew was the last brand spending a significant amount on TV — and even that tailed off over the last week. Overall, Mtn Dew and Pepsi Zero Sugar made up the lion's share of spend (around 58%) over the analyzed period.
As with many of the advertising trends during this crisis, the situation is constantly changing as companies recalibrate and reforecast. Ad spend will likely return as companies' sales recover, it's just not entirely clear when that will be.
Data and analytics company GlobalData estimates that U.S. beverage sales will fall around 7% by volume in 2020. David Harris, GlobalData soft drinks product manager, said that could be revised down further.
"With the U.S. economy shrinking by a huge 4.8% quarter on quarter, brands are nervous. And when brands are nervous marketing spend is an easy thing to cut back," said Harris. "This paints a grim scene for brands, and particularly larger brands with enormous, costly operations."
In the meantime, soft drinks makers that aren't feeling the brunt of the pain caused by the closure of away-from-home venues have an opportunity to boost their share of voice at a time when TV ad prices are cheaper than usual.
"Evidence from the past shows if you maintain or increase your share of voice during a recessionary period, you come out of it stronger," said Christian Polman, chief strategy officer at marketing and media consultancy Ebiquity.
He added the caveat that this crisis is different due to the extreme drop in sales many drinks companies are experiencing, which has shifted them into cash-preservation mode.
The effects of that brand ad spend "don't necessarily show up in short-term econometric models," said Polman. "If you look over a long-term basis it can yield dividends over a multi-year period … there's a great opportunity in the marketplace for a drinks brand to take a leadership position from a brand perspective."
https://digiday.com/?p=365704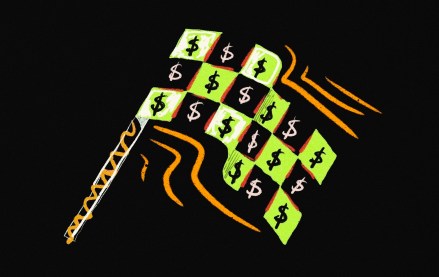 September 26, 2023 • 3 min read
With three Grand Prix races in the U.S. this year – Miami this past May, Austin in October and Las Vegas in November – the interest from U.S. marketers in Formula One has increased this year, according to agency executives, who say they expect that growth to continue next year.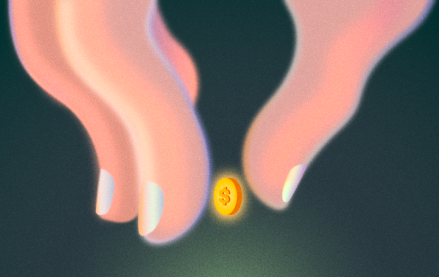 September 26, 2023 • 6 min read
A Digiday+ Research survey found that brands and retailers report using Facebook less over the last few years, all while the platform's value to their revenues and brands has increased.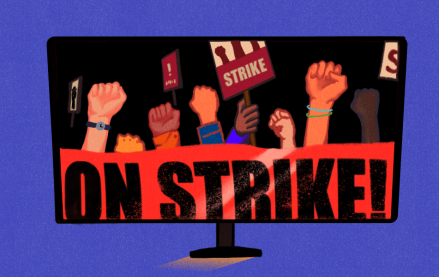 September 26, 2023 • 5 min read
The timeline for a return to business as usual – whatever that may mean now – is yet to be determined.