In housing market squeeze, real estate brands retool their marketing spend to maintain brand awareness
October 16, 2023 • 4 min read
•
•
Ivy Liu
The housing market continues to be a point of contention for people grappling with hiked interest rates, inflated rents and low housing supply. With so many changes and challenges, the playbook for marketers and advertisers in the space has been upended.
Zillow estimates the U.S. needs more than 4 million homes on the market to bridge the gap between families in need of housing and available housing units. Meanwhile, the 30-year-fixed mortgage rate average is 7.83% and the typical U.S. rent is $2,047, which is 3.2% higher than a year ago. As homebuyers and renters feel the squeeze, both Opendoor and Realtor.com are retooling their media mixes to maintain brand awareness.
Opendoor is on a mission to become a nationally recognizable brand. The company saw an 80% decrease in media spend year over year, but increased the total percentage of its brand spend from 13.2% to 21.6% year-over-year in an effort to maintain brand awareness. To do that, the company is leveraging media channels like connected television, radio, broadcast, social media and sponsorships, as well as linear television.
"We were able to use the media plan as a way to stay true to our goals, but also build in flexibility," said David Corns, CMO at Opendoor. "We were able to essentially shape shift, depending on what the economy and the market was doing and how we were performing."
In regards to television, he added, "We had done a good job before that shift of showing how national targeted media can build brand awareness with the right creative messaging. Rather than shying away from that in 2023, we actually used it as our baseline. National TV [ads] continued."
Opendoor has also previously focused on organic and paid social media. But this year, Opendoor is testing influencer marketing on TikTok and Instagram.
Meanwhile, Realtor.com spent more in marketing this year due to the competitive nature of the current housing landscape. The company has increased its digital spend, prioritizing digital and other direct response channels over linear television, according to Mickey Neuberger, CMO at Realtor.com, which is owned by News Corp media company.
But like Opendoor, Realtor.com has retained its investment in linear television, maintaining a baseline level of investment n news and lifestyle channels on linear TV in light of increased digital ad spend. (Mickey Neuberger, CMO at Realtor.com, declined to offer specifics on said investment.)
"TV's just a high reach, high frequency channel for us," Neuberger said. "We measure the performance of all our channels and TV is still a really high performing way to drive traffic to our site."
It's unclear what that spend looks like as Neuberger declined to provide specific figures. From January to July of this year, Realtor.com spent at least $111.6 million on media, significantly up from the $76.4 million spent that same time last year, according to Vivvix, including paid social data from Pathmatics.
From January to June of this year, Opendoor has spent more than $26 million on advertising, according to Vivvix, including paid social data from Pathmatics. That figure is slightly down from the $34.4 million spent that same time last year. In total last year, the company spent $71.6 million on media.
Advertising on the small screen isn't exactly en vogue as linear TV ads didn't rank among marketers' top five media channels in Kantar's 2023 Media Reactions report. However, its mass reach for brand awareness purposes make it an attractive media channel for some advertisers, agency executives say.
"It's what channels have worked for you in the past and how are you going to capitalize on those being your opportunity to drive performance," said Adam Bavaro, integrated strategy lead at Gale business agency.
The knee-jerk reaction to economic headwinds would be to reinvest in direct response tactics to get people closer to purchasing. But, per Bavaro, direct response is as important as brand awareness regardless of the economy. It's a lesson learned through Covid, added Jennifer Kohl, chief media officer at VMLY&R ad agency.
"There was tons of studies prior to COVID that we brought to bear," Kohl said. "During COVID, the clients that turned [advertising] completely off — totally understandable — took longer to recover."
Both Opendoor and Realtor.com see linear TV as an important investment to maintain, so people remember their companies when the economy does bounce back.
Realtor.com also put new digital ads across News Corp. and its properties like The Wall Street Journal, Market Watch and New York Post. Opendoor also rolled out a partnership with Zillow, allowing home sellers on Zillow to request an Opendoor offer to sell their home.
https://digiday.com/?p=521544
December 8, 2023 • 3 min read
For Atlas Creative, expanding into Roblox is not solely a play to scale up. The company believes there are concrete benefits that will come with having a hand in multiple metaverse platforms.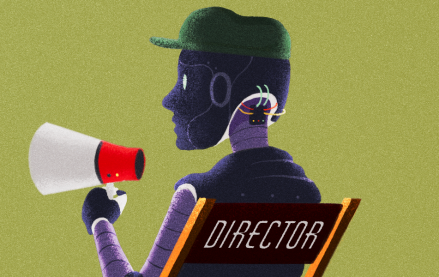 December 8, 2023 • 5 min read
Since ChatGPT became a breakout hit, the names of numerous AI companies and products have entered the cultural vernacular.
December 8, 2023 • 4 min read
Even as linear TV ad spend declines, 23andMe is reinvesting in the channel to boost brand awareness.