The great unboxing: How YouTube is pitching shoppable ads to brands
Product reviews and "unboxing" videos have found massive followings on YouTube. In 2015, unboxing videos raked in 1.1 billion views, translating to 60 million hours of watched footage that shows people opening up product packages for the first time as they dissect and analyze the contents.
The video format is fitting for much-hyped electronics, like new iPhone editions, but the popularity of unboxing and product reviews goes well beyond gadgets. Shoes, perfumes, children's toys, eyeshadow palettes and more all get the unpacking treatment on YouTube.
Now, YouTube is presenting these popular videos to brands as potential shoppable ad spots, just in time for the holidays. YouTube's Awesome Stuff Week launched Oct. 5 to showcase what click-to-buy content on YouTube can look like when paired with highly relevant video content.
"There's a growing opportunity for brands to engage with consumers through this type of content," said Vikram Tank, a product marketing manager at Google. "Whether it's through their own content creation, collaboration with creators, or being present in the shopping moments on YouTube."
For brands, "being present" means having a click-to-buy ad share the screen with the YouTuber reviewing the product. The idea is that people are already watching these videos as an early part of the shopping experience, and being a click away from the pair of boots a video blogger is trying on makes a purchase the obvious next step.
The Awesome Stuff Week series is being promoted by the YouTube stars creating videos around each subject, which include Must-Have Mondays, Reviewsday Tuesday and Under-100 Wednesday, featuring favorite products, reviews and items that cost under $100, respectively. In each series video, the YouTube host announces that the videos are shoppable, and also that YouTube paid them to make the video.
One video stars YouTube personality Jim Chapman, who talks about his favorite fashion purchases from September: a River Island scarf, H by Hudson boots and Dior cologne. Links to buy the products are included in the video blurb, and as he's talking about and showing off the products, clickable ads appear on the screen.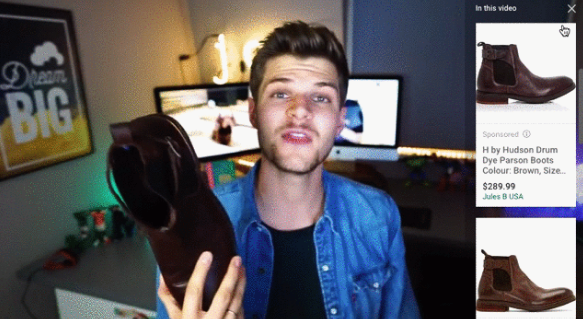 "This is Google getting closer to commerce," said Jason Tabeling, gvp of media at global agency Razorfish. "For a lot of brands, it will be a challenge not to have that control over the content, but brands are losing that control more and more already."
Tabeling added that in comparison to the shoppable mobile ads that Google is currently testing with limited brands, YouTube's ads actually leave a good amount of control in the brands' hands, as customers will click out to their online stores to buy. When shopping Google's ads, customers make purchases while staying in Google search.
Whether brands like it or not, more people are warming up to the idea of blending their online purchases with their social content. In a recent survey, Citi Retail Services found that 60 percent of consumers were open to making purchases through social media. When asked what social media platforms were most influential when it came to purchase decisions, 25 percent said YouTube was the top influencer. (Thirty-five percent answered Facebook, 19 percent said Pinterest, 15 percent said Twitter, and 12 percent said Instagram.)
The most important takeaway for retailers, according to Citi Retail Services, is that they must be where the shopper is for social commerce to be effective — and product reviews and unboxing videos see plenty of eyeballs. Influencers, like the ones that YouTube teamed up with for Awesome Stuff Week, have an incredible amount of reach and distribution that, according to Tabeling, brands can't get on their own. Still, they have to be mindful not to simply "hock their goods" in these types of videos, where the user has built a loyal audience.
"Authenticity is a real component here, and people can smell out when they're being sold to," he said. "These product videos are popular because they're homegrown and unbiased, so brands have to be careful."
Vince Meyer, vp of business development at adMarketplace, said that user perspective could be skewed if they feel like they're viewing product placement rather than product review, which could negatively impact the video creator's brand.
Google data found, however, that 68 percent of users preferred product-driven ads when they were coming from "people like me," rather than a brand.
"Everyday people watch hundreds of millions of hours on YouTube, and increasingly they're turning to YouTube to help them shop," said Tank. "They're looking for advice, or inspiration, or product reviews. We want to make the shopping experience better for everyone."
Image via YouTube
https://digiday.com/?p=144448