Digiday Research: Marketers are steering clear of political issues
December 17, 2018 • 4 min read
•
•
This research is based on unique data collected from our proprietary audience of publisher, agency, brand and tech insiders. It's available to Digiday+ members. More from the series →
Most marketers say they avoid tying their brands to political causes and issues, according to Digiday research.
In today's tense political climate, it's more important than ever for marketers to think carefully when taking a stance on political issues. And as culture and politics become increasingly intertwined, it's getting harder to determine where one stops and the other begins.
Sixty-five percent of marketers said they think their company should avoid taking a stance on political issues, according to a survey of 237 brand marketing executives conducted by Digiday in December.
The key consideration when making that decision is whether or not certain issues matched the overall vision of their companies, marketers said. Two-thirds of marketers who wanted their companies to avoid politics said politics are not relevant to their mission or values.
Meanwhile, those respondents who supported such advocacy from their companies said they do so for the opposite reasons. One respondent answered that taking a stance, "expresses the values of our company in a way that strengthens our brand." Another wrote, "making a political statement is part of building a brand in 2018; brands should put a stake in the ground and have core beliefs to better connect with their consumers."
Some brands choosing to make political statements in recent years have attempted to make a big splash while doing so. Companies like Budweiser and Toyota spent millions of dollars on ad slots to promote pro-immigration and multicultural ideologies during the Super Bowl, for example.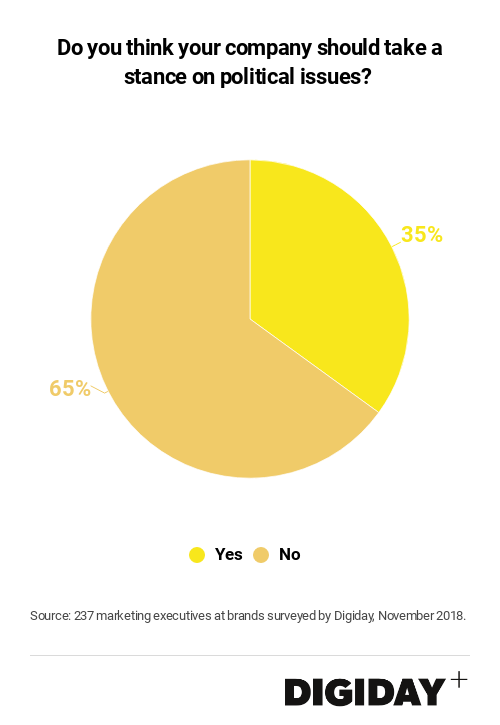 Companies can also choose to support causes where consumers might not recognize a natural connection between the company and issues. Lush, a beauty and cosmetics company that has long supported environmental conservation and sustainability, launched a campaign earlier this year to support transgender rights. The campaign came into creation in recognition of the fact that many of its employees identified as trans or non-binary, according to a company spokeswoman.
Meanwhile, while most companies were silent over the Black Lives Matter movement, Unilever-owned ice-cream maker Ben & Jerry's publicly supported the movement. "We have this history of using our company and our connection to our fans and our consumers to run campaigns that advance progressive social change," said Christopher Miller, global social mission activism manager at Ben & Jerry's.
That had lead Ben & Jerry's to also support the organization Color of Change, which raises awareness of voter suppression, and the recent ballot election in the 2018 Florida midterm election that successfully reinstated voting rights to 1.4 million people. "There is not a magic matrix through which we push a bunch of issues and pop out a right answer" Miller added. "For us, it is as much an art as it is a science in deciding what we support."
For Ben and Jerry's, control over its social statements are something it specifically negotiated to retain during its acquisition by Unilever in 2000, freeing up Ben and Jerry's is free to take up issues regardless of the stance of its parent company. Ben & Jerry's supported a winning initiative to put labels on food sold in Vermont if they included GMO's, for example, which was something Unilever opposed.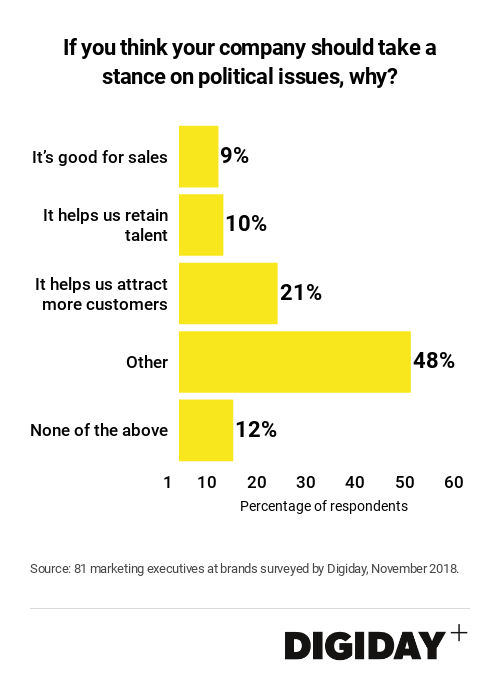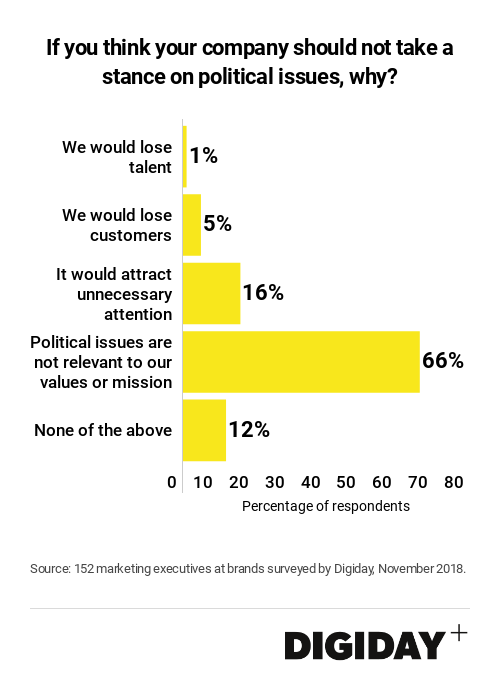 One of the underlying reasons why company stay quiet is that they fear the public blowback generated from instantaneous social protests. Sixteen percent of marketers in the Digiday survey said they did not want to attract unnecessary attention. For example, Keurig found itself boycotted by conservatives after it pulled it ads from Sean Hannity's show on Fox News.
However, companies shouldn't be afraid to take a risk to support political causes. Research from the 2018 Edelman Earned Brand Report found that consumers actually want companies to come out in support of controversial topics. Sixty-seven percent of the consumers surveyed in the report said they would purchase from a company because it took a stand on a controversial policy while 65 percent said they would stop buying from a company if the company was inactive on an issue relevant to it.
Earlier this year, Nike came out in support of Colin Kaepernick and received considerable pushback on social media. Hashtags advocating to boycott Nike earned 188.4 million impressions on Twitter. Despite that, Nike actually managed to boost online sales due to the Kaepernick campaign, helping to demonstrate the literal value of making a stand.
Of course, there are other way company's benefit from taking political stances such as enhanced consumer loyalty. "Customers that are aware of the work we do and support it are 2.5 times more loyal than customers that just like us for our ice cream," Miller said. "We firmly believe that taking a stance and supporting progressive values is good business. It's not a marketing ploy."
https://digiday.com/?p=315550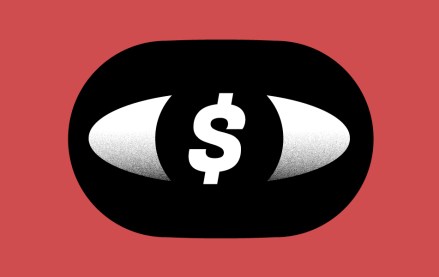 December 5, 2023 • 3 min read
The latest edition of the ANA's programmatic transparency report claims $22 billion can be saved by drastically cutting the ad tech bloat.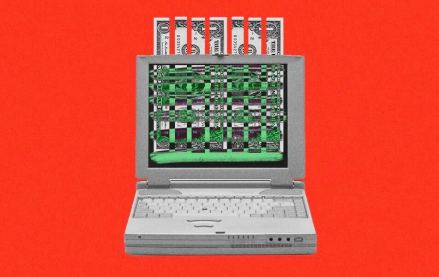 December 5, 2023 • 5 min read
Agency clients still see programmatic as an important part of their marketing budgets. But, overall, the uncertainty around programmatic could be causing them to lose confidence in online display ads as a marketing channel, and, as a result, agency clients are investing less in online display.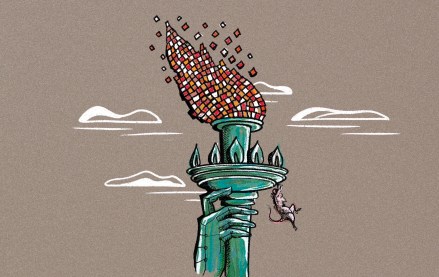 December 5, 2023 • 3 min read
There's a global AI race and different regulations in different countries might be slowing down – or speeding up – innovation. Here is a breakout of how regulations are being shaped on both sides of the Atlantic.