Digiday Research: More than half of marketers don't think their agencies share their interests
May 6, 2019 • 3 min read
•
•
This research is based on unique data collected from our proprietary audience of publisher, agency, brand and tech insiders. It's available to Digiday+ members. More from the series →
Ongoing concerns over media transparency, contractual disputes and marketing moving in-house have left clients at odds with their agencies. As a result, marketers are doubting if they have the same interests as their agencies.
In a survey by 73 client-side marketing executives by Digiday this April, only 44% of respondents believed their agencies' business interests aligned with their company's business interests. Forty percent of respondents said their interests were not aligned with their agencies, and 16% were unsure.
But marketers might not have better luck if they try switching to a different agency. When the same marketers were asked how they felt about agencies in general, rather than their own specific agencies, only 36% of respondents thought agencies' interests were the same as their own.
"What's happening right now is a crisis of trust between clients and agencies," said Avi Dan, chief executive officer of agency search consultancy Avidan Strategies. "Clients feel like they're not getting the right results [and] the right service from their agencies," he said.
While Dan can't identify a specific reason for clients to believe that, one issue he thinks contributes to it is the issue of compensation and billing: "A lot of people get paid by the number of hours spent on a project, not on the quality of their work, and that's problematic."
This issue of billing versus performance is one marketers are finding particularly common with media agencies. "Media agencies are still billing on a percentage of spend, instead of performance. We're encouraged continuously to invest more money into platforms or tactics, regardless of performance, to drive fees," said Mike Grillo, chief executive officer of Gravity Products.
If clients wanted to get their agencies more closely aligned to themselves, instituting contracts that reward outcomes rather than paying for the amount of media they create could be the first place to start. However, that is unlikely to happen until campaigns' measurement issues are remedied. "If it was easy to measure the effectiveness of media spending across platforms in a way that the chief marketing officer and chief financial officer would understand, then agencies would at least be open to performance-based contracts," said Shiv Singh, founder and chief executive officer of SavvyMatters. "Until then, it's not worth having the conversation," Singh added.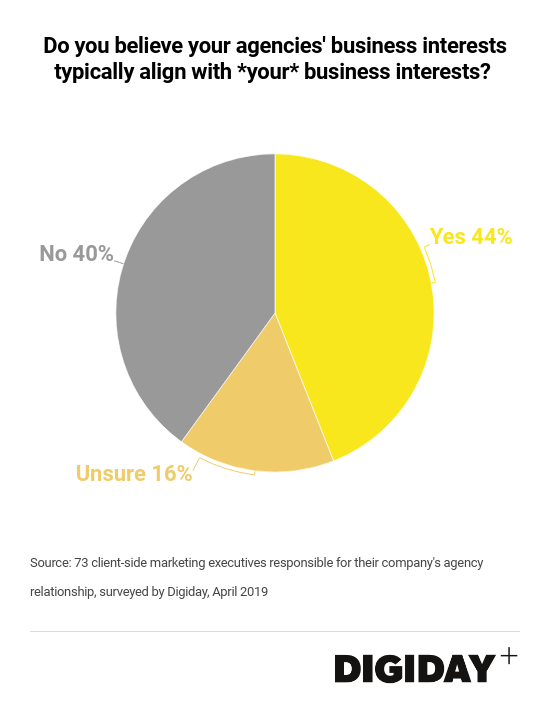 However, assessing the value of creative work can prove difficult. Regardless, creative agencies can also be at fault for having ulterior motives from their clients.
"Creative agencies always trying to come up with something super out of the box. These campaigns might win awards, but they don't move the needle in terms of performance," said Grillo. What drives businesses forward is not always fun or sexy to work on.
On their end, agencies need to realize "clients are under the gun to prove performance," said Dan. Earlier Digiday research found that 77% of marketers are under greater scrutiny to connect spending with tangible revenue results.
But clients also have a role to play in resolving the issue of misalignment. "It's time that marketers open up their business goals and the metrics they measure against their agencies. They need to provide clarity on what the agency is allowed to do or not to do. Anything less than that fosters mistrust," said Singh.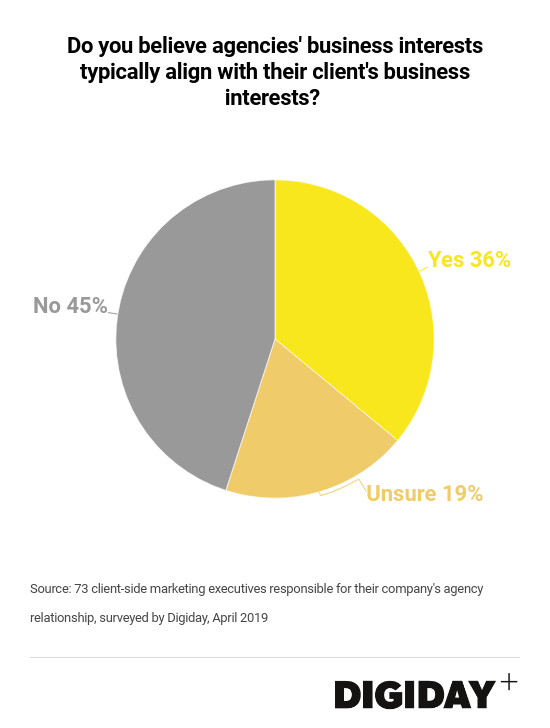 https://digiday.com/?p=332896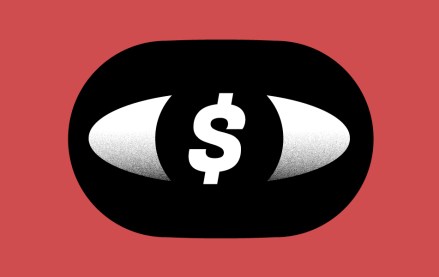 December 5, 2023 • 3 min read
The latest edition of the ANA's programmatic transparency report claims $22 billion can be saved by drastically cutting the ad tech bloat.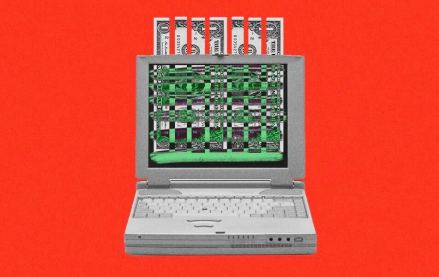 December 5, 2023 • 5 min read
Agency clients still see programmatic as an important part of their marketing budgets. But, overall, the uncertainty around programmatic could be causing them to lose confidence in online display ads as a marketing channel, and, as a result, agency clients are investing less in online display.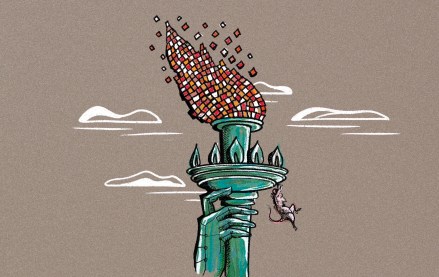 December 5, 2023 • 3 min read
There's a global AI race and different regulations in different countries might be slowing down – or speeding up – innovation. Here is a breakout of how regulations are being shaped on both sides of the Atlantic.