Digiday Research: Advertisers will grow mobile spending thanks to Ads.txt for apps
March 20, 2019 • 3 min read
•
•
This research is based on unique data collected from our proprietary audience of publisher, agency, brand and tech insiders. It's available to Digiday+ members. More from the series →
Ads.txt is coming to mobile apps, and some ad buyers say they expect to spend more on mobile advertising as a result.
Thirty-one percent of 206 media buyers polled by Digiday this month said they plan to allocate additional dollars to mobile ad formats thanks to the introduction of the new system, called "app-ads.txt". Ten percent of respondents said they were not planning any spending increases while 59 percent were unsure how their budgets would change.
Last week the IAB Tech Lab launched app-ads.txt from its beta testing, which is designed to help limit mobile ad fraud using a similar approach to ads.txt files for desktop websites. App publishers can use it to list approved sellers and resellers of their in-app inventory, which should the ability of bad actors to "spoof" inventory in exchanges and mobile ad networks and pretend to be selling inventory they don't actually have access to.
For buyers who invest heavily on mobile ad-networks and exchanges, app-ads.txt is a welcome addition given the rise of in-app ad fraud in recent years. "It brings in-app inventory up to the level of web inventory," said James Hassett, engineer at media agency Empower.
App-ads.txt isn't a silver bullet for every type of ad fraud, but publishers are hopeful it'll help marketers feel more comfortable with the channel and help drive increased demand as a result. eMarketer estimates $93 billion will be spent on mobile ads this year.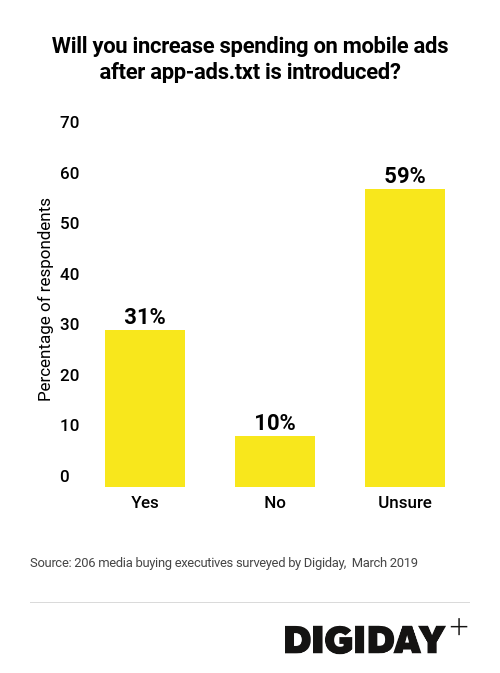 How quickly buyers will begin growing their mobile ad spend as a result of app-ads.txt will depend largely on its adoption by both app publishers and major app-store owners, such as Apple and Google.
Though Google has embraced app-ads.txt, Apple has not indicated that it's willing to comply. Given that Apple's App Store is the second-largest app store behind Google's, that's a lot of mobile ad inventory that isn't currently covered by app-ads.txt. "Apple is tricky one. With ITP2, they're taking a real stance on privacy and against tracking. So it's not a surprise that haven't agreed to participate in this yet," said Gila Wilensky, svp of media activation at Essence.
Additionally, app-ads.txt might mean little to buyers who already avoid mobile ad-networks and less-premium programmatic sources. While Essence is not going to see a strategic increase in spending on mobile ads as a result of app-ads.txt, "it is a vote of confidence that you're buying inventory in the cleanest way possible," noted Wilensky.
Meanwhile, add-apps.txt will only be useful and lead to greater spending if buyers actually use it. Earlier Digiday research found that marketers were slow to adopt ads.txt files in media buying because of concerns it can limit their campaign reach and increase their inventory costs.
Regardless, dollars flowing to mobile ads is going to rise with or without the introduction of app-ads.txt. Forecasting by eMarketer found that mobile advertising eclipsed TV ad spend last year will be greater than all other media budgets by 2020. But the introduction of app-ads.txt and widespread adoption by buyers, sellers and platforms, could help accelerate that shift.
https://digiday.com/?p=326483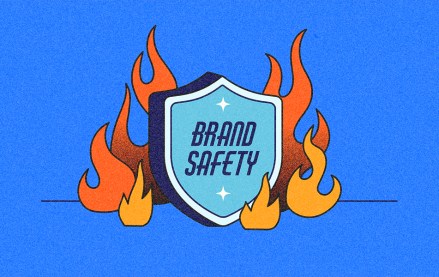 November 28, 2023 • 6 min read
"Major brands' search ads can appear on piracy, pornographic and sanctioned websites," research claims.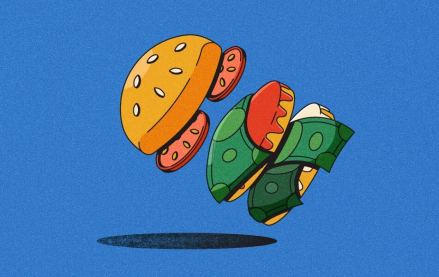 November 28, 2023 • 6 min read
As more influencers look to get into food content creation, brand opportunities are following.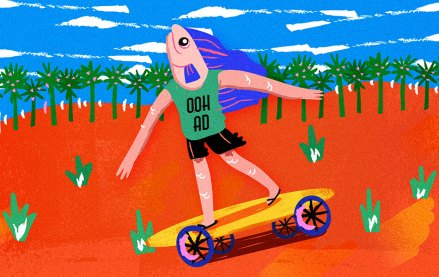 November 28, 2023 • 7 min read
As major marketers like Maybelline experiment with faux OOH, more marketers are open to the idea.