Why Colin Kaepernick has few brand suitors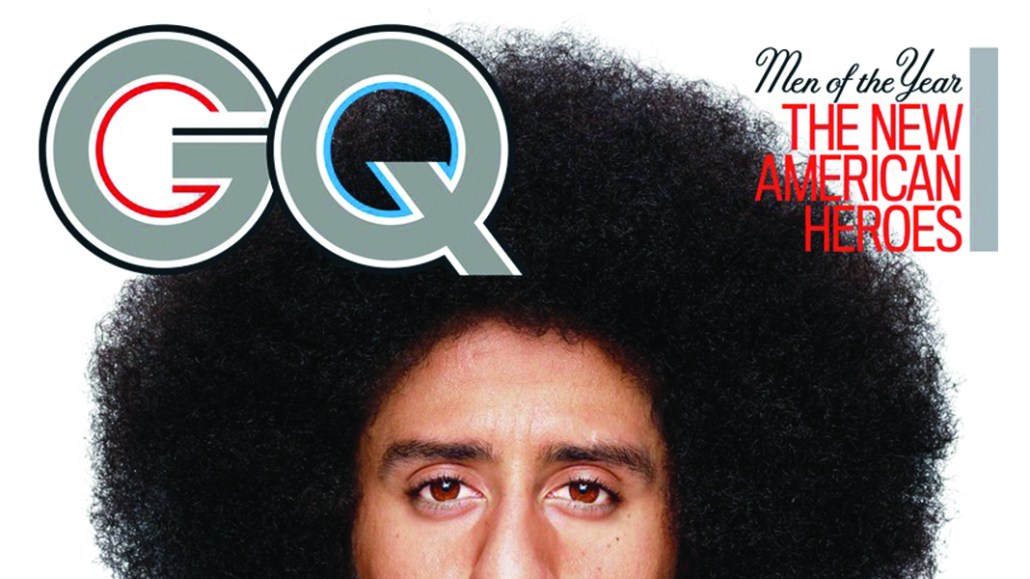 Staring out from the cover of this year's GQ "Men of the Year" issue is Colin Kaepernick, one of the most talked-about figures in America today. Kaepernick, who led the San Francisco 49ers to the Super Bowl in 2013, has nearly 5 million followers across Facebook, Instagram and Twitter.
But since his kneeling during the national anthem at NFL games to protest racism and police brutality divided audiences, Kaepernick hasn't appeared in a large campaign or partnership deal with a major brand since the 2015 season.
"Colin Kaepernick is by far one of the most powerful and, to many, polarizing athletes out there today," said Scott Davis, chief growth officer at global brand and marketing consultancy Prophet. "You are either with his belief system or not."
After the 2013 Super Bowl, Kaepernick inked deals with McDonald's, Beats by Dre, Jaguar, Electronic Arts and MusclePharm. By 2015, he was making at least $3 million in endorsements. Since then, however, he has not appeared in any content for those sponsors.
An EA spokesman said the company worked with Kaepernick for TV commercials for Madden NFL video games in 2013, 2014 and 2015, but would not say why the brand did not partner with the player in 2016 or afterward. The quarterback has not signed with an NFL team this year, and Papa John's, an official sponsor of the NFL since 2010, removed some of its branding from football games, blaming sliding pizza sales on player protests. (Opinions about Kaepernick might be changing, though. Online mentions of Kaepernick were 62 percent negative the day before the GQ story was published online and swung to 81 percent positive after the story was published, according to Brandwatch.)
Kaepernick's lack of sponsors comes at a time when some brands have adopted cause-marketing. Take Starbucks or Airbnb with their stances on immigration. And viral movements like the Ice Bucket Challenge have created a cascade effect of brands fighting for a piece of the social good pie. Research has found that people are more likely to buy from a brand that supports a cause they agree with.
There's an argument that Kaepernick could be the ideal ambassador for certain brands, especially given how he gets the power of speech and imagery. "Colin Kaepernick's views may be divisive, but he also stands for something," said Kristy Sammis, co-founder and chief innovation officer at influencer marketing agency Clever. "Brands who clearly stand for something win hearts, minds, and loyalty." Davis said brands that take strong stances like Starbucks, Abercrombie & Fitch or Urban Outfitters would be "natural landing places for [Kaepernick] and would create the buzz that brands like these thrive on."
Luke Bonner, brand marketing executive at GYK Antler, said Kaepernick could work with a veteran-owned brand such as workout brand TRX to "reinforce that the anthem protest is not an insult to the military, but a statement against societal injustices toward minorities."
Sam Ewen, director of new business at experimental agency Fake Love, which counts Nike among its clients, said he could see the quarterback starting his own clothing line or launching one through another brand like Levi's, whose recent support of same-sex marriage shows it's comfortable with going against the norm. "People generally tend to show their rebellion through their fashion choices," he said.
Ewen said big brands like Amazon, which caters to all demographics, or Ford, which stands for America (albeit a nostalgic one), wouldn't fit. Another risk of embracing Kaepernick is that brands also could appear to be commercializing the movement against police brutality.
Kaepernick himself might not want to partner with a large brand. When he first took a knee, he didn't seem to care that he might lose his brand sponsors, saying, "If they take football away, my endorsements from me, I know that I stood up for what is right." His recent work has involved small brands. According to Sammis, He works with San Francisco-based retailer Shoe Palace to sell T-shirts for Know Your Rights Camp, Kaepernick own operation that teaches kids about interacting with law enforcement. For GQ, he worked with Pyer Moss to design a shirt with the names of victims of police brutality.
"His followers see him as being purely motivated," said Thomas Ordahl, chief strategy officer at Landor. "To suddenly monetize on that could backfire. It could look like he's gaming it all."
Image courtesy of GQ
https://digiday.com/?p=263641