In 2017, Western luxury brands embarked on a migration in an eastern direction. To drive revenue, they had to more aggressively tap into the one region that has showed consistent sales growth, while the rest of the world's luxury purchases have slowed: Asia, and China in particular.
Over the past several months, Gucci and Louis Vuitton opened e-commerce stores to sell directly to customers in China. Calvin Klein and Ralph Lauren shared plans with investors to increase their presences through e-commerce and physical stores, and work with influencers in China. The region's biggest e-commerce marketplaces, Alibaba and JD.com, continued an arms race to win over luxury brands. During a Singles' Day event for Alibaba's consumer site, Tmall, luxury brands like Burberry, Tag Heuer and Rimowa promoted special offers for Chinese customers on the shopping holiday. The digitally shy Céline even set up a WeChat account to appeal to Chinese customers on the social app.
Since navigating an intricate consumer market like China can be difficult for individual brands, global luxury marketplaces and online retailers also helped shepherd them into the region. Farfetch, which sells inventory from 800 brands and boutiques, took an investment of $300 million from JD.com and formed a partnership to operate directly in China. L2's data shows the percentage of fashion brands available through Farfetch in China increased from 76 percent in 2016 to 85 percent this year, while Yoox saw growth from 72 percent to 78 percent and Net-a-Porter increased from 48 percent to 57 percent.
"Consumers in China got accustomed to making big purchases online much faster than the rest of the world — and luxury brands needed to start thinking more about how to take advantage. I think that's what we saw happen this year," said Xia Ding, president of JD.com's fashion business.
Luxury brands, as they begin to establish direct connections with customers in China, are taking control over a market that was once dominated by a surging counterfeit and grey market. As the market matures, here's what to expect from the evolving luxury e-commerce industry in China.
Confronting counterfeiters head-on
As Bain & Co. reported this year, while 30 percent of the world's luxury purchases are made by Chinese customers, only 7 percent of those are made domestically. But, thanks to recent crackdowns in China on the daigou market in order to limit unauthorized sales and increase domestic purchases, Chinese luxury customers are spending more in China on luxury goods than they have in the past, a trend Bain & Co. expects will increase.
Rather than shy away from the domestic Chinese market, as they've done in the past, brands are confronting counterfeit head on, looking to squash out inventory heading to the grey market in China, and building up an official presence.
"Luxury brands are finally responding to the hard reality that their goods are being sold online in China, regardless of whether or not they authorize it," said Liz Flora, the editor of Asia Pacific research at L2. "If a brand doesn't have its own online sales presence in China, it is basically handing over the digital shopping experience to grey-market and third-party sellers."
This year, luxury group Richemont took steps to clean up its inventory in China in order to start with a blank slate where the group's brands, including Piaget and Cartier, can own their sales channels.
"We went partner by partner, sat down with them, and looked at their inventory situation. We had the biggest stocks just sitting in Asia, particularly China and Hong Kong," said Richemont CFO Burkhart Grund, in a November call with investors. "We went specifically to the dealers and repurchased inventory that we oversold and they overbought, admittedly, in different circumstances, when the market was still booming."
Other brands, including Ralph Lauren, Louis Vuitton and Gucci, worked with platforms like Alibaba to crack down on counterfeiters that sell on the platform, and continue to buy back inventory from unauthorized sellers.
As JD.com and Alibaba compete, WeChat is on the rise
Brands are working closely with China's tech companies, including the e-commerce marketplaces JD.com and Alibaba, as well as WeChat, to get off the ground faster in a complicated market.
"The key point is that it is very complicated to run e-commerce in China," Farfetch CEO José Neves told Glossy at the time of the JD.com deal. "Few brands are able to do it, and very few work directly in the market."
JD.com and Alibaba are both working with brands to offer them a suited selling environment on their platforms, including tailored brand pages, campaign promotion, and shipping and delivery logistics. Since they're both mass marketplaces, building luxury hubs for high-spending customers has been a priority. JD.com, in addition to partnering with Farfetch, built the luxury platform Toplife, and Alibaba has established the Luxury Pavilion, which is only accessible to invited brands and customers. Since the Chinese market is new territory for many brands, the platforms have acted as a consultancy to get newcomers adjusted to the region.
"We work with these brands on a daily basis to discuss what works and what doesn't," said Sebastien Badault, the managing director of Alibaba France. "The power is the data we have on what the consumer engages with on a daily basis. Some of these brands haven't been on the market very long. The Chinese consumer buys products, but more than that, buys the story. We give them a great area to be able to tell that story."
At the same time, brands that aren't ready to fully commit to a store on a marketplace have tested the waters of WeChat, the social app with 900 million users, which is best suited for promotions and offers that drive customers into stores. Céline, Dior and Cartier have used the platform to sell directly, as well, and Flora expects adoption to increase.
The luxury shopping experience takes shape
Now that brands are setting up shop in China, the priority in 2018 will center around ensuring that the quality of the shopping experience is the same for Chinese customers, no matter where they encounter a brand.
"Luxury's main concern is to ensure that nothing is lost in the quality of the online shopping experience," said Flora. "This makes it important to incorporate omnichannel features like synchronized inventory or online appointment bookings, but these features remain limited among luxury brands in China."
JD.com provides a white-glove concierge delivery service, with same-day delivery, for its Toplife customers, which hints at the future of customer expectations. For brands like 3.1 Phillip Lim — which has a network of stores in China but doesn't own its e-commerce operations, and only has 5 percent of sales there coming from online — JD.com is a powerful partner, because it can link online inventory on the marketplace to local stores. WeChat, meanwhile, is a prime tool for scheduling in-store appointments and bridging the gap between online and off.
"China has been a very important market since Day 1," 3.1 Phillip Lim CEO Wen Zhou told Glossy in September. "The Chinese customers are very resourceful. The ultimate goal is to get the product into the hands of JD.com clients. The capability is beyond our own imagination, let alone capability. They can reach millions of clients the next day in all cities in China, which is something I'm not able to even comprehend."
https://digiday.com/?p=268153
December 8, 2023 • 3 min read
For Atlas Creative, expanding into Roblox is not solely a play to scale up. The company believes there are concrete benefits that will come with having a hand in multiple metaverse platforms.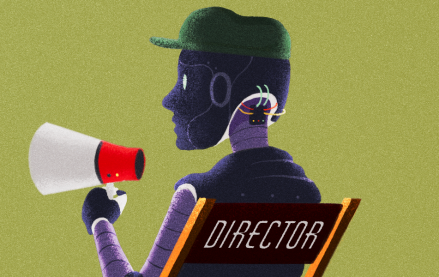 December 8, 2023 • 5 min read
Since ChatGPT became a breakout hit, the names of numerous AI companies and products have entered the cultural vernacular.
December 8, 2023 • 4 min read
Even as linear TV ad spend declines, 23andMe is reinvesting in the channel to boost brand awareness.