Amazon advertising is working directly with brands now, cutting out ad agencies
July 19, 2018 • 5 min read
•
•
Amazon is increasingly working directly with brands on advertising deals.
Amazon has always had a robust direct line to brands via an application programming interface for Amazon Marketing Services, the part of its ad business that includes self-serve Amazon ads. But working directly with big brands for bigger media buys, without agencies in the process, is a new phenomenon for Amazon. The company is increasingly sending its burgeoning sales team to directly meet with marketers and chief marketing officers, according to people familiar with the matter.
It's especially well-received by marketers because Amazon Advertising has long been touting itself as simply one part of an overall "Amazon strategy" for advertisers. That means that brands should, or so the pitch goes, be thinking about everything from online Amazon stores, shipping, logistics, review management — as well as advertising.
Seth Dallaire, vp of worldwide ad sales and marketing at Amazon, said that the company works directly with many brands for deeper dives on retail analytics, data like why things may be out of stock and how to price products and offers.
"With some of our largest brands, we may work with our counterparts in the retail business to secure a deal for Prime Day, for example, and then put together a promotional plan to help make it successful," he said.
One of those brands is HP. The company is an Amazon fan: Its global head of media, Dan Salzman, said that Amazon is now the third-biggest media partner behind Facebook and Google. The brand finds the platform most helpful when it comes to what Salzman calls "lower funnel activities."
Of particular interest is that Amazon provides a clear understanding of what's working. "Given that Amazon search and Amazon reviews are a key part of the purchase journey for many of HP's customers, Amazon's ad product is an effective tool for us to drive the customer to our brand," said Salzman.
According to data from Standard media Index, an advertising intelligence company, Amazon ad revenue is up from 36 percent from last year from national advertisers — that is, big Fortune 500 brands. The majority — about 74 percent — is coming from display ads in the year to date.
According to Amazon's first-quarter earnings, ad revenue overall has grown 132 percent year over year and is now $2 billion.
HP works with both AMS on sponsored products, headline search ads and product display ads, and also directly with Amazon Media Group, its internal team. "The benefits of working directly with Amazon are greater speed and operational efficiency," said Salzman.
Lego is also using Amazon directly, particularly for search. Lego now has an Amazon store and is spending on Amazon ads more and more. As Digiday has reported, Lego has a dedicated landing page on Amazon. Nobody who competes with Lego can advertise there. 
Dallaire said the company is also working directly with smaller direct-to-consumer brands that are using agencies at all. These brands are taking advantage of our self-service tools for Amazon Marketing Services and our DSP [Amazon Advertising Platform] and then requesting more counsel on how to accelerate awareness building within our stores and on our devices."
Agencies remain important and relevant to Amazon, the company is quick to say. The platform has been building out its ad business, and agency buyers are hearing from it more and more often.
Working directly with brands is a tried and true approach. Google did the same — increasing the number of direct deals it does with marketers in an effort to cut out the middleman. Eric Heller, founder of Wunderman Commerce consultancy Marketplace Ignition, said that when he ran digital marketing for Expedia Corporate Capital, Google had just started to seriously wine and dine brands directly to pitch them on advertising.
"Amazon is definitely talking directly to brands," said Heller. "I'm not sure that everything old isn't new again. I don't think after Google we started hearing later that companies were dropping agencies."
Heller said one big reason for Amazon to push directly to brands is it remains still a third-biggest partner, in most cases, for marketers. If Amazon wants to grow that side of its business, it needs to step up its game and go beyond agencies or small sellers on its platform.
The other, perhaps more-difficult-to-untangle, problem is brands still get concerned about Amazon's role as both an ad platform and a retail company. Brands are worried that if they spend money on Amazon advertising, they'll also be funneling it into Amazon, which is growing its private-label business — therefore helping, in a sense, its own competitors. Kevin Packler, vp at the Tombras Group in Knoxville, Tennessee, said that he's always telling his clients that Amazon is "neither a pure-play competitor nor a pure-play ad platform. It's in the middle."
With that, it makes more sense, said Packler, for Amazon to step in and directly talk to brands to sell them on its value.
"Whenever you look at a customized approach, I would expect Amazon would be more involved with a direct conversation than using the agency," said Packler.
As for brands, working directly with platforms goes hand in hand with marketers trying to be more data-driven and take control of their media. Nissan vp of marketing for Europe Jean-Pierre Diernaz said that, overall, the company is getting closer to everyone: Google, Amazon, Facebook, with quarterly reviews. "They're becoming an integral part of our plan to be more data-driven."
Download Digiday's guide to 6 ways Amazon will eat the media and marketing industries here.
https://digiday.com/?p=295738
December 8, 2023 • 3 min read
For Atlas Creative, expanding into Roblox is not solely a play to scale up. The company believes there are concrete benefits that will come with having a hand in multiple metaverse platforms.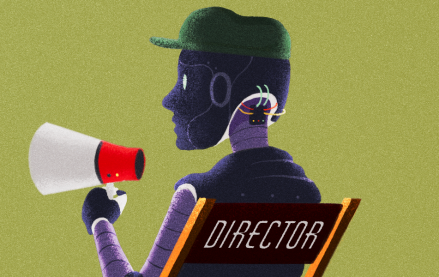 December 8, 2023 • 5 min read
Since ChatGPT became a breakout hit, the names of numerous AI companies and products have entered the cultural vernacular.
December 8, 2023 • 4 min read
Even as linear TV ad spend declines, 23andMe is reinvesting in the channel to boost brand awareness.