'Absolute necessity': Frame brings its luxury denim into the e-commerce era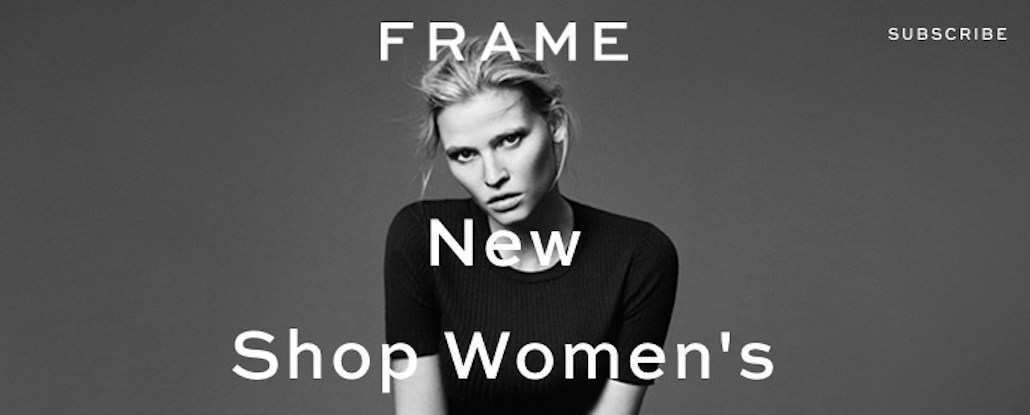 Shoppers who want to mimic the looks of Karlie Kloss and Taylor Swift can now hop online to purchase the latest denim offerings by Frame Denim, courtesy of the company's new e-commerce efforts.
Frame, a denim and ready-to-wear company based in Los Angeles, announced the launch of an e-commerce site, in addition to opening its first brick-and-mortar store on Melrose Place, with plans for an additional store in New York City this summer. Frame is one of a number of luxury wholesale retailers now wading into e-commerce, a necessary venture to expand the consumer base and increase accessibility to high-end fashion, analysts say.
"While slower to adopt e-commerce, luxury brands are quickly starting to understand the positive impact, both on revenue and brand perception, that e-commerce can have," said Neda Whitney, group account director at R/GA. "Brands need to create e-commerce experiences that help their consumers shop on their terms."
Co-founders Erik Torstensson and Jens Grede started the company in 2012 to widespread acclaim. For the duo, e-commerce is the next step to tapping a luxury market — last month, Manolo Blahnik joined the online sales marketplace by launching a global e-commerce store in partnership with Farfetch. The luxury e-commerce market is expected to hit $41.8 billion by 2019, according to Global Luxury E-tailing Market report.
Frame started an accompanying social media campaign called #GirlsInFrame that features shoppable photo stories on its site, as well as pictures of celebrities and fashion moguls wearing Frame apparel.
"We did not want our brand content just to live in its own silo," Torstensson told Women's Wear Daily. "The site will feature the full collection. It will also feature a range of content including our men's and women's fall and spring campaigns each season, videos, our #GirlsinFrame project and lots more."
While moving online may remove the personalized experience of shopping for apparel in stores — particularly from jeans, which benefit from that in-person touch — Tony King, CEO of creative agency King & Partners, said that once a consumer knows their size and fit, the ability to shop online greatly increases ease.
"I think it's an absolute necessity for a brand like Frame to have e-commerce because, as well as it being a luxury priced brand, it's also a very replenishable brand. You might first see it in store and purchase, but once you know your size and preferred fit you can easily and confidently order online," he said.
Tina McCarthy, group engagement director at Huge, said that while most sales are still happening within stores, e-commerce provides consumers with a place to seek out styles they like.
"I think it's important when evaluating e-commerce opportunities, especially in luxury retail, to remember that despite exponential e-commerce growth year over year, more than 90 percent of all retail sales are still happening in brick-and-mortar stores," McCarthy said. "Yet we also know people are spending an increasing amount of time online researching and exploring."
https://digiday.com/?p=173279