WWE is going broad with its video strategy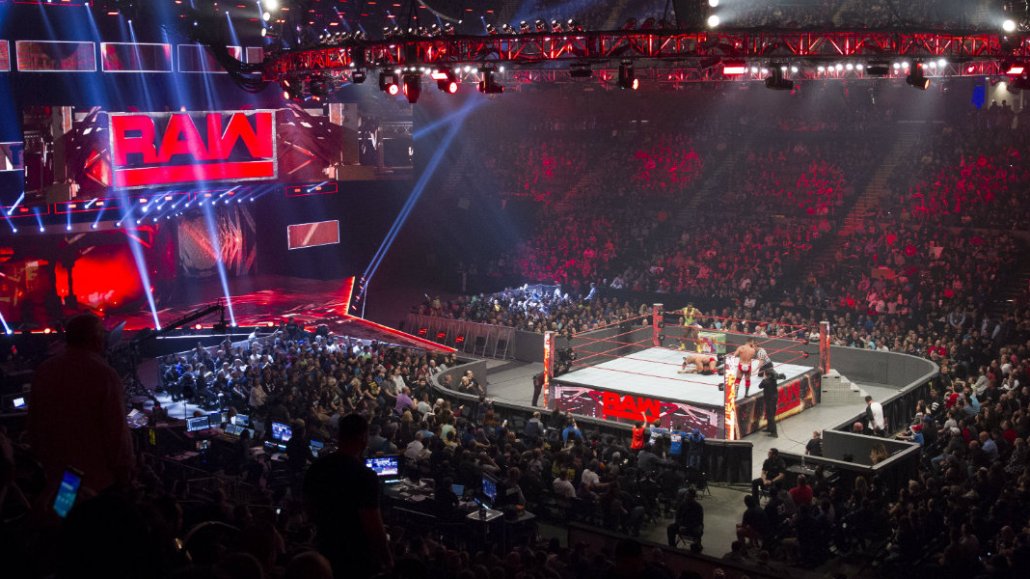 WWE has a legacy TV business and a growing subscription streaming app — and it's a giant on YouTube, Facebook and other social platforms. But as the company plans to do more scripted and unscripted programming for TV, streaming video and social platforms, it's putting many its video teams in one place to do so.
For instance, WWE premiered a new live show on Facebook Watch on Jan. 16 called the "Mixed Match Challenge," which features WWE stars competing in a tag-team tournament for charities. Each episode of the 12-episode series will run for 20 to 30 minutes and will feature additional short-form content meant to hype different matches and episodes to WWE's Facebook audience.
Facebook is looking for original shows that can have social and interactive elements beyond the core episodes. With WWE's talent and avid fan base, the company can create community-centric programming, said Michelle Wilson, chief revenue and marketing officer for WWE. The company will use its talent's social pages to promote the show, and let fans vote on the final competitors from its Raw and SmackDown brands.
"I've sat in all of the meetings as we've been developing this show, and we've continued to say that we cannot think about this as a regular TV show," Wilson said. "Our writers are sitting in the same room with our TV, digital and social teams to figure out how to do it. It's a different approach that's true to the Facebook platform and our fans on Facebook."
Last year, WWE purchased another office space at its Stamford, Connecticut, headquarters and produced 1,500 hours of original programming, including 600 hours of short-form digital video. As the company expands its video production business this year, WWE wants its long-form producers and editors to sit beside its short-form producers and editors. Overall, WWE has about 350 employees within its TV and digital media divisions.
As part of WWE's video expansion plans, the company's Los Angeles-based WWE Studios unit, which previously focused on theatrical and home-entertainment releases, is now actively developing and pitching show ideas to TV and digital buyers. WWE has some experience on this front, with shows such as "Total Divas" on E! and a Ric Flair documentary for ESPN's "30 for 30" series.
"Up until now, an opportunity such as 'Divas' or the Ric Flair documentary would come along, and we'd flip it," said George Barrios, chief strategy and financial officer for WWE. "We are now ready to go from opportunistic to aggressive; this is now a strategic imperative, whether it's TV, Netflix, Amazon or even YouTube Red."
The WWE executives said they're able to become aggressive in part due to the success the company has found building an audience on digital and social platforms.
WWE's subscription streaming service, WWE Network, had 1.51 million paying members as of September 2017 and is bringing in twice the revenue of its legacy pay-per-view business, the company said.
On external platforms, WWE also looms large: On YouTube, WWE's main channel has 21 million subscribers and 19.5 billion lifetime views, making it the second-most viewed YouTube channel of all time. On Facebook, WWE's main page has 37.8 million followers. WWE stars, too, have large followings on this platform. John Cena's Facebook page, for instance, has more than 45 million likes; YouTube channels such as The Bella Twins and the gaming-focused UpUpDownDown each have over a million subscribers.
Overall, WWE said it surpassed 20 billion views across digital and social platforms last year.
This reach comes in handy when WWE goes to market with different series projects, Wilson said. "We do our brand presentation, which hits on [WWE's digital and social numbers], and then we pitch a show concept," she said. "We're able to remind them that when they're deciding on a show, we can bring in a huge social audience."
Image provided by WWE
Subscribe to our new video briefing newsletter: An inside look at what's actually happening in the video industry.
https://digiday.com/?p=271860