The eighth edition of the Digital Content NewFronts wrap today, and with them came and went another cycle of digital platforms, media companies and studios pitching ad buyers on the value of their businesses.
Spanning 14 official presentations, including three from non-media companies such as Digitas, Target and the IAB, this year's NewFronts had several key themes: a more modest and serious collection of presentations, the growing convergence of TV and digital video ad businesses and — you guessed it — brand safety.
Here are five things we learned during the eighth industry-wide Digital Content NewFronts.
A more sober market means a more sober week
This year's NewFronts were a more modest affair when compared to some of the lavish and rowdy presentations from the past. For instance, Vice Media, which famously hosted a boxing match between star Eddie Huang and Vice employee Niall Cooney two years ago, presented a more serious tone during its event at a Chinatown dim sum joint. Verizon, which had Jamie Foxx on Pier 26 last year, kept it mostly indoors this time around. Even YouTube, which rented out all of Rockefeller Center for a massive afterparty, had a smaller private gathering after this year's show at Radio City Music Hall.
This doesn't mean that there weren't any splashes — George Clooney, who has a show on Hulu, showed up to an upfront for the first time since "ER" — but between venue selections and the actual content on the stage, most digital media companies focused on a more serious tone. Conde Nast and Vice spoke about third-party audience measurement and making it easier for advertisers to buy inventory and even partner with the publishers on branded content.
While some of the seriousness can be attributed to the current climate in digital media, where even big digital publishers are struggling to turn a profit, the NewFronts are also becoming more mature, said John McCarus, who co-founded the NewFronts during his time at Digitas. "Given that there has been so much change in the digital media space, it's remarkable that the NewFronts are still a thing," said McCarus. "But despite all of the whining, complaining and skepticism, they are still mostly sold out. That's because it's still an annual marker of market worth — who's in and who's out — while also serving as an important educational platform for a space that changes so rapidly that six months can be an eternity."
The TV and digital video merger is more real than ever before
The 2019 NewFronts are happening at a time when more TV networks are integrating digital video into their TV upfront negotiations.
Viacom hosted its second NewFronts presentation this year, focusing on its Viacom Digital Studios business and its $340 million Pluto TV acquisition. The company will be launching 14 new channels on Pluto TV including one that just plays reruns of "The Hills" and "Laguna Beach." Hulu's CEO Randy Freer, meanwhile, was as direct as he could be when he said, "streaming is TV; it's simply better TV."
During its presentation, Conde Nast chief revenue and marketing officer Pam Drucker Mann pitched the publisher's multi-platform video network as the "new primetime." In 2018, the publisher said its digital video network eclipsed 14 billion video views — and on YouTube, where Conde Nast has more than 27 million YouTube subscribers, the publisher said it averages seven trending videos per week. This is helping Conde Nast reach 30 million millennial and Gen-Z viewers who are not watching traditional TV, the company said. Meredith, meanwhile, is distributing its People TV streaming channel through some of its local TV stations.
Now, digital publishers and platforms have boasted about how they are bigger and better than TV since the NewFronts first began, but now TV companies have gotten serious about selling more digital inventory — setting off a looming battle for advertisers' TV and digital video budgets.
"What's changed is that the numbers are there now," said an ad buyer at a holding company. "Digital is trying to be like TV and TV is trying to be like digital — and they're both saying they can do the other thing better [than the incumbent]. It's hilarious but you can sense their urgency."
Publishers are talking up their TV studios
Publishers have been investing in studio businesses to make and sell content to Netflix, TV networks and other long-form video buyers. Conde Nast said it had 14 TV projects in development and touted the popularity of its Netflix shows such as "Last Chance U" and "Fastest Car," both of which were Netflix's top 10 most binged shows of 2018. Vice Media talked up Vice Studios, which produced a hit Fyre Festival documentary film for Netflix and will soon have a scripted drama on Amazon starring Jon Hamm and Adam Driver. Vox Media, meanwhile, showed up at Hulu's presentation with a multi-year output deal to produce original food programming for the streaming video giant. Conde Nast and Vice both said the company will offer integration opportunities for some of the long-form programming they are producing for other companies.
Hulu takes a stand on ad frequency
Ad frequency is a huge issue on streaming video environments. With viewership far outpacing advertising spend, viewers are frequently subjected to the same ad over and over again. As streaming video takes centerstage in the digital video and TV industries, this is a big problem that needs to be solved.
During its presentation, Hulu introduced new caps on advertising on its platform: every commercial pod will be capped at 90 seconds and viewers will not see the same ad more than two times per hour and four times per day. (Of course, what this also means is that prices for some of Hulu's top ad placements are about to go up.)
"I think everyone in the industry did a cheer when Hulu addressed those new frequency standards that they are rolling out," said Marianne Rush, media director at GSD&M. "It's rolling out a better advertiser and viewer experience."
Brand safety, brand safety, brand safety
Ahead of last year's NewFronts, YouTube was in a PR crisis over ads appearing near unsavory videos on its platform. Flash forward to 2019: the story hasn't changed, YouTube is just struggling with different sort of offensives on its platform. And just like last year, almost every other NewFronts presenter took this as an opportunity to pitch themselves as an alternative to scandal-plagued platforms.
Conde Nast and Vice even went as far as to promote their own reach on YouTube — 27 million subscribers for CNE and 30 million subscribers for Vice's channels — as a way to pitch "brand safe" scale on YouTube.
Whether publishers can pull ad dollars away from YouTube is a different story — even with YouTube's ongoing issues, many media buyers admit that YouTube (along with Hulu) are the first stops for them at the NewFronts. Following TV networks, the platforms collect the most ad dollars.
Longtime YouTube network Studio71, which has a roster of creators that include Rhett & Link and Smosh, said it has been able to land upfront media dollars with its product Context, which scans videos and comments to filter out any videos that might be deemed unsafe for advertisers.
"We can deliver a brand-safety product at scale," Izad said. "That is not necessarily important to everyone in the market, but for those that it's important to, it's really important to."
2019 NewFronts Awards
Best food spread: Verizon Media's afterparty at P.J. Clarke's, which featured lobster rolls, brussels sprouts and a pasta bar
Biggest tearjerker: Ellen Digital Network's entire presentation followed by the fact Ellen wasn't even there
Money quote about brand safety: "We all know how brands love Satan." — Hulu CEO Randy Freer
Thirstiest play for Gen Z: Verizon Media's new 5G mascot Hypezilla, which shills sneakers in the Yahoo Play app
Most awkward joke: "Even if you're not on Twitter, though we know you should be, we'll buzz your phone with notifications." — Twitter's Sriram Krishnan
Most Vice thing to happen at a Vice event: Andy King, famous for being willing to give a blow job for water bottles during Fyre Festival, appearing on stage
Most New York Times thing to happen at a New York Times event: A two-hour show capped off by forcing the crowd to solve a crossword puzzle
Would like to have this one back: Viacom, at capacity, turned away attendees at the door with no alternatives to watch the show
Most surprising platform pitch: Meredith plans to produce more than 20 shows for IGTV, a product that's driven a whopping 20 million views for Meredith properties over the past three months
Best musical act: Whoever got paid by YouTube to close its show
Worst surprise: The giant snake at Studio 71's presentation
Most Hollywood: Hulu, which had a lineup that included George Clooney, Reese Witherspoon, Margot Robbie and perennial Hulu presenter Mindy Kaling
Would like to have this one back, part 2: Twitter's show at Terminal 5 was overcrowded and very cold. Once halftime, some attendees bailed
Kerry Flynn and Max Willens contributed to this story.
Subscribe to the Digiday Video Briefing: A weekly email with news, quotes and stats around the modernization of video, TV and entertainment. 
https://digiday.com/?p=332746
This week's Future of TV Briefing looks at how this year's upfront and recent announcements from AMC Networks and Paramount indicate the progression of programmatic in the TV and streaming ad market.
This week's Future of TV Briefing looks at how major streaming service owners' subscription business fared in the third quarter of 2023.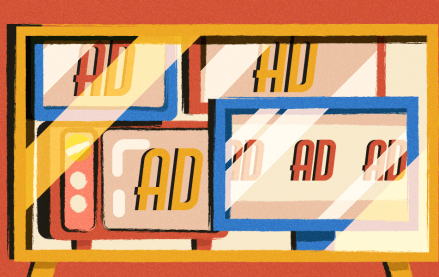 This week's Future of TV Briefing looks at what TV and streaming companies' latest quarterly earnings reports indicate about the state of the TV advertising market.