Video Briefing: Ad buyers are frustrated by the limitations of OTT walled gardens
December 5, 2018 • 7 min read
•
•
Sign up here to get the Digiday Video Briefing by email every Thursday.
Marketers say they have their own share of frustrations with over-the-top streaming video distributors, stymied by different walled gardens that make it difficult for them to measure and match campaign performance.
The key hits:
Walled gardens such as Amazon, Hulu and Roku provide different ad targeting and reporting options.
This limits the ability for marketers to match different data sets and get a more holistic picture of who they reached across the major OTT platforms.
Amazon and Roku are also making it more difficult for third-party ad networks to function in their OTT ecosystems.
Some marketers see these walled gardens opening up their doors more as ad dollars continue to flow into OTT. Better partners will get a greater share of ad dollars, they say.
At the Digiday Video Marketing Summit in Nashville last week, the biggest challenge marketers — including brand marketers and media buyers — said they face in OTT are the walled gardens. Specifically, attendees were referring to major OTT platforms and ecosystems such as Amazon, Roku and Hulu. Each of them are closed ecosystems and provide different types of data on their audiences, which makes it difficult for marketers to get a unified, cross-platform understanding of who they are reaching. According to a live poll we conducted among attendees at the event, 51 percent said "limited measurement" was the biggest challenge in OTT advertising.
For instance, according to three ad agency executives, Hulu allows marketers to target based on audience and, in the case of its original series, individual show sponsorships. It provides reporting across both options. Roku offers targeting and reporting based on audience and genre — but not individual programs. Amazon is even more limited, offering targeting and reporting at just the audience level.
"There's essentially nothing you can compare across them," said one media agency exec. "You don't know if the audience is duplicated, either on a program basis using TV tools or a uniques basis using digital tools."
This issue is compounded by the fact that Amazon and Roku are making it increasingly difficult for third-party platforms to deliver ads on their devices. This makes it more likely that marketers will have to rely on the data supplied by Amazon and Roku — which, again, is limiting.
"Planning in these platforms can be challenging because each has their own taxonomy and definitions of data segments," said Kait Boulos, vp of strategy and partnerships at Varick. "Our preference is to use the more classic DSP platforms for activation because they have great planning tools and allow us to use the same data we would use for other strategies for the same advertiser. With OTT platforms, we can only leverage their first-party data and get an idea of scale when running directly with them and not through a DSP."
"With Amazon, you're purely stuck with their data [which includes] shopping behavior," said Nick Pappas, CEO of independent ad agency SwellShark. "Obviously, some of that is fantastic, but I can't take learnings from Amazon and extend the scale of that to other platforms and replicate the audience exposure."
The problem is only going to grow as marketers shift more ad dollars toward OTT. According to Digiday's own research, 74 percent of media buyers expect to spend more money on connected TV and streaming platforms in 2019.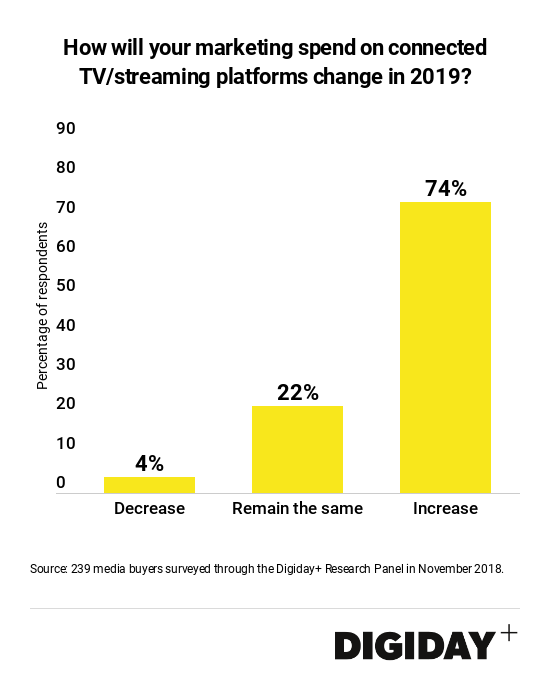 There is optimism among marketers that a standardized, unified measurement of OTT is on the way — not the least of which because the platforms themselves will be incentivized to open their doors as more ad dollars flow into the market, according to Pappas. Hulu topped $1 billion in ad revenue last year; Roku's ad business is now bigger than its device business, and Amazon is coming on fast and strong with Fire TV. These three major OTT ad players will be competing with each other for a greater share of ad budgets, and one way to grab that is by giving marketers greater access to data, Pappas said.
"The hunger for more revenue and more ad dollars will ultimately allow people to come together to create a more unified system across the board," Pappas said. "Amazon has the best opportunity because they can tie it back to actual lift in sales better than anyone else can."
Confessional
"I've been through a bunch of cycles by now. Everyone is either very hot or very cold on digital media — and it's happened about a dozen times. While it's not easy and there is going to be some death and destruction in the space, there are going to be some great winners that come out of it, too, and I intend to build one of those." — Digital media CEO
Numbers don't lie
3 million: Total new subscribers for Hulu in the second half of 2018 across all of its tiers, including ad-supported, ad-free and live TV products.
40 percent: Roku's share of streaming hours among OTT analytics company Conviva's customer base, which includes Hulu, HBO, Sling TV and Turner.
$22 million: How much money the 7-year-old star of RyansToysReview — a YouTube unboxing channel — made this year, according to Forbes.
What we've covered
Roku is trying to control ads inside publishers' TV apps:
Roku has erected new ad guidelines which makes it more difficult for third-party ad networks to operate on the platform.
Some publishers see this and other moves made by Roku as an effort by the company to own a greater share of ads delivered on the platform.
Read more about Roku's walled garden here.
The myths of connected TV advertising:
Myth: Connected TV and OTT are the same thing. They're not. One refers to the device and the other references how a video or ad was delivered.
Myth: There is a lot of TV-quality inventory on CTV. There isn't. Four apps account for 75 percent of time people spend on streaming video and two of those — Netflix and Amazon Prime Video — do not carry ads.
Read more about CTV advertising here.
What we're reading
How Bryan Goldberg became digital publishing's last hope (subscription): Bustle CEO Bryan Goldberg is buying another digital media brand, the millennial news outlet Mic, at a fire-sale price. Mic as a company could not build a sustainable business — but as a vertical within a larger company, it's a pretty solid brand that can pull in some revenue for Bustle Digital Group.
Netflix renews 'Friends' licensing deal with WarnerMedia: Netflix is paying $100 million to Warner Bros. in 2019 to stream every season of "Friends." The renewal deal is non-exclusive, which means AT&T (which owns Warner Bros.) gets to monetize "Friends" until its own HBO-branded streaming service launches in late 2019. At that point, AT&T can choose to keep "Friends" on Netflix while also distributing on its own service. My hunch is that they take "Friends" off Netflix by then, giving people a big incentive to sign up for its own product.
More details on AT&T and WarnerMedia's streaming service: AT&T says the streaming service, which will launch in the fourth quarter of 2019, will have three tiers: an entry-level package focused on movies, a bundle that includes original shows and movies, and the biggest tier which will include original shows, movies and WarnerMedia's film and TV library (as well as some third-party licensed programming). No news on pricing just yet, but don't expect this to be the final list. I can see a scenario where AT&T also bundles DirecTV Now with this service.
Hulu may one day compete for live sports rights: Hulu already offers live sports through the channels it has in its live TV product, but the company is exploring more direct ownership of some of those rights. "We're a subscription-driven business and we know that sports have a tendency to drive subscriptions," said Hulu CEO Randy Freer at Business Insider's Ignition conference. A lot of key sports rights are locked up for a few years, but even ESPN expects more competition in this area as tech platforms look to make competitive bids — just look at the reports that Amazon made a bid to buy Disney-Fox's regional sports networks.
YouTube's pulling back from scripted TV series: As YouTube moves its original TV shows in front of the paywall, the platform also expects to spend less on scripted series such as "Cobra Kai." YouTube execs say it's not moving out of scripted series entirely, but production partners say that the company is significantly reducing its budget for scripted original series. This is a bit of a no-brainer: scripted shows are more expensive than unscripted shows, and it's hard to turn a profit on this type of programming from only advertising.
https://digiday.com/?p=314205
This week's Future of TV Briefing looks at how this year's upfront and recent announcements from AMC Networks and Paramount indicate the progression of programmatic in the TV and streaming ad market.
This week's Future of TV Briefing looks at how major streaming service owners' subscription business fared in the third quarter of 2023.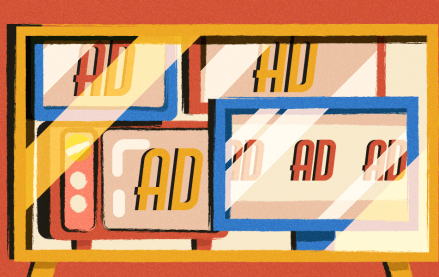 This week's Future of TV Briefing looks at what TV and streaming companies' latest quarterly earnings reports indicate about the state of the TV advertising market.