From Twitter to apps to Snapchat, ESPN reboots 'SportsCenter' for mobile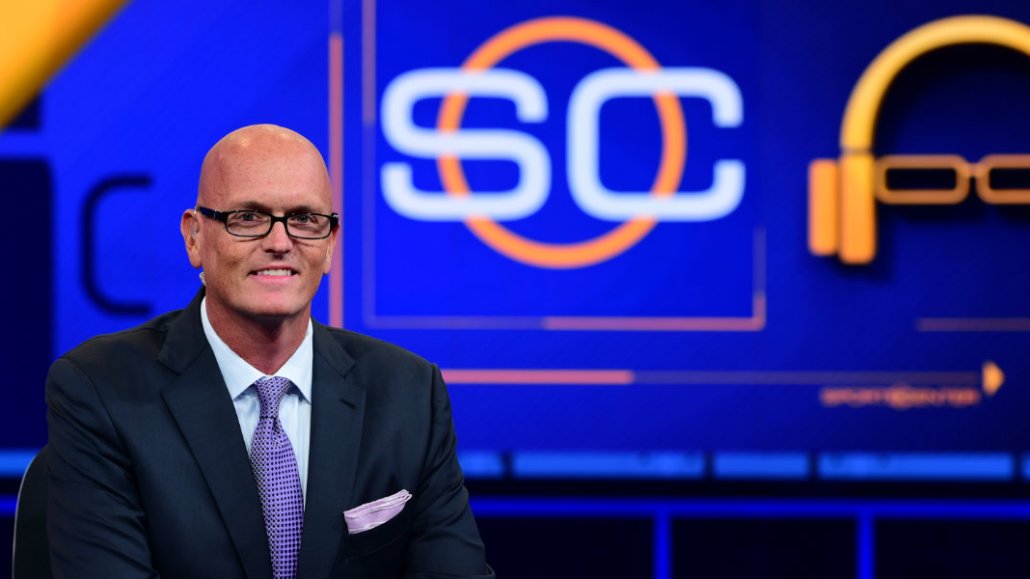 ESPN is extending "SportsCenter" to new platforms as it tries to revitalize its flagship TV franchise with new and younger viewers.
During its first NewFronts presentation taking place today, ESPN is announcing a new daily version of "SportsCenter" for the ESPN mobile app. When users come to the app each day, they'll see the show prominently displayed on the homepage, with the top news of the day. The app show will feature Scott Van Pelt and other key ESPN anchors, analysts and personalities. Earlier this week, Disney-owned ESPN and Twitter announced a new live version of "SportsCenter" for the messaging platform, "@SportsCenterLive."
ESPN's decision to make more digital and social versions of "SportsCenter" comes after a decision last year to make the show convenient and relevant to fans, regardless of platform, said Connor Schell, evp of content for ESPN.
"SportsCenter" airs multiple times per day across ESPN's TV networks. But sports fans are increasingly flocking to digital screens and social platforms to catch the latest dunk, touchdown or home run. It's led to the rise of social accounts such as Bleacher Report's House of Highlights on Instagram, which get hundreds of millions of views per month without the need for a studio set or analysts.
And as ESPN continues to combat cord cutting — the company has gone from more than 100 million TV subscribers in 2011 to roughly 87 million subscribers today — the need to make "SportsCenter" relevant to people who don't pay for TV has taken on greater urgency. (Across its different editions, ratings for "SportsCenter" in April have largely been flat year over year, with the exception of the 6 p.m. edition of the show, which is up 33 percent, according to Nielsen ratings data.)
"It's critical that 'SportsCenter' reconfigures its content for digital platforms in order to stay relevant for younger audiences who expect more snackable formats," said Josh Spiegelman, managing director of Spotlight, Mindshare North America's sports and entertainment practice. "'SportsCenter' through linear TV is clearly not the only way to access timely highlights and analysis as it once was, so they need to adjust."
ESPN has taken advantage of sports' popularity on social platforms. According to Shareablee, "SportsCenter" has the largest following among sports media outlets on Twitter and Instagram, where it posts highlights and other social clips.
But "SportsCenter," with its anchors-turned-celebrities, has always been about more than just the latest scores and highlights; personality and voice has mattered, too. It's something ESPN is being mindful of, especially as it translates "SportsCenter" for different platforms, Schell said. "With Katie Nolan, Cassidy Hubbarth and others, we've done a good job of finding hosts and delivering stories that work with the Snapchat audience," he said.
"SportsCenter" in Snapchat's Discover section typically runs for three to five minutes per episode and averages 3 million unique viewers per day, according to ESPN. This puts the show in line with other top daily shows in Discover, such as NBCUniversal and E!'s "The Rundown," which averages 4 million daily uniques.
Schell said "SportsCenter" on Snapchat is also profitable for ESPN and has helped introduce the show to younger audiences. Eighty percent of the Snapchat show's audience is under 35, he said. On TV, the largest audience for "SportsCenter" is between 18 and 49, with the second largest demographic between 25 and 54, the company said.
"On Snapchat, we've been able to reinvigorate that show in a way that's appropriate for the audience that's on that platform, and because that's worked, we'll continue to look for similar opportunities to do that in other places," said Schell. "The goal here is to create more invested sports fans. Because the more you're interested in sports, the more you will engage with and interact with 'SportsCenter' and ESPN."
The Snapchat show is a great example of ESPN matching its content to other platforms, said Spiegelman. "ESPN didn't just republish their linear product on digital; they changed up the talent, they reconfigured the brand for that particular platform. It has a very different feel from the TV product, and it's been a big success."
https://digiday.com/?p=286122