The Rundown: CTV platforms and ad-supported streamers kick off NewFronts Day 1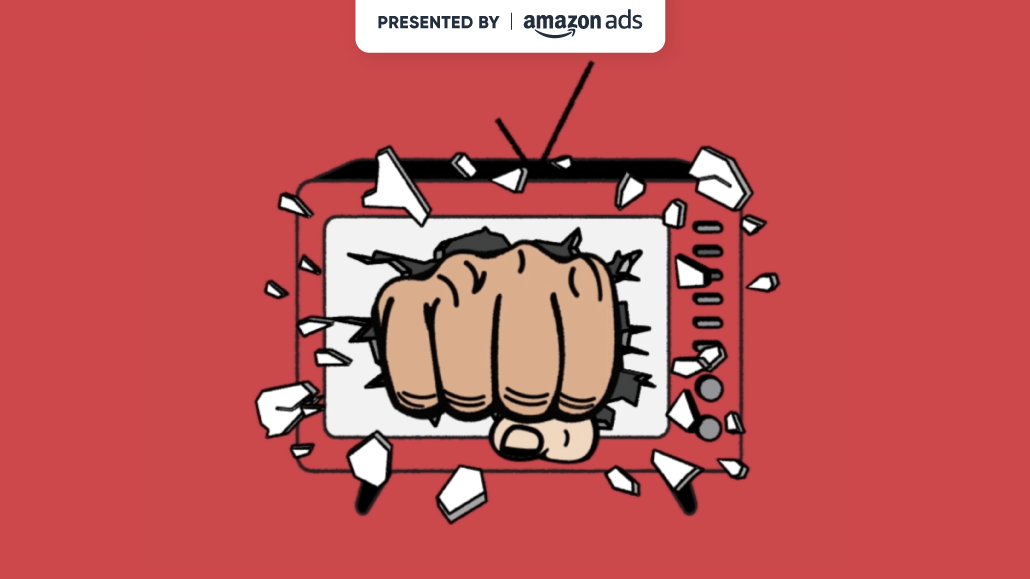 Digiday's NewFronts coverage is presented by Amazon.
The Interactive Advertising Bureau's four-day NewFronts digital video ad pitch-palooza kicked off Monday with a commingling of TV and technology. TV and tech companies, including Amazon, Fox's Tubi, NBCUniversal's Peacock and Vizio, talked up the coming together of traditional TV and streaming.
In addition to the typical programming reveals, the announcements revealed new products designed to insert advertisers into the programming as well as to evaluate the performance of advertisers' streaming campaigns.
Despite a surge in streaming viewership over the years, though, traditional TV is still taking the bulk of ad dollars, according to IAB's latest report on video ad spend. Digital video, it seems, is still in the buffering stage, not unlike the start of the IAB NewFronts, which were delayed by nearly 20 minutes due to issues with the live stream to audiences tuning in from afar.
The key details:
YouTube brings creators onstage to discuss how they work with brands.
Peacock announced two new ad products, moving Bravo shows to its platform, updates to the app's interface, and the latest with its exclusivity deals with Universal Pictures and Lionsgate.
Vizio debuted an analytics suite of tools to help advertisers plan, target, measure and optimize multi-platform campaigns.
Tubi will add more than 100 original titles in the next year, expand its relationship with Nielsen and is touting its ability to analyze audience and contextual data around "content clusters."
Amazon announced new programming and advertising opportunities for its streaming services, including Prime Video, Amazon Freevee and Twitch.
Connected TV ad spend is expected to double in 2022 from 2020's CTV ad spend, according to an IAB report released Monday.
YouTube
YouTube, which decided this year to be in both the upfronts and the Newfronts, held a presentation in collaboration with consulting firm MediaLink, to discuss best practices and opportunities of working with creators, such as the importance of segmentation and targeting so that the content matches the audience's values, developing a long-term relationship with a creator, as well as trusting the creator to know how to speak to the audience a marketer wants to reach.
"Knowing who you want to work with, and trusting them and letting them drive the car and get it right within clear briefs is really critical," said Sophie Kelly, svp of the North America whiskeys portfolio at Diageo, during a panel discussion.
YouTube also announced an exclusive deal with Paramount to livestream the "Top Gun: Maverick" movie premiere on Wednesday. It'll use YouTube's new "Live Redirect" feature to send audiences from Paramount's 150 YouTube channels to the livestream in real time.
YouTube creators like Cassey Ho and Collins Key were invited onstage to discuss the successful businesses they have built by working with brands, and the traffic and conversions they have delivered to brands. Ho's brands Blogliates and PopFlex are "both their own eight-figure businesses, and each one doubled sales year-over-year," she said. Key pointed to a recent campaign with Invisalign, which included five videos, driving 2 million views and "delivering over 500% of website traffic and 300% of conversions," he said.
Peacock
After NBCUniversal hosted a NewFront presentation last year, this year the Comcast-owned conglomerate's streaming service Peacock held a solo presentation to announce new ad formats and additions to its programming library. Peacock said it has 28 million monthly accounts and that more than eight million accounts have watched the drama series "Bel-Air."
Peacock announced two new ad formats: frame ads, which appear around the video content to "frame" the scene, and in-scene ads, which are inserted dynamically within a scene post-production. Both are currently being tested with the Peacock Streaming Council, which is made up of some of Peacock's advertising partners.
The in-scene ad can be dynamically placed during post-production to embed a brand's ad directly into the content, such as on a billboard in the background of a scene. If a viewer tunes into a show and then re-watches that same episode, they could see a different brand appear in that billboard, for example.
The frame ads can also be geo-targeted: If two people are watching golf, but one is in New York City and the other in Seattle, the New York viewer might get an ad from Talenti, while the one in Seattle might see one from Breyers. Brands can also add a QR code to the frame ad.
Peacock also touted some shows and movies that will be moving onto the streamer:
By September, all of Bravo's shows will leave Hulu and become available on Peacock the day after they air, as they have been on the Disney-owned streaming service. This shift started yesterday with the additions of "The Real Housewives of Atlanta," "Below Deck" and "Watch What Happens Live" to Peacock.
Corporate sibling Universal Pictures will release three films exclusively on Peacock in 2023: "Shooting Stars," "Praise This" and "The Killer.
Starting in 2024, Lionsgate will debut on Peacock movies that were previously released in theaters, starting with its 2022 slate. After their theatrical run, the movies will first hit Lionsgate sibling Starz and then run on Roku's The Roku Channel and then become available exclusively on Peacock.
Vizio
At its second NewFronts presentation, smart TV company Vizio provided an update on its CTV footprint and unveiled a new analytics tool.
With 20 million connected TV owners that have opted in to let Vizio track their viewing behaviors via automatic content recognition technology, the company announced an expanded suite of analytics tools to help advertisers plan, target, measure and optimize multi-platform campaigns. The company said Vizio Analytics can provide custom analytics services and enable advertisers to see incremental audience reach and frequency from ads purchased through Vizio in real time, based on affinities, geographics or demographics. The presentation also highlighted a new suite of tools called Vizio Enact, which works across Vizio TVs enabled for universal addressable advertising to deliver ads inside cable and broadcast TV programming. Vizio's advertising division, Vizio Ads, secured over $100 million in commitments from agency holding companies after its 2021 NewFront, according to the company.
Vizio also promoted WatchFree+, its relaunched free, ad-supported streaming TV service with linear TV channels and an on demand library. It now has over 5,000 movies and TV shows and 250 live free streaming channels (including A+E, CNN, Fox and the NFL), and doesn't require a subscription or a login.
Vizio's "home screen hero" banner ad unit drove a 95% tune-in lift for a series premiere from a broadcaster, according to Nyma Quidwai, Vizio's senior director of client services.
Tubi
Owned by Fox Entertainment, free, ad-supported streaming service Tubi now has 51 million active users, up from 33 million at the end of 2020, according to Tubi chief revenue officer Mark Rotblat. The company said more 3.6 billion hours were watched in 2021 across its 40,000 titles, a 40% increase year over year in total viewing time.
To boost that watch time, Tubi is building up its library of on-demand programming as well as its lineup of 24/7 streaming channels. The streamer will release more than 100 original titles in the next year, including three adult animated films, new monthly documentaries co-produced with Fox Alternative Entertainment and specials with TMZ. It will also add 24/7 streaming channels for FOX Entertainment's "The Masked Singer," TMZ and Studio Ramsay Global's "Gordon Ramsay."
And to buoy its pitch to advertisers, Tubi highlighted some recent measurement-related announcements. The company has struck a deal with Nielsen to enable its Digital Ad Ratings measurement for ads running on Tubi. And it has released an analytics tool called Campaign Insights that groups together "unique content groups," or "content clusters," to give brands " a complete picture of audience and context together," Rotblat said.
In a recent campaign, Tubi found two-thirds of the impressions fell within three content genres: comedy, drama and action. But, when Tubi broke down the same delivery, the top two-thirds of impressions ran across 20 content clusters, and the leading category was "Black history and culture," Rotblat said. A deeper mapping of the audience found that this content cluster had a high index for high-school educated, 18-34 year old, single African Americans living alone, who enjoy technology, politics and reading, he said.
Amazon
Amazon used its NewFronts presentation to pitch advertisers on its portfolio of streaming services, which span its flagship streamer Prime Video, its FAST service Amazon Freevee and its live-streaming platform Twitch.
The presentation also highlighted Amazon Ads, such as a new Streaming TV Media Planner, which lets advertisers see their incremental streaming TV reach and compare it to linear reach. Currently in beta, the Omnichannel Metrics product provides measurement to allow advertisers to make changes in-flight to optimize their campaigns.
Prime Video
This fall Amazon will have exclusive rights to the NFL's Thursday Night Football games, which will stream on Prime Video and Twitch starting on Sept. 15. The company said that its technology will mitigate the risk of lag times and buffering that can disrupt the live-streaming experience.
Amazon announced a new virtual product placement (VPP) open beta program, which allows a brand's products to be inserted into participating Prime Video and Amazon Freevee original content, once filming has wrapped. Products or branded signage can be inserted into scenes, such as a can of soda appearing on a kitchen counter, or a billboard on a building in the background. "Reacher," "Tom Clancy's Jack Ryan" and the "Bosch" franchise are among some of the titles currently participating in VPP. A CPG brand experienced a 6.9% increase in brand favorability and a 14.7% increase in purchase intent for their campaign, according to the company.
Amazon Freevee
Amazon's FAST service, formerly known as IMDb TV, now has more than 75 channels available. New programming coming to the service includes "Hollywood Houselift" — featuring interior designer Jeff Lewis working on the homes of celebrities like Anthony Anderson, Melissa Rivers and Wilmer Valderrama — and "Bosch: Legacy," the spinoff of the Prime Video series "Bosch."
Amazon Freevee has secured a short-term film licensing agreement with Disney to stream a limited selection of titles, such as "Deadpool," "Deadpool 2," "Logan," "Hidden Figures," "Murder on the Orient Express" and "The Post."
Twitch
Twitch highlighted a few newer options to advertisers to embed themselves into the live-streaming platform.
Interactive live-shopping game show "POG Picks" and upcoming live unboxing show "Drops with Swagg" are two live shopping-related programs hosted by popular Twitch streamers, where brands can have their products featured in these episodes (in giveaways, or in shoppable chat boxes, for example), like a "Twitch QVC," said Sarah Iooss, Twitch's head of sales, Americas.
Another new option is "For Twitch, With Twitch," in which brands will be able to sponsor specific creator-produced programming — in some cases, created in collaboration between creators and Twitch's advertising division — that will air on Twitch's owned-and-operated channels, such as /Twitch Rivals and /twitchgaming. During March Madness, for example, the /TwitchSports channel streamed two shows featuring top Twitch streamers, sports analysts and athletes, with Wendy's and Philips Norelco sponsoring custom programming throughout the shows.
Twitch also discussed its Co-Op Drops program for brands to sponsor Drops, an existing Twitch experience where in-game rewards are granted to viewers for watching streams on Twitch. Adobe was the first brand to test the program in March through a series of sponsored streams with six Twitch creators playing Amazon Games' New World, which received 3.1 million total views at launch.
The state of CTV ad spending
Three out of four buyers said CTV is a "must buy," according to the IAB's 2021 Video Ad Spend and 2022 Outlook" report, which was shared during Monday's NewFronts and conducted in partnership with Standard Media Index (SMI) and Advertiser Perceptions. The report did not disclose how many ad buyers were surveyed.
The numbers to know:
This year connected TV ad spend is expected to grow by 39% year over year to $21.2 billion (after a 57% increase in 2021 from 2020 to $12.2 billion).
Overall annual digital video ad spend grew 49% in 2021 to $39 billion and is expected to increase 26% to $49.2 billion in 2022.
CTV will account for 36% of total time spent with linear TV and connected TV combined in 2022, according to an estimate by eMarketer included in the IAB's report.
However, just 18% of total video ad sales are spent on CTV compared to the total video spend (which includes linear TV, CTV, social and short form video).
Video buyers surveyed for the report said CTV allows them to use data not available within linear TV buys, including first-party brand data (65%), location data (61%) and shopping data (50%).
57% of buyers felt CTV was more effective than linear TV at delivering website and sales actions
46% said they were more effective at delivering brand perception
However, the report also identified challenges inhibiting ad dollars moving to CTV. Nearly half of the undisclosed number of video buyers surveyed for the report cited measuring incremental reach across platforms and publishers as a challenge when it comes to CTV advertising. Other issues include managing frequency, a lack of transparency within walled gardens and fragmentation of programmatic supply paths.
Video buyers predicted a coming-together of the linear TV and CTV markets: nearly nine out of ten buyers (88%) anticipate a converged linear TV/CTV marketplace in the coming years. Two in three (66%) linear TV/digital video buyers now have a single planning team for the two channels, and another quarter (25%) expect to have one planning team in the future.
https://digiday.com/?p=446997