Streaming TV services hope that better ad targeting will lead to profits
July 27, 2018 • 8 min read
•
•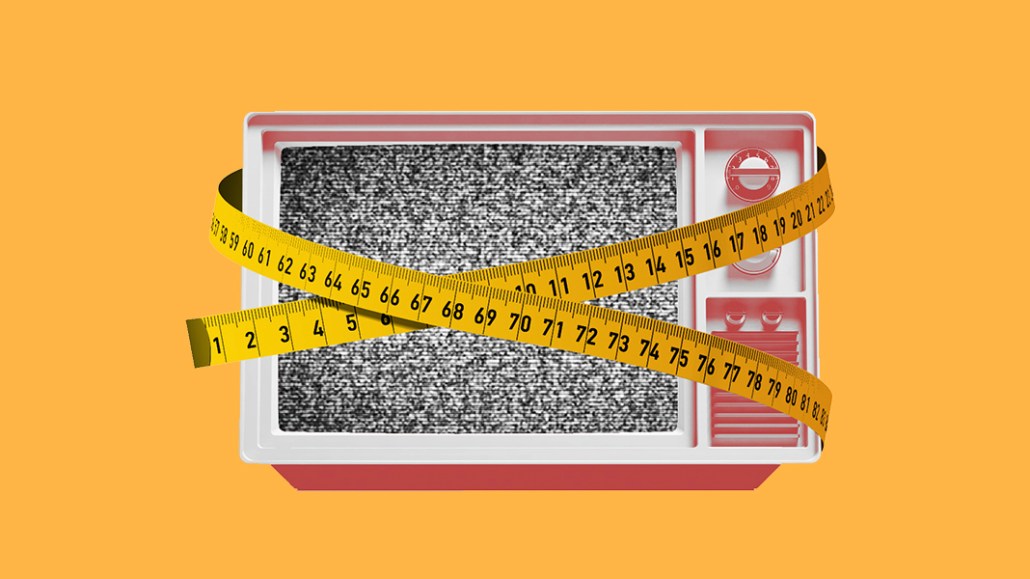 Streaming TV services such as YouTube TV are looking to reach cord-cutters with cheaper channel packages delivered over the internet. But with rising programming costs tied to the pay-TV model, it's been difficult for these services to turn a profit.
Together, these so-called skinny bundles — virtual multichannel video programming distributors, or virtual "MVPDs," in TV industry terms — reach more than 6 million subscribers. Dish Network's Sling TV and AT&T's DirecTV lead the pack with 2.2 million subscribers and 1.8 million subscribers, respectively. Hulu's live TV service and YouTube TV have 1 million subscribers and 800,000 subscribers, respectively, according to The Information. And Sony's PlayStation Vue service rounds out the big five with a reported 500,000 subscribers. (Smaller services such as FuboTV, with more than 100,000 subscribers to its live sports, and Philo, which focuses on non-sports cable channels, contribute to the pot.)
Traditional cable, satellite and telco distributors have been able to partially offset subscriber losses with these streaming services, but those numbers still lag the estimated 92 million people that still pay for the traditional services.
Most virtual MVPDs still lose money because they pay more to carry various TV channels than what they charge customers every month. For instance, YouTube TV costs $40 per month but pays roughly $49 per month to channel owners, according to The Information. The hope is that as they pick off more consumers from traditional pay-TV, they will be able to increase ad revenue by coupling scale with advanced ad targeting.
The pitch: Better targeting and unique platforms
The virtual MVPDs are positioning themselves as providers of true addressable advertising — or the ability to target individual households and potentially even individual TV viewers.
Similar to cable and satellite distributors, virtual MVPDs have two minutes of ad inventory for every hour of programming on the channels in their services. Sling TV, DirecTV Now and FuboTV are already selling into these ad slots. Hulu has gradually started to sell into its live TV service over the past month, and YouTube plans to do the same by the start of the next broadcast TV season this fall.
"They don't have the scale as of yet, but the ability to target is one of their main selling points right now," said Matt Denerstein, managing director of cross-platform investment at Mindshare North America.
Another selling point is the uniqueness of the services themselves. Hulu, for instance, does not plan to sell its live TV inventory on a standalone basis in the near future. It's selling packages across its ad-supported subscription video and live TV services, the idea being that advertisers are buying TV the way people are used to watching it: sometimes live and sometimes on-demand.
YouTube TV, meanwhile, will package its TV inventory inside the top tier in Google Preferred, which includes the top 5 percent of channels on regular YouTube. (With access to regular YouTube and YouTube Premium, YouTube TV also positions itself as a unique TV and video service unlike its competitors.) AT&T, meanwhile, will look to package its traditional TV inventory with DirecTV Now and even Turner cable channels the company now owns thanks to its acquisition of Time Warner. And Sling TV is able to offer cross-platform ad inventory across Sling TV and Dish Network.
Advertisers are showing greater interest in virtual MVPDs. One media buyer said he has seen CPMs between $30 and $70 for 30-second commercial spots across the virtual MVPDs he's tested recently; David Gandler, CEO of FuboTV, said his company is getting CPMs above $40.
The value of audience-based buying versus specific networks and shows
By offering better targeting, virtual MVPD providers believe they can charge a premium for their inventory. The question is whether advertisers will pay.
In AT&T's most recent earnings call, CEO Randall Stephenson said the company can get three to five times more money per ad sold on DirecTV when using its data to target the ads to specific audiences. Sling TV's head of ad sales, Adam Lowy, said the service is seeing more demand for its addressable TV products. More than 80 percent of buys on Sling TV are targeted (not including targeting shows or networks) in some fashion, he said. Sling TV's programmatic offering (which includes the ability to buy addressable ads) accounted for 50 percent of Sling TV's ad business last month, versus roughly just 15 percent five months ago.
"Advertisers will continue to want to buy networks and shows," Lowy said. "But they are also getting used to new types of buying, especially as we tie addressable to premium TV content."
Ad buyers said they'll pay a premium for a highly targeted ad on virtual MVPDs, but it will vary based on the client and its objective. And some still argue that there is value in being able to place an ad on a specific network and/or during a specific TV show — something they can't do on YouTube TV and Hulu's live TV.
"For certain clients, context matters," said Nick Pappas, CEO of SwellShark. "Networks and cable operators let you cherry-pick. With the virtual services, you don't always get that same level of specificity that you get by going directly to networks or cable operators."
Addressable inventory will only be worth the high CPMs so long, added one longtime TV and digital exec. "At some point it will become table-stakes and not a novelty that's worth a premium," this person said.
Big traditional distributors such as Comcast, DirecTV and Dish also offer the ability to buy against specific networks and TV shows as well as addressable audience products that reach millions of subscribers. That's still appealing, Pappas said.
"You're still guaranteed to be on the largest screen on the house at all times when you're buying Comcast or [traditional] DirecTV, where on Hulu you're being seen on a TV screen about 60 to 70 percent of the time," Pappas said. (Hulu said 78 percent of viewing now happens on TV screens.) "And Comcast, Dish and DirecTV can charge more because they do have the scale for an addressable product that the others just can't match yet."
Can ad revenue offset losses tied to programming (and marketing) costs?
The ultimate question is whether virtual MVPDs can generate enough ad revenue to turn a profit. According to a report from SNL Kagan, the average revenue per user among virtual MVPDs is $37. Most of these services, including YouTube TV, DirecTV Now, Hulu's live TV and Sony's PlayStation Vue charge $40 or more for their base bundles.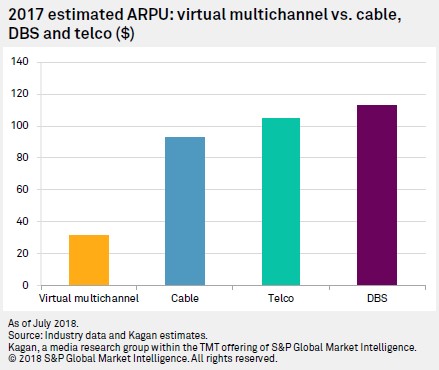 Programming costs are also expected to increase several percentage points every year — which is common in the pay-TV business.
"We make a tremendous amount of investments in programming, and those investments will continue to go up whether we're talking about originals, licensed shows, or live sports," said a TV network distribution exec. "We have to recoup those costs as they go up. … But at the end of the day, it's a negotiation."
According to The Information, YouTube expects to make $15 to $16 per subscriber once it starts to sell its own ads into YouTube TV. That might seem like a long shot when YouTube TV and other virtual MVPDs only have two minutes of ad inventory to play with per hour per TV channel.
But there's evidence that distributors can hit those numbers. In the second quarter, Comcast's cable business made roughly $30.14 per TV subscriber from advertising alone; Charter Communications, meanwhile, made $20.94 per TV subscriber from advertising alone. Granted, these are the two of the biggest traditional pay-TV distributors in the U.S., but YouTube is only aiming for a little more than half.
"The reality is, there is a lot of room to grow here," said Gandler. "[Traditional] distributors have been selling ads for decades, and it's been working out well for them — just do the math. "Addressable advertising on virtual MVPDs is going to be significantly more valuable."
The question mark is scale
For all of this to work, the virtual MVPDs are going to need a lot more than 6 million subscribers. A separate SNL Kagan report from June estimates that these services will grow to 15.3 million subscribers by the end of 2022.
"Everybody already knows that all of these virtual MVPDs are losing money — because logic says you can't sell that many networks for that little money," said Alan Wolk, lead analyst for consulting firm TVRev. "They're doing it because their goal is to grow an audience."
Industry sources were mixed on what constitutes as enough scale for virtual MVPDs to be in the same ballpark as traditional distributors. And will these services need to add more channels — making their bundles increasingly less skinny than they already are — to attract more customers?
"The idea is that eventually traditional [distribution] folds in on itself," said the longtime TV and digital exec. "It becomes less about scale by then and more about waiting it out and staying alive long enough that when [traditional] fails, you're there to pick up the pieces. The question is: How long until we get to that point and can you gather enough capital to make it?"
Get more exclusive coverage and analysis around the future of video, TV and entertainment by subscribing to the weekly video briefing email.
https://digiday.com/?p=296839
This week's Future of TV Briefing looks at how this year's upfront and recent announcements from AMC Networks and Paramount indicate the progression of programmatic in the TV and streaming ad market.
This week's Future of TV Briefing looks at how major streaming service owners' subscription business fared in the third quarter of 2023.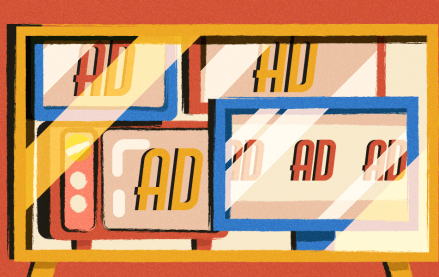 This week's Future of TV Briefing looks at what TV and streaming companies' latest quarterly earnings reports indicate about the state of the TV advertising market.