'Siphoning off the crap': Agencies prioritize buying premium content directly on YouTube
June 24, 2019 • 6 min read
•
•
U.K. agencies are finding new ways to package premium YouTube inventory from broadcast and digital studio partners. Their motive: to help reassure cautious advertisers deterred from advertising on a platform so beleaguered by brand-safety violations.
Since the beginning of the year, ad tech units from agency holding groups, including Publicis and IPG Mediabrands, have created custom lists of pre-approved, premium content providers with massive YouTube audiences and bona fide brand-safe content, whose inventory they want to buy on YouTube on a programmatic-guaranteed basis. 
Each agency has its own inclusion criteria, but content from the partners — roughly 12 broadcasters and digital studios with intellectual property rights — includes linear TV show clips and behind-the-scenes footage, which carry similar brand-safe credentials to linear TV content.
YouTube has faced scrutiny over brand-safety violations over the last two years. In February, Disney and Nestlé paused spend after reports surfaced that the platform's algorithm had recommended inappropriate content. Yet the platform's reach, particularly in the 16- to 34-year-old category who are turning away from linear TV, means advertisers can't ignore it for long. That's why marketers are increasingly reclaiming contextual control around their ads.
"This, in combination with the fact there is a high demand for broadcast-quality video content, has led to a reappraisal of how we can utilize our relationships with partners and access their YouTube content," said Harrison Boys, media standards director, Europe, the Middle East and Africa, at Magna Global, IPG Mediabrands.
Earlier this year, Digiday reported how some media companies saw revenue boosts from the increase in agencies buying directly from premium-quality content owners on YouTube, like Viacom, Disney, Vevo and digital media company Little Dot Studios. As an extension of this, agencies are aggregating around a dozen premium-quality partners across broadcasters and digital studios, according to multiple production and agency sources. While each agency has a different internal product name and idiosyncrasies, the purpose is the same: to offer targeting at scale across multiple partners in against brand-safe, broadcaster-like content, rather than against YouTube user-generated content.
"It makes a lot of sense when providing an integrated [TV and online] strategy for large advertising clients who want to synchronize activity with TV and online users," said Anita Lusanska, head of biddable at media agency Total Media, which has bought YouTube inventory direct from publishers but not created a list of pre-approved partners. "I would prefer the kind of buys where you could overlay behavior or intent, rather than just the placement itself. In that way, it's similar to TV buying."
YouTube has yet to show evidence of having stolen a meaningful budget from linear TV. In 2018, U.K. TV advertising totaled £5.11 billion ($6.47 billion), the same as in 2017, according to a Nielsen and Thinkbox report.
Some advertisers have become increasingly wary of algorithmically served content. YouTube, for its part, has tried to improve the brand-safety controls on its platform. While agencies like Total Media will continue to recommend Google Preferred, which uses algorithms to rank the top-performing 5% of YouTube channels by category for advertisers to buy against, its importance is waning, said Lusanska.
"The current method of digital-video buying has to be better," said Elliot Baum, head of digital media sales at Little Dot Studios, which runs the YouTube channels for show brands such as Gordon Ramsey's "Kitchen Nightmares." "Agencies are siphoning off the crap."
User-generated content on YouTube, even when managed by multichannel networks, is less controlled, which some advertisers can be squeamish about.
"The fact we have a direct relationship with the content curator means we're able to tailor the contextual environment further for our brands," said Mark Hanna, programmatic trading director, Europe, the Middle East and Africa, at Cadreon, IPG Mediabrand's ad tech unit. "This content can then be tailored for our clients' needs, by creating relevant aggregation across a number of broadcasters and broadcast-quality partners."
Agencies like Publicis and IPG Mediabrands stress that this is just one of the ways in which they are trading YouTube, depending on the clients' needs.
"We employ several different approaches to meet our client goals," said Chris Williams, CEO, Publicis Media Exchange UK, the agency's investment arm. "This is not the exclusive method we adopt. We are always testing and applying learnings, then we scale on the various methods, including this."
Omnicom has been buying YouTube inventory in this way since the beginning of the year, according to agency sources. As agencies look for more ways to add value beyond a straight media buy, this is one of the opportunities.
Omnicom, GroupM and Dentsu Aegis declined to comment for this piece.
"Smart agencies saw the opportunity to create something like a preferred supplier network," said Baum. "They have been acting more like consultancies rather than companies that have the buying power; that's the shift agencies are positioning for themselves."
Media companies can make a good margin when they sell their inventory direct — despite YouTube's 45% revenue share — if they manage to sell above their rate card. For instance, if a media owner's YouTube inventory rate card is £20 CPM ($26 CPM) and they sell it for £30 CPM ($39 CPM), the publisher gives YouTube 45% of the former. These higher CPMs led to revenue boosts for some media owners.
Agencies contacted for this piece were unwilling to share how much budget is being directed to this form of buying for commercially sensitive reasons.
"If an advertiser who was buying 10,000 channels through Google Preferred is now only buying 10 partners, the benefit to me is an increase in the share of voice," said Baum. "The revenue will naturally go up as more money flows in. TV buyers are able to get the scale. That's when you start to see big revenue shifts, but it's not quite happened yet."
For digital studio Studio71, owned by German broadcaster ProSiebenSat.1, last year less than 10% of its inventory was sold directly. Today, it's the majority and growing quickly.
"We expect to earn as much revenue from brands directly as we earn from YouTube at some point in the next 12 months, which would have seemed impossible until very recently," said Klaudia Liubinskas, director of sales and partnerships at Studio71.
For Little Dot, which doesn't have a robust revenue stream from the TV business as broadcasters do, this is currently its most scalable revenue opportunity. According to Baum, since January, when it began selling its YouTube inventory directly, it has won 25 new clients. "The is the glue," he said. "We manage the channels, grow the audience and now monetize them. Ad sales is the final bit that makes it fully integrated. The media is the hook to spend more."
For digital studios and media companies, this shift to more direct buying is good news. "Over time, this will help to increase the rates of monetization for the top performing channels, while probably reducing it massively for the lowest performing content," said James Stafford, managing director at Studio71. "Given the struggle to prove a digital ad-funded business model is now entering its second decade, we welcome this shift enthusiastically."
Subscribe to the Digiday Video Briefing: A weekly email with news, quotes and stats around the modernization of video, TV and entertainment.
https://digiday.com/?p=337789
This week's Future of TV Briefing looks at how this year's upfront and recent announcements from AMC Networks and Paramount indicate the progression of programmatic in the TV and streaming ad market.
This week's Future of TV Briefing looks at how major streaming service owners' subscription business fared in the third quarter of 2023.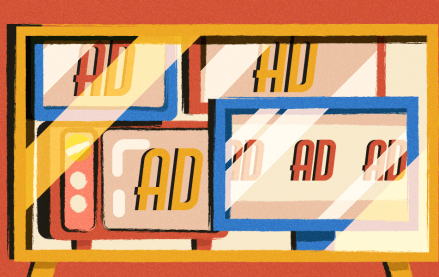 This week's Future of TV Briefing looks at what TV and streaming companies' latest quarterly earnings reports indicate about the state of the TV advertising market.