Pitch deck: Inside Samsung's connected-TV ads push in Europe
September 18, 2019 • 6 min read
•
•
Samsung's quest for ad budgets is coming to Europe.
Execs from the company's advertising division Samsung Ads meeting planners and buyers from some of the big holding groups in the U.K. in recent months. The message from Samsung was simple: buy ads from Samsung if you want to reach the growing number of households streaming more of their content to connected TVs.
Digiday obtained a recent deck from a U.K. ad agency, which outlined Samsung's intention for ad budgets. The deck explains how the technology manufacturer's connected TVs target ads based on what is watched, and includes research about how many households those ads could potentially reach. For example, there are over 4 million TVs in more than 35% of households in the U.K. that can be reached via the Samsung Ads platform, per the deck.
"Samsung wants light TV viewers as linear viewing tails off," said the agency exec. "From the execs I met, it felt like Samsung Ads would try to win advertisers on the promise of extending the reach of TV and target subscription video-on-demand viewers."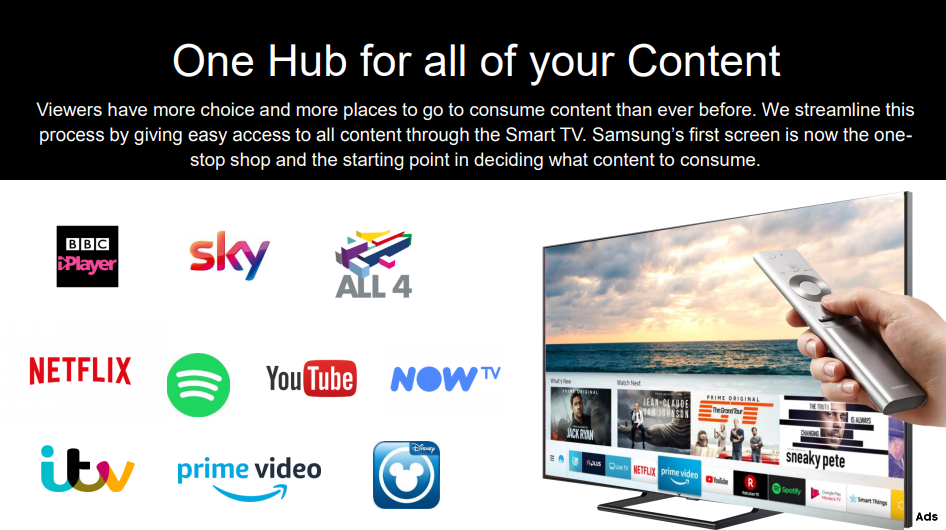 When Samsung's ad execs met with a senior agency exec from a network media agency recently, they talked up how Samsung connected TVs could track what's being watched by viewers, whether it's a linear broadcast or a streaming app like Netflix. Advertisers can then use that data to target ads at a household level to the homepage of Samsung's connected TV before they watch an app like NowTV or a streaming device connected to it, such as an Amazon FireStick. Furthermore, advertisers can also create custom audiences to target based on people who binge-watch a certain type of show on Samsung's connected TVs like reality TV, per the deck.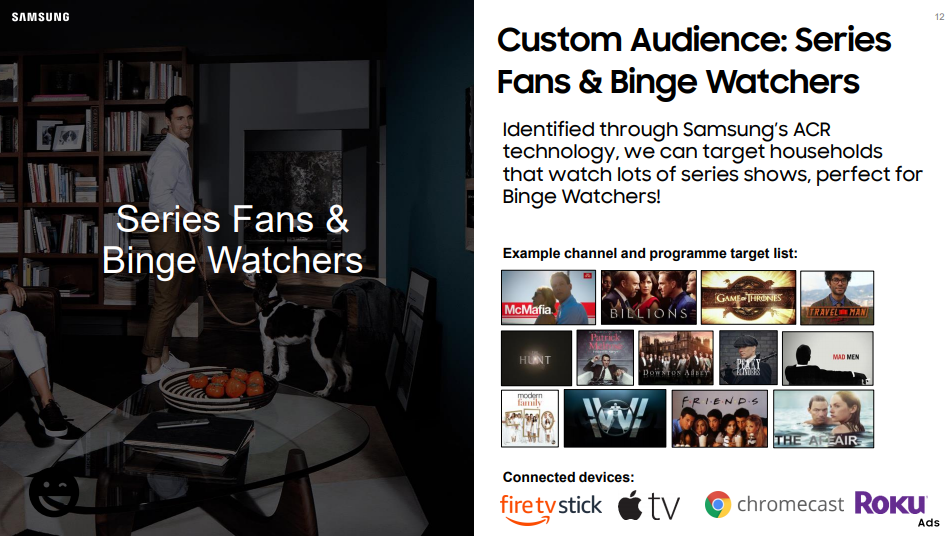 Banking so much of a pitch on targeted ads may sound risky amid mounting scrutiny over how personal data is used and gathered, but addressable TV doesn't have the same privacy issues as the internet — yet. That's because Samsung's ads are targeted at a household level rather than to the individuals within them and therefore don't use cookie data. Instead, the signals used are contextual, as the pitch deck revealed. Nevertheless, Samsung does not sell its data to ad tech vendors and subsequently buys the ads on its connected TVs. In effect, the TV manufacturer is amassing its own walled garden.
"Samsung are looking at connected TVs as part of a longer-term horizon for the business," said a media agency exec who wasn't authorized to talk to Digiday. "Samsung sells everything, from TVs to smartphones to washing machines. Samsung Ads is the start of an infrastructure they're building that will allow then sell ads across several connected devices in the home."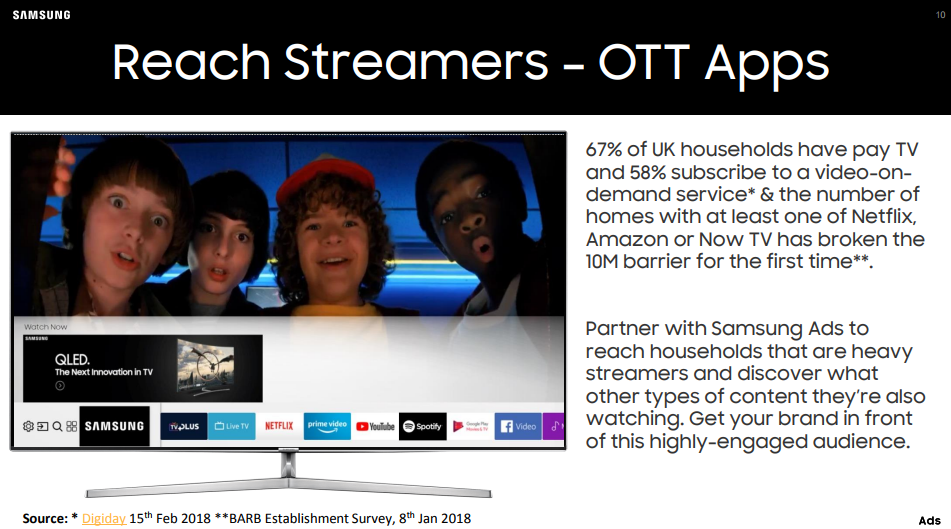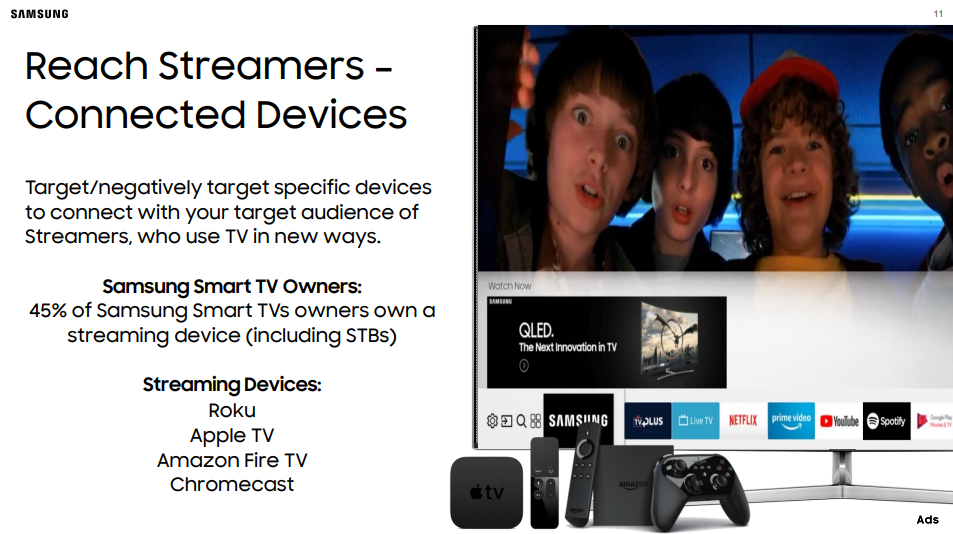 The audience content-recognition technology in Samsung's connected TVs doesn't sound too dissimilar to how TV data and analytics company Samba TV is used by manufacturers such as Sony, Phillips and Sharp. The difference between the two providers is that Samsung Ads has more flexibility over how the ads appear on-screen because it owns the hardware, whereas Samba TV partners with several. The problem with this sort of pitch is that it leaves connected TV manufacturers reliant on media partners for content. Without the content, it's hard for them to go after ad budgets in any meaningful way.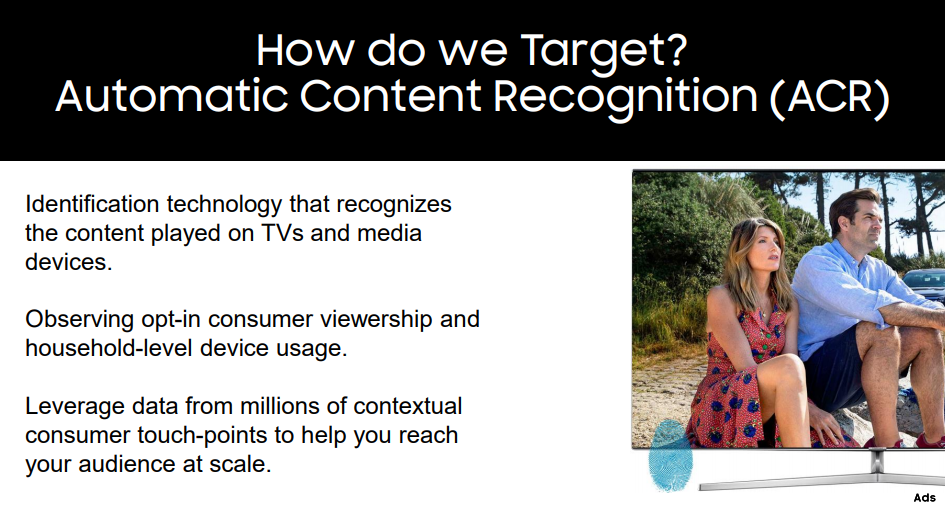 Indeed, Samsung's emerging presence in advertising puts it on a collision course with TV stalwarts like ITV and Sky Adsmart as well as outliers from ad tech, all of whom also have designs on connected TVs. ITV expects a large number of impressions for its addressable business to come from connected TVs, where its average monthly active users grew 64% in 2018, according to the commercial broadcaster. Meanwhile, Sky plans to erect a network of connected TVs that Adsmart advertisers can target.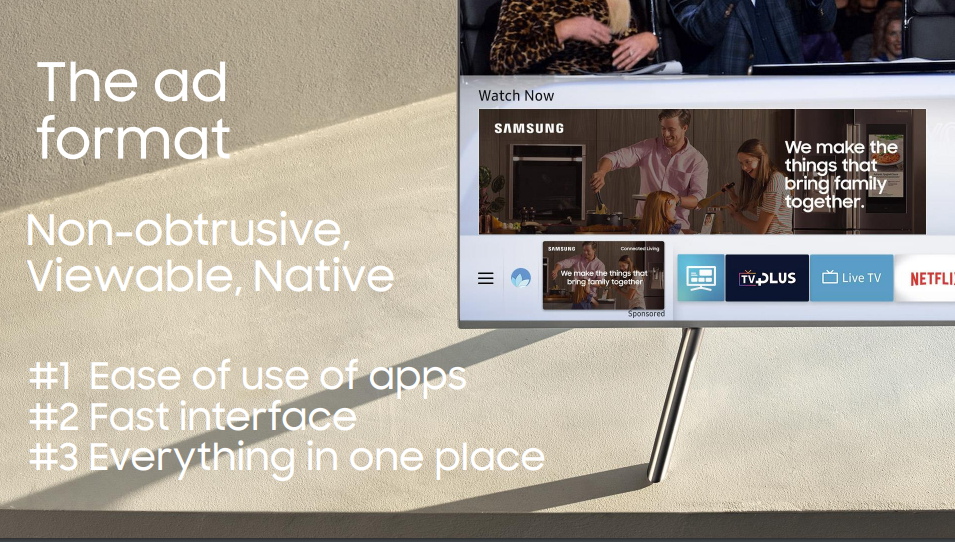 "If you look at the connected TVs and the content they have on them, then it's arguably not as premium as what you'd get from the broadcasters," said Simon Bevan, chief investment officer at Havas Group Media. "While Samsung Ads can target people based on what they view most, advertisers would rather have a scale. While everyone wants addressability, TV is about delivering scale."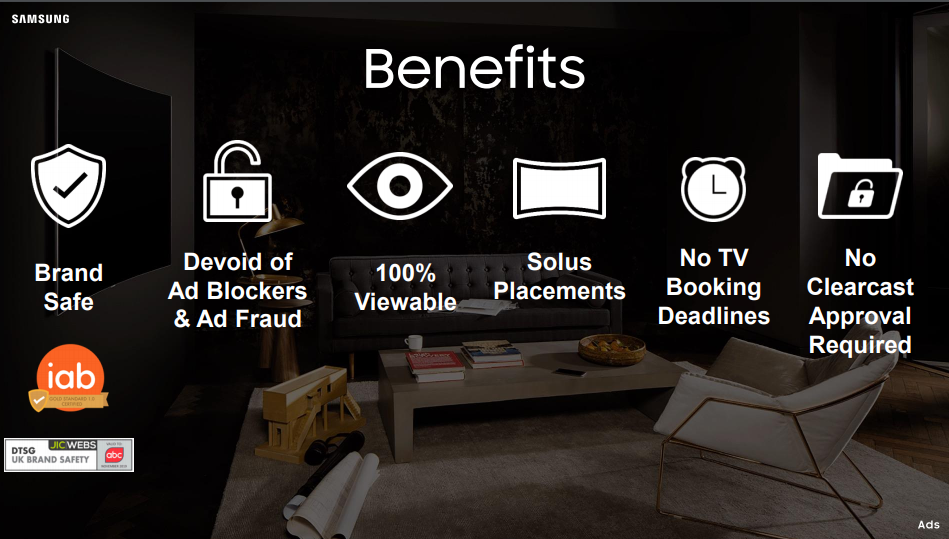 It's why Samsung has been on a recruitment drive in recent weeks. Several roles at the Samsung Ads Europe team are being filled to provide that expertise when it comes to negotiating deals with media owners, per a recent job post. It's a move borrowed from the team's counterparts in the U.S. where its pitch previously centered around ads on its smart TVs. Since the turn of the year, the team there has ramped up negotiations with OTT apps they want to sell inventory against. In exchange for distributing its apps on its connected TVs, media companies let Samsung sell a percentage of its own in-app inventory.
https://digiday.com/?p=346383
This week's Future of TV Briefing looks at what an industry group's conditional certification of three measurement currency contenders signals about the TV ad business's measurement overhaul.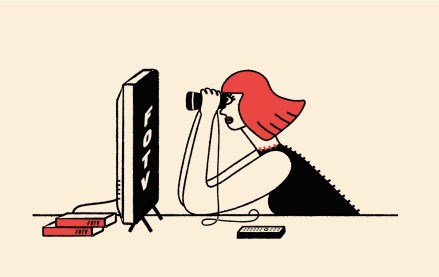 This week's Future of TV Briefing offers an updated list of the key terms that can cause confusion when talking about the TV, streaming and digital video industry.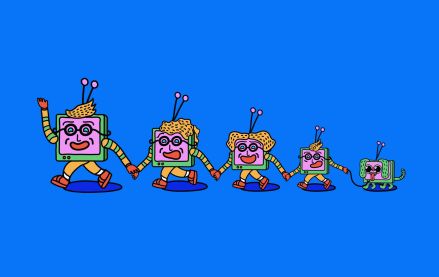 This week's Future of TV Briefing looks at what the Disney-Charter pay-TV distribution deal seems to indicate about the increasingly more-complementary-than-contentious relationship between traditional TV and streaming.