Reddit hits 1 billion video views per month a year after launching its own video player
The first billion is the hardest. A year after introducing a native video player and giving its users the ability to record and post their own videos to the platform, Reddit says it's now averaging one billion "native" video views per month.
Video is becoming a growing medium for how Reddit users interact with each other, the company said. In August, Reddit users posted or uploaded a total of 996,000 videos on the site, which is up 31 percent year over year. Reddit is now serving more than 400,000 hours of hosted videos per day and 13 million hours per month, up 38 percent since the beginning of 2018.
Unlike most publishers, Reddit is its own platform and does not rely on platforms like YouTube and Facebook to rack up video views (though users can still embed other video players on the platform). One thing in Reddit's favor: the company said it has 330 million monthly active users, which means it has plenty of users who can learn to adopt video as part of their Reddit experience. (According to comScore, Reddit reached 73 million unique visitors in the U.S. across platforms in August.)
Reddit is not running in-stream ads against its videos but instead places ads within its various feeds and subreddits. The company said its ad revenue has more than tripled over the last three years, but declined to share a specific revenue figure as well as how much video is contributing to the overall ad business. Video ad clients have included Audi, Old Spice, Nintendo and Netflix. (An example of an in-feed video ad from Grammarly is below.)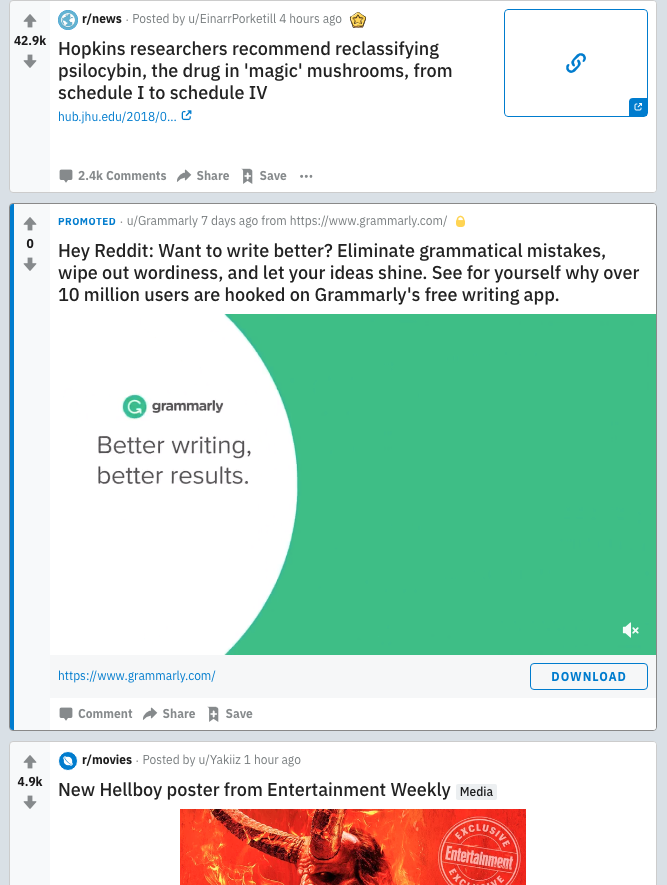 "It's driving greater adoption and interest from brands," said Zubair Jandali, Reddit's head of ad sales.
There is still plenty of room for video to grow on Reddit. Today, nearly 10,000 active communities on Reddit — roughly 7 percent of all 138,000 active communities — are posting or watching native videos. And roughly 20 percent of all Reddit users have watched or regularly upload videos, the company said.
"Video usage has been pretty organic," said Alex Le, vp of product for Reddit. "We have seen over time more and more people incorporating videos into the way they are having conversations on Reddit."
Reddit launched its native video player last August. The platform gave users the ability to upload videos directly onto Reddit instead of pasting YouTube links or embeds and the ability to record and upload videos directly from their phones. The tool also lets users turn videos into Gifs.
Video is getting users to stick around longer. Reddit users who watched videos during the second quarter spent twice as much time on the platform than those who didn't, according to Reddit.
Reddit said the native video player is getting users to spend even more time on the platform. Today, users who watch embedded videos — regardless of whether the video is hosted by Reddit, YouTube or some other video player — spend 45 percent more time on site on a daily basis. Those who watch Reddit-hosted videos spend an additional 39 percent time on Reddit on top of that every day, the company said.
Moreover, more than 50 percent of all views on media content on Reddit now go through its own hosted video player, versus embeds of YouTube and other video players, Le said. (Reddit counts full views at three seconds.)
"From Reddit's standpoint: why should they give all of that functionality and time that goes with [uploading and watching videos] to YouTube? Why not just give users the option to do it directly and keep people on your platform longer?" said Jim Nail, principal analyst at Forrester. "Rather than being a distribution platform for video, this allows Reddit to be a more multi-functional platform."
Most Reddit videos are short, ranging from user-generated videos and Gifs that last no longer than 30 seconds to short clips that run for a minute or two, according to Le. A year in, the product exec describes three dominant types of Reddit-hosted videos: soundless Gifs that can go viral across communities; videos centering on large "passion-based" communities such as gaming; and niche, evergreen videos such as how-to clips on how to keep succulents alive.
With mobile apps accounting for 70 percent of Reddit's video consumption, it makes sense that users would use Reddit's camera feature to record and upload video clips to the platform, Le said.
Reddit's video rollout initially consisted of testing the feature with a group of 10 "alpha" subreddits, followed by 200 "beta" partners such as the subreddits for "The Daily Show" and another for the "hold my beer" meme. Video hosting is now available to all subreddits and users, with the exception of private communities and those dedicated to NSFW topics.
While a billion monthly video views and growing adoption among users is a promising start, Reddit still has a long way to go to catch other platforms, which capture billions of video views per day, said Paul Verna, principal analyst at eMarketer. And for most of Reddit's history, video has not been an integral part of the largely text-heavy platform.
"There is a mental leap that users have to make," said Verna. "It's a start, but if they're going to compete with other platforms, they're going to have to keep doing it better and more."
Le said video is already creating more active users: "Since we launched video hosting, we have seen a huge percentage of people — something like 45 percent — who have uploaded a video who previously never had a conversation on Reddit before."
"If all other platforms are any indication, once you open up the floodgates, there's no going back — it wasn't that long ago that Instagram was purely a static image platform," said Verna. "The users that are uploading directly and watching more videos now see that as part of the Reddit experience; and more and more people who will be new to the platform will see that as part of what Reddit's all about."
For the foreseeable future, Reddit is focused on growing video adoption among its users — specifically, getting more people to record, share and watch videos. Professionally-produced content from media companies and online video creators is not something the company is actively courting, Le said. But Le also acknowledged that Reddit sees an opportunity in and plans to explore longer-form video, which is something that professional video makers excel at.
"What we wanted to do was set out on a path where video is another tool that our communities can use," Le said. "That's where we have seen the most uptake."
Download the Digiday Video Dictionary — your guide to the terms and acronyms defining the future of video. 
https://digiday.com/?p=305428