NBCUniversal offers refunds to programmatic advertisers following ad insertion error
June 10, 2019 • 7 min read
•
•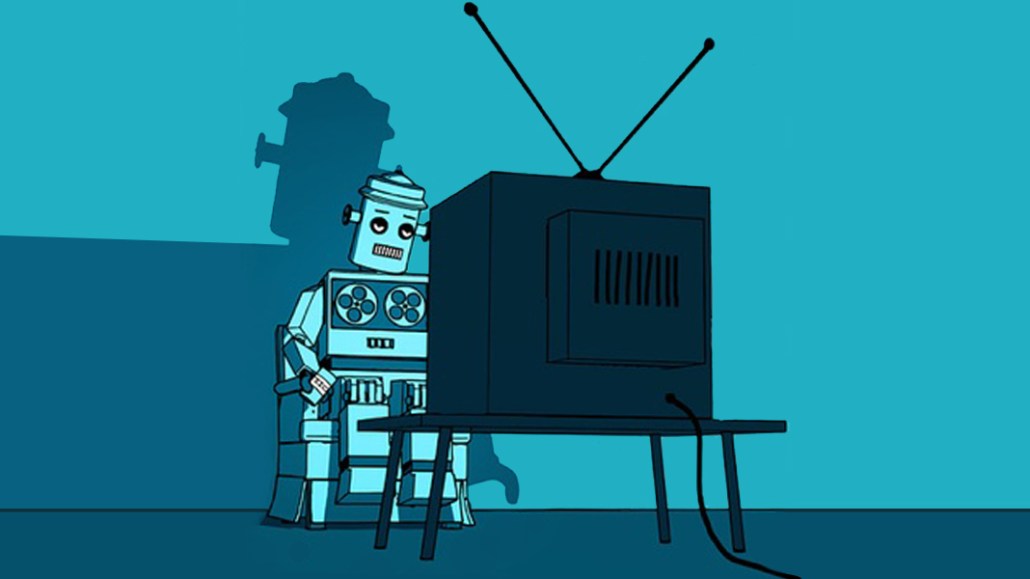 Some TV ad buyers have been concerned about programmatically purchasing TV networks' connected TV inventory, in part because the technology powering that emerging market is still in development and may be prone to errors. That concern is not unfounded, and now some are finding out what happens when an error occurs.
NBCUniversal has notified advertisers of an error that may have led to the wrong advertisers' video ads running on the TV conglomerate's connected TV and mobile apps from March 2018 until March 2019, according to a document obtained by Digiday.
The company shared the document with advertisers and agencies to detail the issue and the company's response.
The issue affected advertisers who had bought the company's in-stream video — or full-episode player — inventory programmatically through NBCUniversal's AdSmart private marketplace, which advertisers use to target ads to specific audience segments across NBCUniversal's digital properties.
NBCUniversal was able to determine that a handful of advertisers were, in fact, affected by the error, according to an NBCUniversal spokesperson. However, because the company has not been able to determine whether other advertisers that had programmatically purchased this inventory were affected by the glitch, NBCUniversal is offering refunds or programmatic make goods to all advertisers who may have been affected.
"There was never any question of how to handle this isolated situation – as soon as the issue was discovered, the immediate steps were clear: resolve it, communicate it, make it right. We believe this type of communication and transparency is the only way forward, and we encourage others in the industry to do the same when faced with similar situations," said an NBCUniversal spokesperson in a statement.
The NBCUniversal spokesperson declined to say how many advertisers are being offered refunds or how much money NBCUniversal will be crediting back to advertisers as a result of the error. For some advertisers, the amount that NBCUniversal will be crediting back to an advertiser will number in the six figures, according to an agency executive that had multiple clients affected by the error.
Given that the error was caused by a technical issue, multiple agency execs that had clients affected by the error said they were satisfied with NBCUniversal's handling of the issue.
While a black eye at the moment, the error and NBCUniversal's response could be a boon to programmatic CTV advertising in the long term by setting a blueprint for how advertisers may expect other media companies should handle such errors. "It does become potentially a precedent for how situations like this get handled in the future," said Jim Nail, principal analyst at Forrester.
In disclosing the error to advertisers who may not have actually been affected and offering them a full refund even if they were not affected, NBCUniversal acted "above standard best practices," said Tracey Scheppach, CEO and co-founder of Matter More Media, an agency that specializes in addressable TV and video advertising and was not affected by the error. "They could have assumed the potential error rate and issued partial credit, but they gave full credit," she said.
Anatomy of an ad tech error
The error stemmed from an issue with Comcast Technology Solutions' server-side technology that Comcast-owned NBCUniversal uses to insert ads in full episodes of shows streamed through its connected TV and mobile apps.
The issue affected nine of NBCUniversal's properties, including NBC, Bravo and E!, and their corresponding apps across Roku, Amazon's Fire TV, Apple TV, iOS and Android. In the document, NBCUniversal detailed when each of its properties' respective apps may have initially be impacted.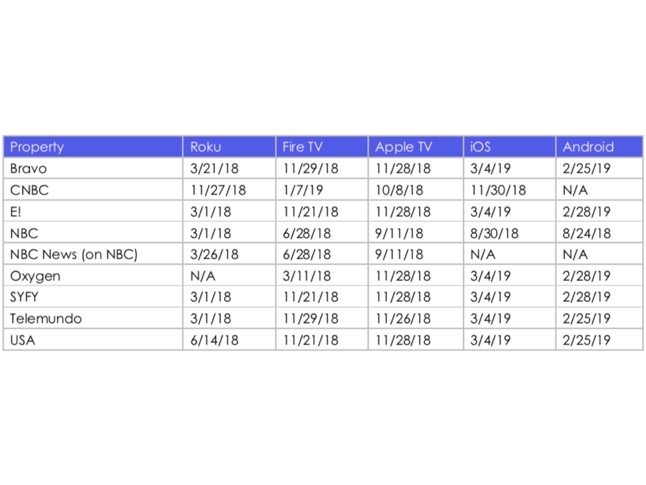 The error only affected ads that were purchased through the AdSmart PMP and not ads purchased directly from NBCUniversal. The reason for that relates to how the creative assets for programmatic video campaigns are handled. The DSPs that place a programmatic buy on an advertiser's behalf use tags, or creative IDs, to identify individual video assets. These companies may reuse the creative IDs for different pieces of creative, which is not the case for direct-sold campaigns, according to a spokesperson at FreeWheel, the Comcast-owned ad tech organization that powers NBCUniversal's AdSmart PMP, and that has worked with corporate siblings, NBCUniversal and Comcast Technology Solutions, to address the issue.
To mitigate creative ID discrepancies, the Interactive Advertising Bureau has pushed for a universal ad ID in the version of its VAST video ad serving specification that was introduced in January 2016. A separate issue related to ad verification has hampered adoption of that spec. The IAB has sought to address that verification issue with an updated version of VAST that was officially released in October 2018.
Timeline of NBCUniversal's response
An advertiser alerted NBCUniversal of the error in March 2019, and within 48 hours, NBCUniversal paused all campaigns running through the PMP, according to the FreeWheel spokesperson. By early April, Comcast Technology Solutions had fixed the technical glitch that may have led the wrong ads to run, said the FreeWheel spokesperson.
Once the fix was issued, NBCUniversal, Comcast Technology Solutions and FreeWheel worked to assess the extent of the error's impact. However, because of the multiple vendors involved in a programmatic buy, Comcast Technology Solutions was not able to determine with 100% confidence which ad impressions were impacted by the error, said the FreeWheel spokesperson. As a result, NBCUniversal decided to reimburse in full all advertisers that had run ads in the AdSmart PMP between when the PMP went live in March 2018 and when the error was identified in March 2019.
On April 11, NBCUniversal began to notify the advertisers, agencies and DSPs that may have been affected by the error and inform them why the PMP had been paused, that the issue had been fixed, that the PMP had resumed operation and that it would offer full reimbursement for potentially affected campaigns, according to an NBCUniversal spokesperson.
Programmatic CTV growing pains
The error may inflame concerns among advertisers already wary of buying media companies' connected TV inventory programmatically. "It absolutely could give people pause. The technology for CTV is still getting built out. It's very much in the nascent stages," said an exec at one of the agencies that had clients affected by the error.
Several agency ad buyers, whose clients were not affected by the error, expressed relief that they buy NBCUniversal's inventory directly instead of programmatically so that they would not be impacted by an issue like this. Some of these execs said they were not surprised that such an error occurred because the programmatic CTV market is not where it needs to be.
However, considering that technical errors are always possible, there does appear to be a silver lining to NBCUniversal's error. Since the programmatic CTV market is still in its infancy, the error coming to light can draw the entire industry's attention to how the technology underpinning this emerging market will need to be improved before there is much more money at stake.
The programmatic video advertising market is growing, with U.S. advertisers projected to spend $29.2 billion on programmatic video ads in 2019, per eMarketer. However, 53% of that money is expected to be spent on mobile video ads, according to the research firm. But that will change over the next couple years with eMarketer expecting that connected TV will account for growing share of advertisers' programmatic video spend.
"If this happened a year or two from now, the dollars [at stake] obviously would be much bigger, and it would be more of a mess all around for the industry," said Nail.
That's not to say that the error has not made a mess of things for advertisers. Because the error may have affected campaigns over the course of a full year, it potentially taints any data corresponding to those campaigns. "You would basically have to throw out any data associated with [this inventory]," said one of the affected agency execs.
Subscribe to the Digiday Video Briefing: A weekly email with news, quotes and stats around the modernization of video, TV and entertainment.
https://digiday.com/?p=337160
This week's Future of TV Briefing looks at what an industry group's conditional certification of three measurement currency contenders signals about the TV ad business's measurement overhaul.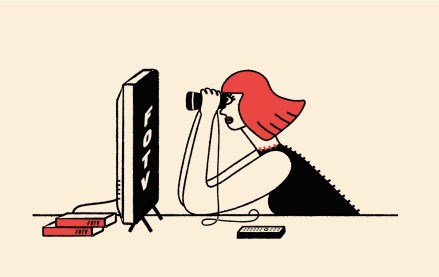 This week's Future of TV Briefing offers an updated list of the key terms that can cause confusion when talking about the TV, streaming and digital video industry.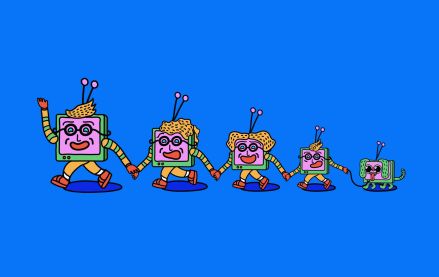 This week's Future of TV Briefing looks at what the Disney-Charter pay-TV distribution deal seems to indicate about the increasingly more-complementary-than-contentious relationship between traditional TV and streaming.