Mashable is reeling in its video ambitions after Ziff Davis sale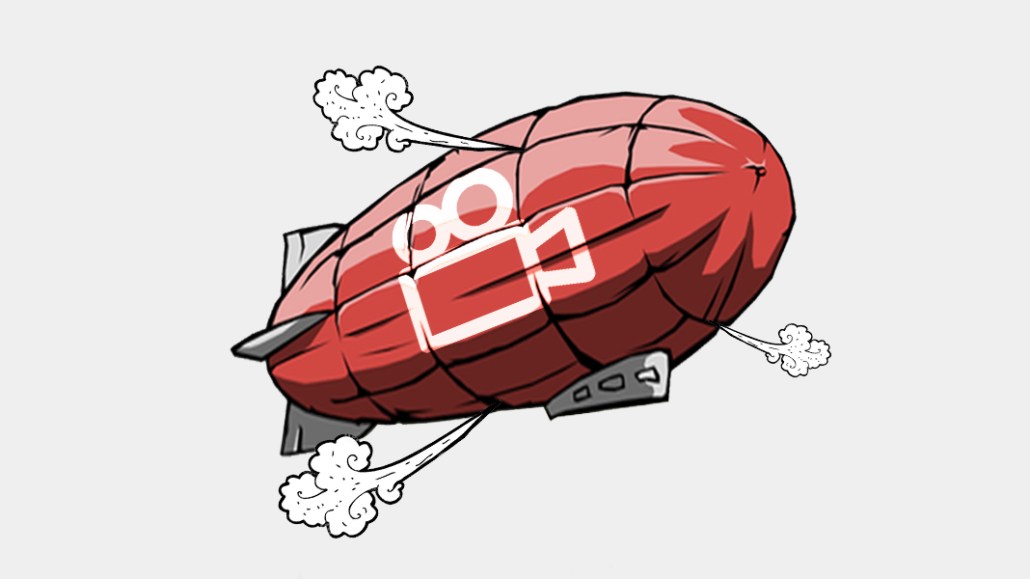 Mashable became a poster child for the "pivot to video." Now, in the wake of its sale to Ziff Davis for $50 million, the digital publisher is beating a retreat from those ambitions.
In the wake of the sale going through this week, Mashable has cut 13 people within its Mashable Studios video division, which employed nearly 50 people, according to sources familiar with the company's plans. This includes all of the primarily Los Angeles-based creative development team that was focused on developing, selling and producing longer-from video shows for Turner, other linear TV networks and streaming platforms such as Go90. This was the unit that was created when Mashable took $15 million from Turner last year, in part to develop projects for longer-form video buyers.
Eric Korsh, president of Mashable Studios, is leaving the company following the transition, sources said. Meanwhile, Greg Gittrich, Mashable's publisher, and Jessica Coen, its editor-in-chief, will remain with the company. Recode reported earlier this week that Mashable founder and CEO Pete Cashmore is also staying on.
The planned cuts mean that Mashable Studios will focus on its social content and distribution efforts, including daily content for Facebook and Instagram, Mashable's Facebook Watch shows, productions for its YouTube channels, and its Snapchat Discover channel.
Recode's report said Mashable plans to lay off roughly 50 employees as part of the sale to Ziff Davis. Outside of the video division, most of these cuts are happening in departments such as HR, finance, operations and other areas that overlap with Ziff Davis, according to a source. Mashable is also closing down its Asia office.
In a memo sent to staff earlier this week, Cashmore confirmed the cuts and said that Mashable will focus on digital culture and technology topics going forward. Most of Mashable's editorial operations will remain intact as that is what Ziff Davis was interested in, sources said.
"Ziff Davis has done a tremendous job navigating the business and technology climate over the past several years, at a time when the advertising market has been particularly challenging for digital media companies," Cashmore said in the memo. "Ziff Davis has done this through diversification of revenue streams, perhaps most notably by building a large and successful affiliate commerce business. … We will be able to leverage these same best practices and relationships to grow."
Over the past year, Mashable made an ambitious bet that its video future was in developing "franchise" video series that could live on external websites and platforms.
As social platforms and other digital content buyers sought TV-like video programming, Mashable was an active seller. As part of Facebook's first wave of funded programming for Watch, Mashable sold three shows, including "Days of Record," "DIY Costume Squad" and "What's Your Mutt?" Other buyers of Mashable content included National Geographic, which tapped Mashable to create two digital shows, and Bravo, which had signed three separate production deals with the publisher.
"One of the lines that's growing fastest for us is the production of shows and premium content in tandem with distributors," said Cashmore during an interview at the Digiday Publishing Summit in March. "So we're going into that stuff, where it's either with existing TV or we're starting to do [our own] shows."
Mashable will continue its Facebook Watch efforts, but overall the plan is to focus Mashable's video division on social content and distribution — not streaming platforms and not linear TV. Mashable's daily Snapchat Discover channel, which is profitable, will remain intact. So will Mashable's YouTube channels such as CineFix.
Mashable's fire sale and downsizing comes during a troubling time for digital media companies. Both BuzzFeed and Vice Media are expected to miss their annual revenue targets, with BuzzFeed also planning to lay off roughly 100 employees as it restructures its ad business operations. As with Mashable, these companies have buckled under the weight of trying to meet lofty valuations almost entirely through ad-supported digital media. Highly publicized pivots to video, in the hopes of capturing a greater share of the digital ad pie, have not helped as much as they originally hoped.
"A lot of these announcements about pivoting to video have been made to satisfy investors and show momentum in the market," said Bernard Gershon, president of GershonMedia. "But the reality is you have to drive positive cash flow, which means revenue diversification because you cannot survive on advertising alone. I'd bet all of these folks will begin to scale back their video ambitions and focus on other ways to drive revenue."
https://digiday.com/?p=266846