What to know about Amazon UK's live-stream TV service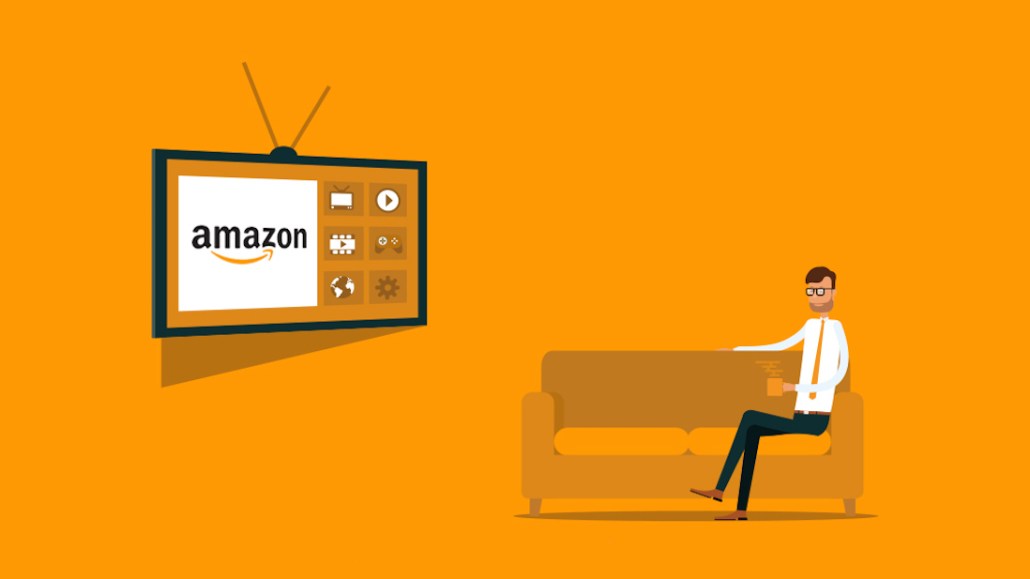 Amazon enhanced its video offering this week by launching Amazon Channels, the tech giant's live-TV streaming service, in the U.K. and Germany.
The service lets Prime members, who already pay £79 ($103) a year for a subscription that includes access to on-demand shows and movies, subscribe to up to 40 different live TV channels. These each range from £1.49 ($2) to £9.49 ($12) a month depending on the channel. The most recognizable out of the slate are Discovery, Eurosport Player and ITV Hub+, which appear alongside more niche channels like Pongalo Next (Latin American movies and series) and Horse & Country Play ("the home of equestrianism").
Here's what else you should know about Amazon Channels.
'They haven't got the crown jewels'
The pull of Amazon Channels is that it offers a cheaper, more flexible alternative to the more expensive pay-TV services from the U.K.'s three main players: Sky, Virgin and BT. But all of the channels available on Amazon's new service, apart from Discovery, are available on contract-free terms elsewhere anyway (although one channel, Heera, is showing Amazon-exclusive content).
The slate of channels has been criticized for lacking the big headliners that Amazon's U.S. service (which launched 2015) offers, like HBO, Showtime and Cinemax. In the U.K., HBO shows are locked in to Sky Atlantic, and Sky's unlikely to give them up. The number of live shows is also limited for now.
Yet as Amazon's head of digital, Alex Green, notes, it's early, and the number of content partners will grow.
But the blurring lines of Amazon as a platform and a content creator itself means other broadcasters could view Amazon as a frenemy, according to Mark Holden, head of strategy at Arena Media UK.
"They haven't got the crown jewels," he said. For now, the live sports rights owned by the other pay-TV operators are the main differentiator. But with Eurosport Player, Amazon is making plays in this space. "That's not to say there isn't a tactical opportunity; Amazon wouldn't have done it if there wasn't. Knowing Amazon, there's always a long- and a short-term game."
It's not after the Netflix heartland
Amazon's initial offering is unlikely to bring in millions of new customers and incremental revenue overnight, but it would be wrong to underestimate it, according to Holden. While viewers are unlikely to cancel Sky for Amazon Channels, the latter will particularly appeal to households with Freeview, the free TV service that comes with most new TVs. "The Freeview universe is the largest multiview universe in the U.K.; it's million of households," he said.
Holden adds that Amazon knows its audience and has distributed popular shows like Jeremy Clarkson's "The Grand Tour." "It's not competing for the Netflix heartland," he added.
Amazon Prime's original programming will continue to attract audiences who will then see there's live streaming on offer, too. "People are comfortable with Amazon," said Tom Harrington, a broadcast analyst at Enders Analysis. "Once they have they spent once, they spend more on other stuff; that's the big game here."
Harrington added that broadcast partners on Amazon Channels will likely get a cut of the subscription fee, as will Amazon, but the latter shoulders the hosting, streaming and customer service costs.
Amazon can bring about behavioral change
The U.K. has no shortage of freely available TV content, either from on-demand services from BBC and Channel 4, or hubs like Freeview.
Introducing a hybrid, on-demand model where viewers pick and choose content could prove to be a challenge. "The expectation when you get channels like Discovery History is that they are bundled," said Holden. "I don't think many viewers are trained to think what those channels are worth to them individually."
Amazon, adept at tweaking user journeys, can introduce the idea that on-demand can build out into streaming, then offer people the option of paying less for just the content they want.
"Amazon has deep pockets, so can it can develop the user experience and observe how people react between live and on-demand," he added.
'It's a retail and data play'
Ultimately, Amazon's latest product is another play to get people into its ecosystem and keep them there.
"It's a retail and data play," said Rich Astley, chief product officer for addressable TV at GroupM, adding that Alexa integration could also add a layer of voice search to browsing and buying products while watching a show.
While it's unclear what the ad model will be like on each channel — ITV Hub+, for instance, is offering an ad-free version as part of its fee — Amazon's purchase data can be used to inform targeted video ads in the breaks of the shows.
"Saying to a broadcaster, 'I can deliver a targeted audience segment within your ad break; let us deliver the ads and we'll share the upside,' that's an interesting proposition to the smaller broadcasters who will be keen to increase yield," said Astley. But a broadcaster as big as ITV will be wary of relinquishing control of their ad breaks to third-party companies, he said. "Convincing them to do that will be a challenge for Amazon."
https://digiday.com/?p=237965