ITV's pitch for addressable budgets rests on its first-party data
May 9, 2019 • 4 min read
•
•
As ITV's online audience grows in its latest quarter, its attempts to sell those audiences is coalescing around its first-party data.
In its latest financial report on Wednesday, ITV reported online viewing of its main channels was up 16% year over year to 96.8 million hours in the first quarter of 2019. Furthermore, the number of registered users the broadcaster can sell to advertisers hit 28.4 million over the same period, up 29% on the 22 million it reported a year earlier. Growth of online viewing was a rare bright spot in a dim quarter for ITV's ad business, which slumped 7% across its linear and online channels.
The contrast between a struggling albeit robust linear advertising business and a growing yet fragmented online audience shows why ITV has finally set in motion plans to effectively build its own ad tech. Owning this technology, means advertisers will be able to buy ads around ITV's VOD content in the same automated way they do from the likes of Google and Facebook.
Since revealing the ad tech plan with Amobee last month, ITV's commercial execs have kept a low profile, according to agency executives interviewed for this article. What little information the broadcaster has shared with ad buyers to date points to a pitch that will try to balance the need for detailed viewer data and transparency to make it work, that includes knowing a lot more about the viewers than just their age, sex and income.
"It's always been hard to get to a high-value audience within broadcaster VOD because a lot of the targeting has been limited," said Lawrence Dodds, communications and planning director at UM London. "What ITV are doing could change that and potentially allow us to target bespoke third-party segments and even first-party segments."
Online advertising is new territory for ITV's commercial team, which is going through a process of internal education and recruitment. Agencies have, in turn, found it hard to pin down the relevant people to clarify the ad tech pitch. It is already on the lookout for data specialists who can mine and sell audience data as well as broker new partnerships around it. Whatever ITV develops around its own first-party data has to rival the kind of detailed segmentation and profiling that Sky already offers to the likes of Argos that have their own first-party data they combine with the broadcaster's own. New commercial execs are also on the way at ITV as the broadcaster's pitch comes down to selling additional content to programmatic traders in the hope they move money away from Facebook and YouTube.
Like all addressable pitches, the early selling point for ITV is the ability of its ad tech to eliminate waste. The issue, however, is that being targeted means dealing with smaller numbers of audiences than what could be reached on linear TV. But according to some ad buyers, that's a more palatable trade-off if the data they buy allows them to drive incremental reach on larger campaigns.
"It seems ITV views the two things that could drive online video and TV will be content and data, which are assets they can own," said Gregor Chalmers, associate director at The Specialist Works. "There is no question that this is the correct and logical step for them to take. The questions will all be over the execution."
ITV is late to the party with its own addressable plan and based on the limited information it has shared with ad buyers it could go two ways: The broadcaster will come to market having learned the mistakes of other platforms and have a fully functioning service that gives advertisers the control over issues like verification and data they demand.Or ITV will go through a process of refinement that means the market doesn't see a truly addressable offer for another year or two. Given ITV Hub streams linear TV and can only be used via an app on a smart TV, it won't be possible to target ads directly on the screen unless it uses HBBtv, a common standard already used for the BBC's Red Button and Freeview Play, which the broadcaster has not clarified.
Subscribe to the Digiday Video Briefing: A weekly email with news, quotes and stats around the modernization of video, TV and entertainment. 
https://digiday.com/?p=333362
This week's Future of TV Briefing looks at how this year's upfront and recent announcements from AMC Networks and Paramount indicate the progression of programmatic in the TV and streaming ad market.
This week's Future of TV Briefing looks at how major streaming service owners' subscription business fared in the third quarter of 2023.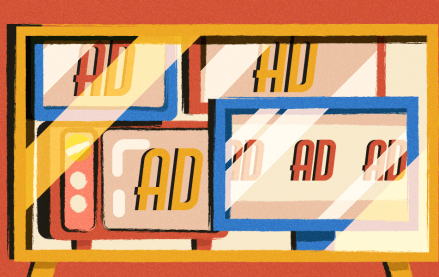 This week's Future of TV Briefing looks at what TV and streaming companies' latest quarterly earnings reports indicate about the state of the TV advertising market.