Inside FoxNews.com's new video strategy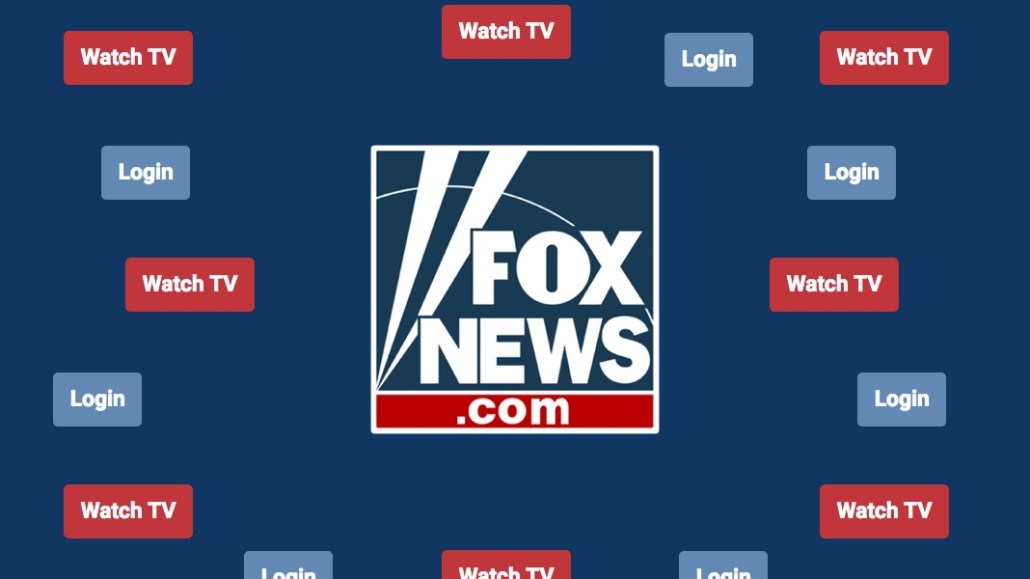 FoxNews.com spent the past year revamping its digital video strategy. Now, it's showing up in the numbers.
According to Comscore, Fox News Digital Network, which includes FoxNews.com and FoxBusiness.com, averaged over 100 million monthly unique visitors in 2019, up 11% from 2018. January 2019 was also the first time that the site surpassed the 100 million mark for monthly uniques, the company reported. (Comscore recorded that FoxNews.com individually averaged 99 million monthly uniques in 2019, roughly a 10.3% increase over 2018's average, which was just under 90 million.) Additionally, the company's internal analytics indicate that January was the top performing month for the site in its history.
Part of the new video strategy is to repurpose content off the company's TV programming, as well as continue the collaborative efforts between the digital and television teams in order to prioritize online video and integrate the digital content with the television content, according to Fox News Digital editor-in-chief Porter Berry.
Berry said over the past year, the company put a concentrated focus on the video usability, starting with including new 5G technology to increase live streaming capabilities and equipping its mobile platforms to have better video playing options. Now visitors on mobile can click on a video right in the news feed and play it with one click, he said.
"We're making a point to utilize in-line video and embed video content in articles," said Berry, continuing that he created a team who is dedicated to "curating" clips from the Fox News channel content that they think would appeal to the digital audience.
For mobile platforms, video clips tend to be limited to two to three minute long clips, since those visitors tend to be busy and have less time to stay on page, Berry said. "We're not going to emphasize that they watch an entire hour of video," he said, so his team looks for smaller chunks that have informative takeaways and are appealing.
Content created from clips on the TV channel, whether that is a write up about a particular segment or sections of an interview, now make up approximately 10% to 20% of the content on FoxNews.com, he said. The rest of the content includes reporting and video created for the site or content curated from Fox's other platforms, like its audio division.
Unlike the content collected from the television channel, Berry said that his team can publish a wider variety of content, touching more interest points that Fox News' audience has that are unable to be covered by the TV channel. "On a TV show you have an hour but you're limited with time and space," he said, continuing that people come to the digital platform in order to gain information about their other interests.
SimilarWeb data shows that in January, more than two-thirds of all FoxNews.com's traffic came from direct clicks to the site, with close to 24% of traffic coming from search. Social contributed less than 4% of traffic, with e-mail, referrals and display accounting for the remaining traffic.
Fox Corporation earned a total of nearly $11.4 billion in revenue last year, with approximately 47%, or $5.4 billion, coming from its Cable Network Programming division (which encompasses Fox News and Fox Business under the Fox News Media Networks umbrella as well as Fox Sports Networks), according to its 2019 annual report. While a company spokesperson declined to share revenue data specific to Fox News Digital, the overall Cable Network Programming division increased its revenues by 8% year over year.
From a financial perspective, if a media company is able to successfully repurpose content from its linear television programming to work on its other platforms, it can be a "huge boon" for revenue, said Paul Greenberg, CEO of digital video strategy and analytics firm Butter Works.
"You're taking advantage of economies of scale by using one initial piece of IP across many platforms," he said, continuing that while it's a good idea in theory, it can be significantly difficult to pull off successfully. He said this is because linear television tends to tell stories in a slightly different way with "very fast with quick cuts and not [being] graphics heavy" — elements he said can be useful on mobile platforms in particular.
This typically is less of an issue for news publishers, Greenberg added, but it still requires a lot of editing.
This post has been updated to reflect that according to Comscore, Fox News Digital Network as a whole achieved an average of over 100 million monthly uniques in 2019. A previous version of this article stated that FoxNews.com alone had this average. 
https://digiday.com/?p=359622