Hulu's aggressive growth plans depends on distribution deals with partners like Sprint and Spotify
May 2, 2019 • 4 min read
•
•
Hulu's eighth NewFronts presentation was a statement of intent: As users increasingly flock to video streaming services, and with a new owner in Disney that is making direct-to-consumer services a priority, Hulu said it's big and plans to get bigger, faster.
Hulu now has 28 million subscribers, including 26.8 million paid subscribers, the company said. (The rest are still on promotional plans.) This means that the streaming service added 3 million subscribers since the end of 2018. And this comes after Hulu said it became the fastest-growing subscription video service in the U.S. by adding 7.5 million new subscribers in 2018.
As more users grow accustomed to streaming video, Hulu has gone on an aggressive distribution, pricing and promotional strategy to add subscribers. For instance, Sprint gives Hulu's $6 ad-supported version away for free to its "Sprint Unlimited" customers. New Spotify Premium users can also get Hulu's ad-supported tier at no additional cost. Typically, these deals are subsidized by the distributors, with Hulu still receiving a negotiated fee for every subscriber that signs up through these bundles. This is also becoming a common strategy in streaming video: Netflix, which claims 60.2 million paid subscribers in the U.S., is available for free to some T-Mobile wireless customers.
It's unclear how successful these specific bundles have been in adding subscribers to Hulu, but Hulu has demonstrated hockey-stick growth over the past few years. The company has more than doubled subscribers — from 12 million circa May 2016 to 28 million today — in roughly three years.
"What I would love to know is how many of those subscribers are coming in through Sprint," said a senior ad executive at an ad holding company following Hulu's NewFront event. "AT&T has HBO, so T-Mobile did its Netflix deal, and Sprint chose Hulu. How effective are they?"
(A Hulu rep did not respond to a question about its Sprint and Spotify deals by press time.)
Regardless of how they are coming into Hulu, there is mounting evidence that the streaming service is capturing more attention and time. In addition to 28 million subscribers, Hulu's svp of ad sales, Peter Naylor, said Hulu now has 58 million ad-supported viewers, as tracked by Comscore. That represents a 43% growth year over year. Total hours were also up on Hulu by 75% in 2018, with average time spent per subscriber growing by more than 20% year over year, the company said.
To feed that appetite, Hulu is planning to spend more on original programming, backed by Disney's desire to grow Hulu as an adult complement to Disney+'s role as a family-friendly subscription streaming service. "Given the success of Hulu so far in terms of subscriber growth and the relative brand strength and other things too like demographics, we think there's an opportunity to increase investment in Hulu notably on the programming side," said Disney CEO Bob Iger on an investor call late last year. (With Disney's Fox acquisition, it now owns at least 60% of Hulu.)
And Hulu's originals programming investment is going toward bigger and flashier projects. Shows announced at its NewFronts include a "Catch 22" series adaptation starring George Clooney; "Little Fires Everywhere" starring Reese Witherspoon and Kerry Washington; and "Nine Perfect Strangers" starring Nicole Kidman. Hulu also hyped an upcoming mini-series centering on disgraced Theranos CEO Elizabeth Holmes, who will be played by "SNL" star Kate McKinnon.
Hulu also announced a multiyear output deal with Vox Media Studios — the entertainment studio business for Vox Media — to produce original food series. The first two shows are "Family Style," which will star famous chef David Chang and famous star Chrissy Teigen, and documentary series "Eater's Guide to the World." The deal is part of Hulu's efforts to create a "Hulu Kitchen" that features substantially more original and licensed food programming. Chad Mumm, vp of Vox Entertainment, said the deal includes a "very, very significant" investment from Hulu, though he declined to share the exact dollar amount Hulu is spending.
"The scope of it is how do we do something that has that network-level scale, across different formats from documentary series to competitions and cooking shows," said Mumm. "Hulu's commitment to it is certainly enormous."
Certainly, as the streaming-video wars kick into gear, successful mass-entertainment streamers are going to need to spend more on content — which, ideally, would drive subscriptions, which drive more revenue, which can then fund more content. Netflix has used a rather aggressive form of this strategy to grow to 148.9 million streaming video subscribers.
Hulu benefits by the fact that the service has been around for some time, has already climbed to 28 million subscribers and continues to add new customers at a rapid clip. Combined with the fact that Hulu will get fresh backing from its new majority owner, Disney, puts the streaming video giant in a good position going forward.
"Netflix has this massive content war chest," said Mumm. (Vox also has an original series on Netflix.) "But with Hulu, the growth they are seeing on the ads side, the audience side, I wouldn't bet against them as the next wave of the streaming wars come."
Subscribe to the Digiday Video Briefing: A weekly email with news, quotes and stats around the modernization of video, TV and entertainment. 
https://digiday.com/?p=332584
This week's Future of TV Briefing looks at how this year's upfront and recent announcements from AMC Networks and Paramount indicate the progression of programmatic in the TV and streaming ad market.
This week's Future of TV Briefing looks at how major streaming service owners' subscription business fared in the third quarter of 2023.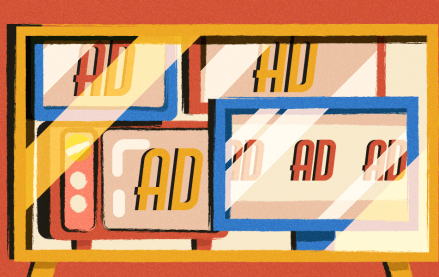 This week's Future of TV Briefing looks at what TV and streaming companies' latest quarterly earnings reports indicate about the state of the TV advertising market.