Future of TV Briefing: Streaming subscriber slowdown gives way to the great rebundling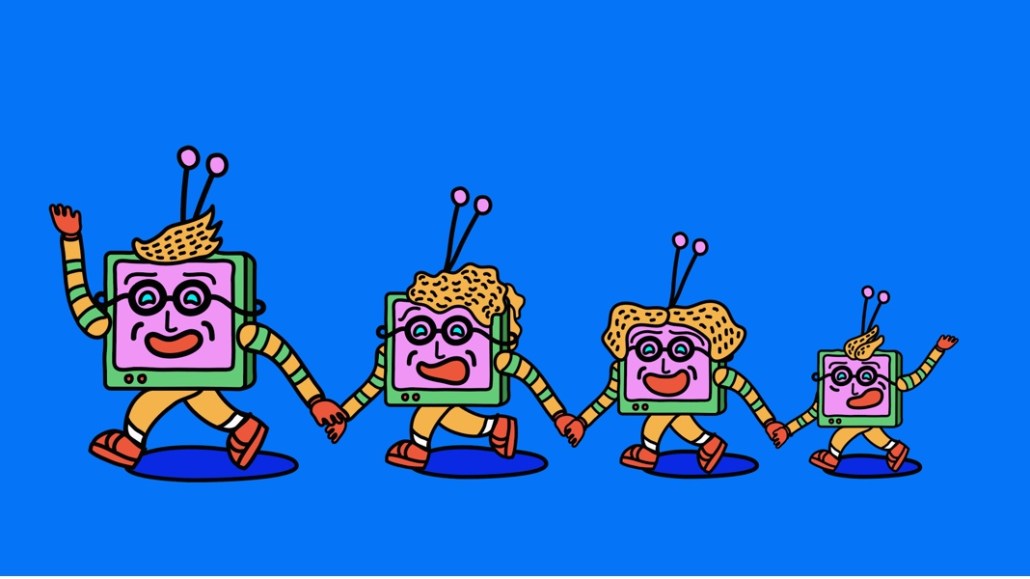 Ivy Liu
This Future of TV Briefing covers the latest in streaming and TV for Digiday+ members and is distributed over email every Wednesday at 10 a.m. ET. More from the series →
This week's Future of TV Briefing looks at how the latest quarterly earnings season evinces more streaming subscriber growth struggles and a growing fondness for the bundle.
Bundle up
TV viewership hits a tipping point
The bundle is back, the streaming bundle is expensive, YouTube Shorts bans links and more
Bundle up
The second quarter of 2023 was not exactly a boom time for many subscription-based streamers in general. But it may herald a boom time for the streaming bundle.
Netflix and Peacock were the only major services to gain more than 1 million subscribers in the three-month period. And Warner Bros. Discovery actually lost more than 1 million subscribers during the quarter when it rebranded its flagship streamer to Max and added Discovery programming in a bid to increase its subscriber base. Meanwhile, some smaller streamers shed subscribers, (though not all, and I'll tell you why that's telling in a bit).
Here's a quick breakdown of the subscriber gains and losses among the major streamers:
And now here's a look at the smaller streaming services that publicly report their subscriber counts:
So what gives? Well, people's wallets would appear to be the answer.
As more subscription-based streaming services have entered the market over the past few years and as streamers continue to hike the price of their subscriptions, subscriber growth has slowed and even receded. According to Bloomberg, Netflix, Disney+, Hulu and Paramount+ combined to add 18.6 million subscribers in Q2 2021 but only 9.4 million subscribers in Q2 2022 and then a relatively paltry 3.1 million in Q2 2023.
In short, people seem to be becoming much more discerning in which streamers to spend their money on and appear to be preferring the ones offering the biggest, broadest programming libraries. The ones most resembling the traditional TV bundle.
Streaming subscriber growth has been slowing since 2021. And while both Netflix and Disney+ have recorded quarters of sequential subscriber declines in the past year-plus, this year the losses seem to be especially acute among the smaller streamers. AMC Networks, Fubo and Sling TV had lost 300,000, 160,000 and 230,000 subscribers, respectively, in Q1 2023, a period during which of the major streamers only Disney+ shed subscribers.
But wait a second, you might be thinking, what about Starz? Despite being categorized as a smaller streamer, Starz not only grew its subscriber base in Q2 but did so after adding 700,000 subscribers in Q1. What's that about? The bundle.
Lionsgate CEO Jon Feltheimer had attributed Starz's strategy of bundling the streamer alongside other services, such as MGM+ and AMC+, as reason for its subscriber success in the first three months of 2023. And Starz CEO Jeffrey Hirsch reiterated the point during the company's most recent quarterly earnings call on August 9 by touting the addition of Starz to Verizon's +play bundle and citing Paramount's bundle strategy of folding Showtime into Paramount+.
"What we've seen around the globe in bundles is that lifetime value extends, churn comes down. Obviously you don't have to market as much on the front end, and what you give up for in rate, you more than make up for in lifetime value and churn reduction," Hirsch said. "So we like the bundles we're in today, and we expect to be in a lot more in the coming months."
Starz is far from the only streaming service owner counting on the bundle to build up its streaming business in a similar fashion to how the pay-TV bundle built up traditional TV businesses.
Disney is pushing a new ad-free bundle of Disney+ and Hulu that will cost $12 less than separate subscriptions to each tier. "We're moving closer toward a more unified one-app experience domestically, to pair high-quality general entertainment with content from our popular brands and franchises for our bundle subscribers," Disney CEO Bob Iger said during the company's earnings call on August 9.
And Paramount Global CEO Bob Bakish was particularly outspoken in championing the bundle during his company's earnings call on August 7. "We believe in bundling. We are continuing to look at incremental opportunities in this regard. And the only thing we know for sure is it will be a growing part of what we're doing," he said.
Wait wait wait, you may be thinking again, now what about Sling TV and Fubo? The streaming pay-TV services are each literally a bundle unto themselves and have been bleeding subscribers. All true points. They've also become increasingly expensive.
Last November Sling TV raised its monthly subscription price for the fourth time in five years, this time to $40. That's more than double the cost of Netflix's and Max's most expensive plans, which are the highest-priced standalone streaming subscription among the major streamers. Meanwhile, Fubo increased its prices in January, and its cheapest tier now costs $75 per month.
Moreover, Hulu's pay-TV service — another bundle — also is shedding subscribers, having lost 100,000 from April through June after enacting its annual price increase last December.
All of which is to say: The bundle may be back, but that doesn't mean it's a permanent panacea to what ails streaming subscription businesses (like how streaming has yet to compensate for traditional TV businesses' struggles). The traditional pay-TV bundle blew up because it became cost-prohibitive for subscribers, and the same could prove true for the ballooning streaming bundles if their sizes and prices become overinflated.
What we've heard
"One of the strongest advertising products on X has got to be Amplify, the pre-roll [ad] into content that people want to see. We're coming up on elections, Olympics where people are going to be consuming content at a higher rate. When you have this prime ad space right ahead of a video that people want to see, there's so much value in that.."

— Digitas North America's Ariel Sims on the Digiday Podcast
TV viewership hits a tipping point
It's happened. Traditional TV no longer represents a majority share of the time people spend watching TV screens, according to Nielsen's The Gauge viewership report for July 2023.
Okay, to be fair, July is among the weakest months for traditional TV. Broadcast TV networks are running reality competitions and replaying old shows. The NBA, NFL and college sports are in their off-seasons. And the Women's World Cup kicked off toward the end of the month and airs live overnight in the U.S.
But still, streaming has been eating into traditional TV's share of watch time, so it seemed only a matter of time until it siphoned away enough viewership to bring traditional TV's share below the 50% mark.
That being said, it will be interesting to see how the shares shift in a couple months after the NFL and college football seasons start up and if the Hollywood strikes' drag on and drag down TV networks' — as well as streaming services' — new programming lineups.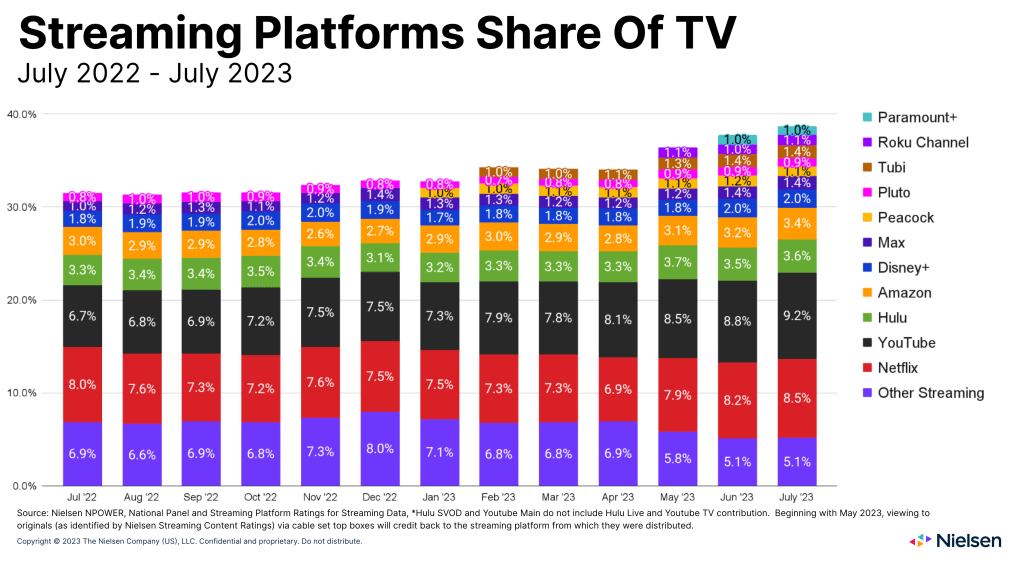 Within streaming, the story was largely as it's been in previous months. YouTube received the largest share of watch time, followed by Netflix, and the two services also recorded the largest gains in watch time share (0.4 and 0.3 percentage points, respectively). And then Paramount's Pluto TV failed to crack the 1.0% share mark once again.
Numbers to know
-5%: Percentage decline in upfront ad dollars committed against prime-time TV programming in this year's upfront market compared to last year's.
10 million: Number of monthly active users (not subscribers) for Netflix's ad-supported tier.
40%: Share of Disney's upfront dollars earmarked for streaming and digital (the same percentage as the past two years).
$14: New monthly subscription price for Disney+'s ad-free tier.
21%: Percentage share of TV ad dollars that were spent against new programming in June.
What we've covered
Here is why Wall Street's reception to the CTV narrative is cooling:
Ad tech companies' CTV ad revenue growth is slowing.
The CTV growth narrative has not been sufficient enough to push up ad tech firms' stock prices after their latest quarterly earnings reports.
Read more about CTV ad tech here.
What we're reading
The pendulum that swung from the pay-TV bundle to a la carte streaming services continues to oscillate back toward the bundle as the likes of Disney, Paramount and Warner Bros. Discovery promote their respective streaming subscription bundles, according to Vulture.
Streaming bundle exceeds cost of traditional TV bundle:
In light of Disney's upcoming streaming price hikes, paying for a coterie of the top streaming services will cost $4 more per month than the average pay-TV subscription, according to Financial Times.
Old TV shows fill the programming void:
Similar to how people checked out old shows during the pandemic-induced production hiatus in 2020, people are using the current strike-induced pause to caught up on TV and streaming series that oversaturated the market in recent years, according to The New York Times.
YouTube will start disabling links in Shorts on August 31 because the short-form video platform has become overrun with spam URLs, according to The Verge.
Want to discuss this with our editors and members? Join here, or log in here if you're already a member.
https://digiday.com/?p=514618
This week's Future of TV Briefing looks at how this year's upfront and recent announcements from AMC Networks and Paramount indicate the progression of programmatic in the TV and streaming ad market.
This week's Future of TV Briefing looks at how major streaming service owners' subscription business fared in the third quarter of 2023.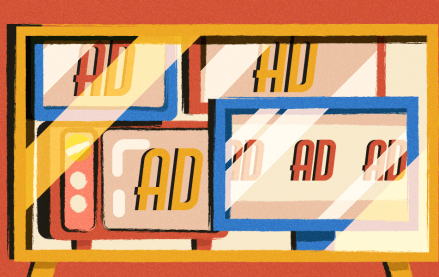 This week's Future of TV Briefing looks at what TV and streaming companies' latest quarterly earnings reports indicate about the state of the TV advertising market.