'Something enormous': Inside Walmart's ambitious streaming video plans
June 3, 2019 • 8 min read
•
•
Walmart might have scuttled its plans to build a subscription video streaming service catering to the "heartland," but the company still has streaming video ambitions.
At the center of the retail giant's plans is Vudu, a video service and storefront the company acquired in 2010. Vudu offers more than 8,000 movies and TV shows for viewers to watch for free (with ads), as well as a library of more than 150,000 movies and TV titles that people can purchase or rent. In the past, Walmart has said that Vudu is the third-biggest video storefront in the U.S. behind Apple's iTunes and Amazon Video. As of Oct. 2018, Walmart said Vudu had 25 million registered users.
Since the tail end of last year, the retail giant has been investing in free original and licensed programming, aiming to tie that with a growing video ad business, in the hopes that its retail power and customer purchase data can ultimately bring in advertisers that have dreamt of large-scale shoppable video advertising, but haven't seen it become a reality just yet.
"It's a huge game-changer if someone can actually figure out the connection between people watching content and making purchases," said Sam Toles, chief content officer of Bleacher Report, who did a deal for a reboot of the '80s classic "Mr. Mom" with Walmart and Vudu during his previous role as svp of digital and new platforms for film studio MGM. "Audiences are being less and less receptive to traditional forms of advertisements. Where does that lead? Can we create commerce within programming? If Walmart has the data to know that if a customer streams 'Mr. Mom' and then goes and buys a 24-pack of Coca-Cola, think about where that leads the business."
A Walmart spokesperson did not comment on the record for this story.
Deal terms for original and licensed programming
During its NewFronts presentation, Walmart said it has about a dozen original series and movies in the works for Vudu.
The first project was announced last year, the "Mr. Mom" reboot from MGM, will be delivered in 11-minute installments when the digital series premieres on Vudu this summer. At the NewFronts presentation, Vudu announced several other scripted and unscripted projects that are currently in the works, including a travel show with Queen Latifah, an entertainment series with Randy Jackson and a scripted futuristic crime thriller starring Evangeline Lilly.
While Netflix, Disney and other subscription video streamers are spending billions of dollars on original content, Vudu original programming will cost far less, sources said. Vudu is focused on budgets that hit "mid-tier" cable prices, according to two sources who have pitched Vudu. Both sources said this roughly equates to "a few hundred thousand dollars per episode," though Walmart is willing to up its budgets to a couple of millions of dollars per episode, according to a report from Bloomberg in April.
"They're paying for a scripted show for the price of an unscripted show on Discovery," said one of the sources.
Walmart and Vudu are also focused on North America, which means studio partners have the ability to license Vudu originals in international markets, sources said. For these deals, Walmart and studio partners have also talked about co-ownership arrangements, where Walmart would recoup its production investment from ad revenue, after which revenue would be evenly split by the partners, sources said.
It's also important to note that studios and other video makers have the ability to put movies and TV shows on Vudu, non-exclusively, for free. If Vudu is not paying to license the program, then it will evenly split the ad revenue generated by the title — although it's not offering any minimum ad guarantees, according to a source familiar with the matter. Ad sales on Vudu are exclusively managed by Vudu, sources said.
"A 50-50 split is not the greatest, but it's Walmart," said one source.
The focus is on "co-viewing" and other key programming areas
With both original and licensed programming, Walmart and Vudu are focused on a few key areas.
One of the biggest focus areas for Walmart is programming that encourages "co-viewing," according to multiple sources. This means original and licensed shows that families or other groups would want to watch together. This could mean kid-friendly animated programming or even action movies such as "John Wick," which can draw groups of friends together, sources said.
With originals, genres that Vudu is taking a closer look at include shows and movies that center on female characters or celebrities, home-improvement shows and animated and kids programming. Vudu has also demonstrated an interest in comedy formats that mimic segments on late-night shows, sources said.
All of this runs back to Walmart's desire to create a streaming service for "Middle America." "We're not just going to be programming for Williamsburg and Silver Lake," said Vudu senior director Julian Franco, during the company's NewFronts presentation in New York earlier this spring.
This focus on "Middle America" might also spur Walmart to rebrand Vudu. Walmart has considered renaming the video streaming service, according to sources. Recently, the company sent a legal note to content partners asking them to waive the right to end their deals in the event that the name and all references to Vudu are changed in the contracts, a source said. "Walmart TV" or "Walmart Streaming" have been two names considered by Walmart, though no decision has been made, sources said.
"Vudu does not mean anything," said a source that received the contract amendment. "Walmart TV makes sense because people know what Walmart is."
Not seeking to compete with Netflix, other subscription giants
Last year, reports indicated that Walmart was mulling the launch of a subscription streaming video service that would directly compete with Netflix, Amazon, Hulu and others. In January, CNBC reported that Walmart had scrapped those plans, deciding that the best path forward was to make additional investments in Vudu.
One big reason Vudu is taking the free streaming route is because capital costs — from content spend to customer acquisitions — are far higher in subscription streaming video.
"They're being rigorous, they have not done the Hollywood thing of being swept away by working with so-and-so star," said a source that's pitched Vudu.
Of course, the free video streaming market has become very crowded. In January, Amazon launched IMDb Freedive and is reportedly working on a second free streaming service for news programming. Roku has The Roku Channel, which the company boasts is already one of the five biggest streaming apps on its platform when measured by reach (though Roku has declined to define reach).
Other key players in free streaming video include Pluto TV, which was acquired by Viacom earlier this year for $340 million, Xumo and Tubi. CBS has three free video streaming channels catering to news, sports and entertainment news and both NBC News and ABC News now have live video streaming channels. Then there's YouTube, which has been aggressively pitching marketers on how users stream more than 250 million hours of YouTube videos on TV screens every day. It's a big reason the video giant has started to move some of its funded original series in front of its YouTube Premium paywall.
It can be hard for a service to stick out if it does not have a high-profile piece of programming that draws viewers. Some sources disagreed, saying high budgets don't automatically create hit TV shows.
"What show was more successful on Netflix? Marie Kondo's or 'Lost in Space'?" said a source. "Why are we always equating dollars spent to eyeballs? It does not actually work that way."
Content, with commerce
During its NewFronts presentation, Vudu also unveiled an ad network that will span multiple streaming services, including its own, as well as shoppable ads. These units would allow users to add items to their Walmart shopping carts, which they can buy online or pick up at a store later.
The ability to merge video ads with commerce is an intriguing and attractive option for advertisers, though many are still hesitant about the ability for shoppable video advertising to succeed at scale.
"I'm not sure [shoppable video] is something people are exactly jonesing for, given the glut of content that's out there and the likelihood that there will be nothing particularly unique about what's being sold off of Vudu's shows," said Alan Wolk, co-founder of TVRev.
What helps Walmart is the fact that it's the largest physical retailer in North America, which gives the company a lot of sway over brands that need Walmart's shelf space. Walmart has already been able to convince some major advertisers to commit tens of millions of dollars in upfront ad commitments, according to Bloomberg.
"They are the most powerful retailer in the world," said Toles. "And because they have great relationships with major brands, it is logical that they could partner to create something enormous together."
Subscribe to the Digiday Video Briefing: A weekly email with news, quotes and stats around the modernization of video, TV and entertainment.
https://digiday.com/?p=336210
This week's Future of TV Briefing looks at how this year's upfront and recent announcements from AMC Networks and Paramount indicate the progression of programmatic in the TV and streaming ad market.
This week's Future of TV Briefing looks at how major streaming service owners' subscription business fared in the third quarter of 2023.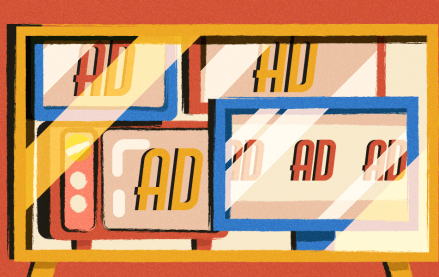 This week's Future of TV Briefing looks at what TV and streaming companies' latest quarterly earnings reports indicate about the state of the TV advertising market.