'An extension of our broadcast buy': Advertisers are buying ads on gas station screens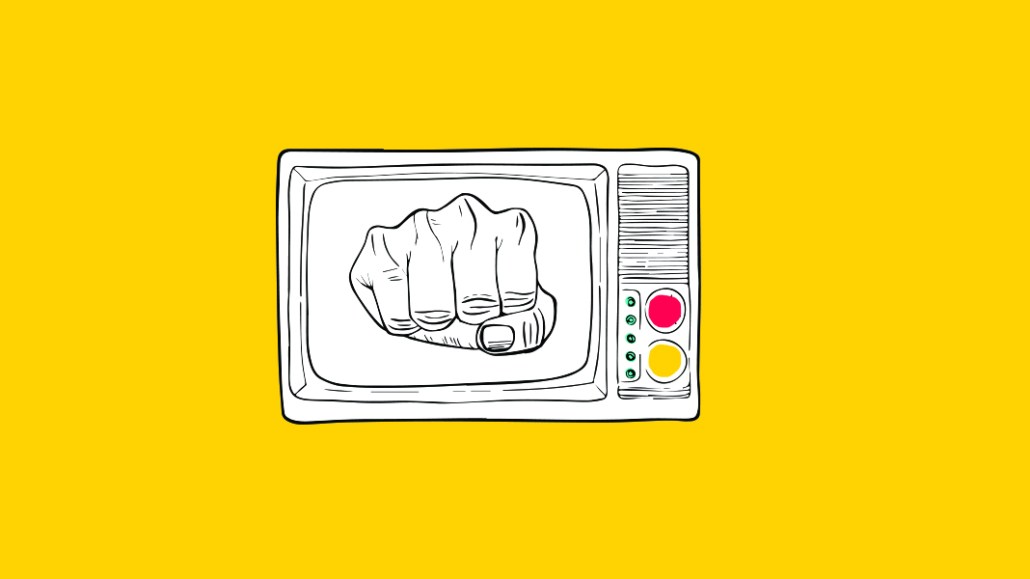 People probably don't pull up to the gas station pump to watch videos, let alone to sit through ads. But while they wait for their tanks to fill, there's enough chance that they'll check out what's playing at the pump that advertisers including PepsiCo and Quicken Loans, and agencies such as Spark Foundry see GSTV's gas station screens less as a billboard and more as another TV screen.
PepsiCo has begun to consider GSTV to be part of its video strategy as the company has adopted "more of a video-agnostic approach" with that strategy over the past couple years, said Kate Brady, head of media innovation and partnerships at PepsiCo. That shift has helped with analyzing the effectiveness of the marketer's GSTV campaigns. "Because you have a captive, engaged audience [on GSTV], we see that to be stronger than what we might see on many of our digital video results and some of our outdoor as well," said Brady, who declined to share specific results.
Spark Foundry has similarly reevaluated what it considers video in recent years. About two and a half years ago, the agency combined all video platforms, whether in-home or out-of-home, under the purview of its video team, said Shelby Saville, chief investment officer at Spark Foundry. That move enabled the agency to take a more complete view of the video landscape and find opportunities to extend the reach of TV and video campaigns "in case we're not getting the reach we want in traditional TV or digital video," she said. The agency uses GSTV to drive foot traffic for clients with quick-serve restaurants and retail stores, in particular.
The executives interviewed for this article declined to discuss GSTV's ad rates, but Quicken Loans CMO Casey Hurbis described the company's pricing as "fair and consistent."
GSTV streams videos and ads over the internet to its screens that span more than 23,000 locations across the country. That internet-based delivery enables GSTV to aim ads at individual locations, which enables advertisers to use GSTV to supplement the reach and frequency of their TV and video campaigns. Additionally it works with companies like Nielsen to cross-reference credit card data from gas stations, including their adjoining convenience stores, with advertisers' first-party data in order to pinpoint brands' ads and measure their sales impact.
As audiences tune out of traditional TV and into ad-free fare like Netflix, advertisers are seeking out all opportunities to reach people with their 15-second spots. For these marketers, GSTV has emerged as one of those opportunities despite being historically categorized alongside billboards and bus stop signage as an out-of-home platform. "We've had a couple clients and teams recommend [GSTV] be used as a frequency extension if we feel like there's an audience that's being underserved in television," said Saville.
GSTV has been looking to capitalize on ad buyers' interest in opportunities to offset TV viewership declines by angling to compete in the annual TV-and-video upfront marketplace. This year the company has had more than two dozen meetings with advertisers to pitch for their upfront budgets, according to GSTV CEO Sean McCaffrey. In those pitches, the company has talked up the 93 million adults in the U.S. that it claims it reaches every month, as measured by Nielsen, — up from 75 million adults in 2018 — as well as the TV-like qualities of its ads that play at full screen with the sound on between videos from media companies such as Cheddar, First Media and Chive TV as well as sports leagues like the NFL and NHL.
One question that GSTV faces as it angles for advertisers' TV and video dollars is whether people are actually watching its screens while they pump gas. And it appears that people do watch. The company performs eye-tracking studies and consumer surveys to measure viewership. In a pitch deck that GSTV has shared with advertisers and agencies this year, the company claims that 86% of people watch or listen to the screens. For PepsiCo, the question of GSTV's viewability has not been an issue. The company has conducted brand recall and purchase intent studies for its GSTV campaigns, and the results of those studios "make us confident that it's working," Brady said.
While GSTV may seem to be an odd fit in the upfront consideration set, it has been able to merit consideration alongside TV networks and digital video platforms. "When we go into the upfronts, GSTV has historically been one of the partners where we make an annual upfront investment," said Casey Hurbis, CMO of Quicken Loans. He has been buying ads on GSTV for at least seven years, dating back to when he was an automotive marketer at Fiat Chrysler Automotive and where he said GSTV was viewed as a cable network. "I've never really looked at [GSTV] as an out-of-home placement. I look at it as an extension of our broadcast buy," said Hurbis.
https://digiday.com/?p=342653