ESPN to make original digital shorts for 'SportsCenter'
February 20, 2017 • 3 min read
•
•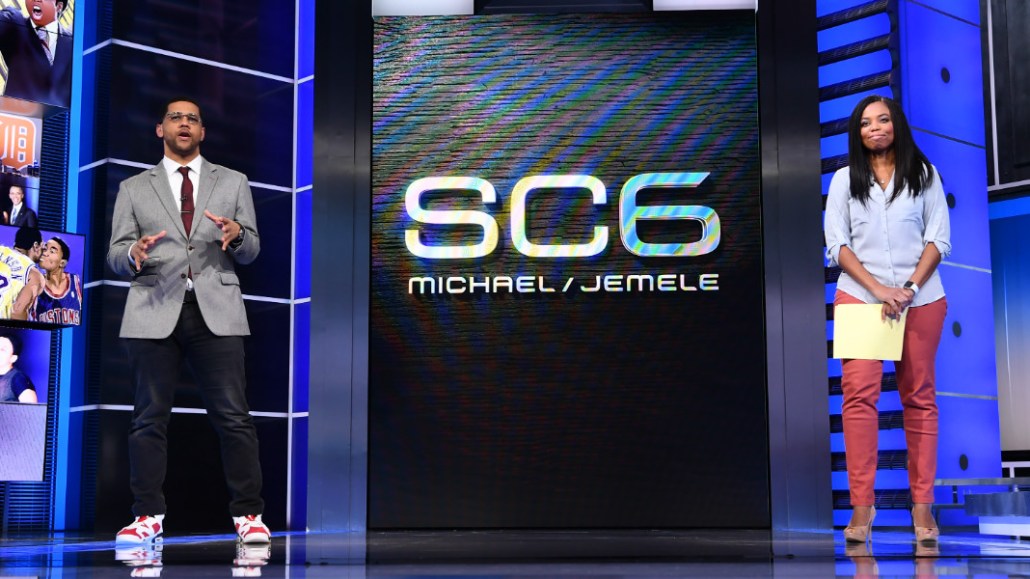 ESPN is gearing up to produce more original "SportsCenter" videos for digital and social platforms.
Within ESPN's 40-person digital video production team, the company has assigned a group to focus full time on creating original "SportsCenter" videos for digital platforms. These videos will live on ESPN.com and its refurbished mobile app — and when relevant, distributed across different "SportsCenter" social handles.
"This team will not only be thinking about what we're doing on TV and taking the best of that to digital platforms, but also creating things specifically for digital, including franchises that enhance our on-air brands," said Rob King, svp of "SportsCenter" and news for ESPN.
What the videos won't be are standard desk-side bits that viewers can also see on TV, said ESPN. This could include everything from the "SportsCenter" hosts working on a story away from their desks; random behind-the-scenes sketches with athletes and celebrities visiting ESPN's Bristol headquarters; or short features on a specific topic that might eventually air on the TV broadcast. So far, the team has created one-off segments such as a video of Magic Johnson doing behind-the-back passes to Michael Smith and Jemele Hill while the "SportsCenter" anchors prepare for their evening 6 p.m. show.
The digital video group will also be responsible for editing highlights for digital platforms — for instance, instead of just a dunk video, the highlight would also feature crowd reactions or comparisons to big dunks from the past.
ESPN does not have a set number of original "SportsCenter" videos it wants to make on a daily basis — that will vary based on the news cycle and other factors, King said.
"Michael [Smith] and Jemele [Hill] have the ability to interact with fans beyond the bounds of their 60-minute linear show; Scott [Van Pelt] is now thinking about not only his midnight show but being able to touch on things on digital beyond the TV show," said King.
Videos created by ESPN's digital production group (including content made for ESPN's other shows like "First Take" and "SportsNation") will get priority placement inside the new ESPN mobile app, which now features a video player on the home screen. Original videos will air first inside this app, before personalized news and highlight clips. The ESPN app averages nearly 16 million unique visitors per month, according to comScore.
"We're figuring out the right rhythm and cadence between the original and personalized content based on what the news indicates and what the user's habits are," said Ryan Spoon, svp of digital product management at ESPN.
While video viewing inside ESPN's mobile app is a priority, growing "SportsCenter" on social platforms is another. The show is already a giant on social platforms, generating 290 million video views on Facebook, Instagram and Vine in January, according to Tubular Labs.
For social content, the digital video group works with ESPN's 25-person social team, which the company recently centralized to focus on all social platforms and video formats. Other areas of the company, including ESPN's massive highlights operation, will also support some of the content. These groups will work together to create content like ESPN's College GameDay show for Snapchat as well as one-off social clips the groups have already been producing for Facebook and Instagram.
"If we do it right, this will turn into a virtuous cycle of creating content that works in digital, and turn around and present that within our linear shows, and vice versa," said King.
https://digiday.com/?p=223610
This week's Future of TV Briefing looks at how this year's upfront and recent announcements from AMC Networks and Paramount indicate the progression of programmatic in the TV and streaming ad market.
This week's Future of TV Briefing looks at how major streaming service owners' subscription business fared in the third quarter of 2023.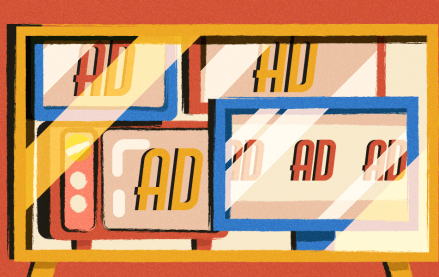 This week's Future of TV Briefing looks at what TV and streaming companies' latest quarterly earnings reports indicate about the state of the TV advertising market.