With $40m in backing, Brat is trying to recreate TV for teens — on YouTube
July 20, 2018 • 4 min read
•
•
"Chicken Girls: The Movie" is a 70-minute feature film on YouTube about a group of high school girls banding together to save their school dance. With original songs and dance numbers, it holds a particular likeness to Disney's hit TV movie franchise "High School Musical." The movie, produced by video startup Brat, cost $500,000 to make and has racked up 10 million views — with an average view time of 30 minutes, according to Brat — since it premiered two weeks ago.
"Chicken Girls: The Movie," which is based off of one of Brat's video series, is an example of the type of longer-form programming that Brat wants to be known for. Instead of shooting cheap video blogs or other types of user-generated videos that permeate YouTube, Brat sees itself as a digital network that creates TV-quality programming for younger viewers, said Rob Fishman, co-founder of Brat, which is a little over a year old.
"We're taking popular YouTube, spending more money than what is common on YouTube, and making television content," said Fishman, who along with Brat co-founder Darren Lachtman, founded Niche, the influencer marketing agency that sold to Twitter for $55 million. "We're hiring great writers, great directors and trying to make a real quality product."
And Brat has raised some money to fund these programs. Earlier this week, the digital network announced a new funding round of $30 million led by Anchorage Capital. Last year, the startup had raised $10 million from investors that included Shari Redstone's Advancit Capital and NBA all-star Kevin Durant.
Some of the new funds will go toward funding Brat's shows, which typically cost "hundreds of thousands of dollars" per season, Fishman said. This year, Brat aims to produce 12 of these shows, spanning 30 seasons.
Currently, Brat distributes its shows on YouTube, where it has more than 2 million subscribers. The network's also on Instagram and Twitter, where it distributes clips, photos and does marketing. A Snapchat Discover channel is a possibility, Fishman said. Over time, Brat will expand to new distributors as audience demand necessitates it.
"We want to be where the teen eyeballs are right now, which is on YouTube and Instagram," Fishman said. "Too many companies in our space invest too much time on business development and not audience development. If and when new destinations emerge where our demographic is, we'll happily go there."
Brat isn't profitable yet and so far has relied on programmatic ads sold by YouTube (and Twitter, where it distributes clips) for revenue. This brought in revenue in the "low millions" last year, Fishman said.
"If you're spending any meaningful amount of money on production, there's not yet a business model that's totally supported by the platforms," Fishman said.
With the new funding, Brat will also be hiring salespeople as it begins to sell sponsorships and integrations for its programming.
Its pitch will center on how people are actually coming to Brat and spending time watching the network's shows. About 40 percent of Brat's channel traffic is coming from YouTube search, subscriber notifications or Brat's other social accounts on platforms such as Instagram, said Fishman, citing YouTube data. The remaining 60 percent is coming in through general circulation to people on YouTube. "About a year ago, that ration would have been 99 percent general circulation and 1 percent direct traffic," Fishman said. "There's real intent in our viewership."
Overall, Brat generated close to 38 million video views on YouTube in June, according to Tubular Labs. Fishman said the channel is on pace for 50 million video views in July and has an average watch time of almost 10 minutes per view. (Most episodes of Brat shows today have a running time of 10 to 15 minutes, a "sweet spot" that Brat has grown to after viewers asked for longer episodes, Fishman said.)
Brat also isn't attempting to be a studio that produces movies and TV shows that it can then sell to other platforms, Fishman said. The network does have a deal with Facebook for a Facebook Watch teen drama series called "Turnt," but those types of deals will be few and far between. (This also doesn't mean Brat won't start distributing its shows on other platforms.)
"We want to be the owner and operator of our shows and our chief competency will be building a brand through the network and selling direct advertisements against the network," Fishman said. "We do production, but we're not going to be in the services business."
Image via Brat
Get more exclusive coverage and analysis around the future of video, TV and entertainment by subscribing to the weekly video briefing email.
https://digiday.com/?p=295989
This week's Future of TV Briefing looks at how this year's upfront and recent announcements from AMC Networks and Paramount indicate the progression of programmatic in the TV and streaming ad market.
This week's Future of TV Briefing looks at how major streaming service owners' subscription business fared in the third quarter of 2023.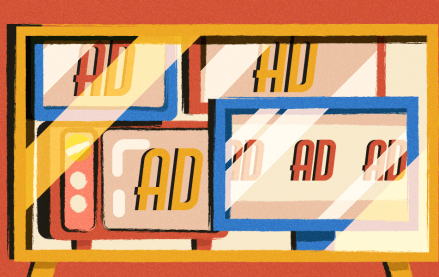 This week's Future of TV Briefing looks at what TV and streaming companies' latest quarterly earnings reports indicate about the state of the TV advertising market.