Bleacher Report now has three hit animation series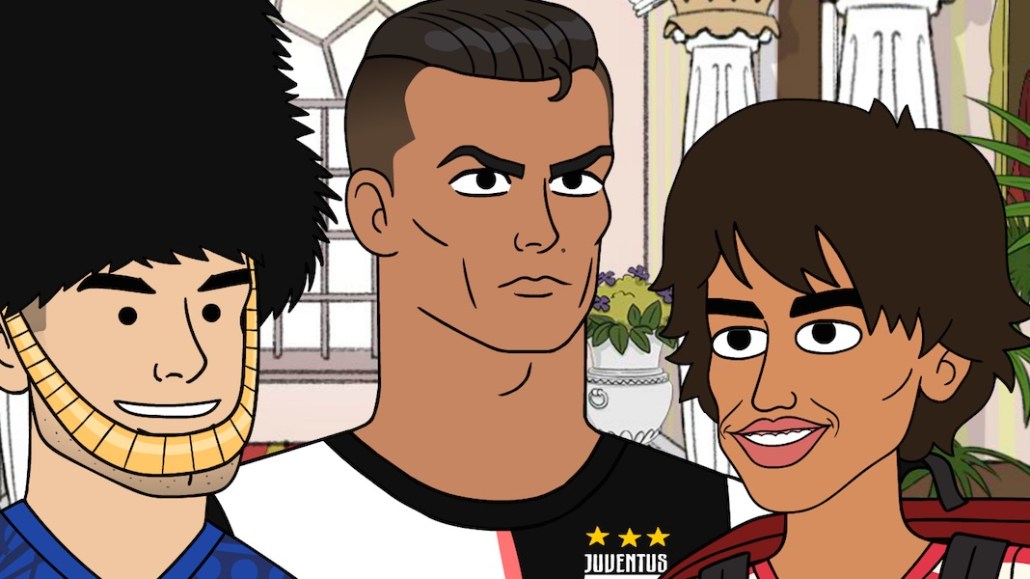 Bleacher Report has hit on a winning formula for its video strategy with three hit animation series now under its belt: "Game of Zones," "Gridiron Heights" and now "The Champions."
This week Bleacher Report Football launched the third season of its spoof-reality TV show "The Champions" to time with the second match of the UEFA Champions League season. The show's previous two seasons have driven 400,000 YouTube subscribers to date and become its most-watched show — outstripping both previous U.S.-sports focused series due to the worldwide appeal of the sport and the show, according to the publisher.
The 6-part series continues the theme of the previous two, in which all 800 UEFA Champions League players and their managers live in a chateau together. Each 5-minute episode is a parody that follows real narratives around the players and managers and their real-life match performances. So if a player is injured one week for instance, following episodes will be updated to reflect that.
Sports coverage is such a saturated area that digital media publishers like B/R must constantly hunt for new ways to drive new audiences, while sustaining existing ones. Making original animated series that take a satirical spin on the sports they cover and their players has proved an important way for B/R to differentiate.
Launched in 2014, "Game of Zones" is dedicated to basketball and features famous NBA players depicted as characters from the TV show "Game of Thrones," while "Gridiron Heights" is focused on U.S. football league the NFL. Both shows were instant hits, but so far "The Champions" is outflanking them due to its appeal to a worldwide audience and people viewing it from 50 different countries, according to the publisher.
"There is absolutely nothing like it. It's incredibly funny, and it differentiates in quite a powerful way," said Richard Barker, joint managing director of M&C Saatchi Sport and Entertainment.
Premier League and Champions League rights are shared between BT Sport, Sky Sports and Amazon, all of which are subscriptions based. They've tried to extend those audiences on social media, with the result that highlights and goal clips have become highly commoditized on social media platforms. "Young people don't care where they're getting them from. They can just find them on social media. It's hard for anyone to own that, " added Barker.
But B/R's "The Champions" caters very much to that younger audience, which is attractive for the right advertisers, he added. The third series is the first to be commercially supported by a dedicated partner and is presented by Playstation.
Another bonus of the series being a parody is the publisher can avoid having to pay any expensive rights for coverage of players. "It's [The Champions] smart because obviously it allows them to include world-famous names without rights issues," said Dan Ayers, partner at digital sports consultancy Seven League. "Getting all these players together in a single video would never happen for real, so creating an animated version definitely enables BR to differentiate."
Since the show's debut in September 2018, "The Champions" has generated an average 29,000 subscribers per episode on B/R Football's YouTube channel, taking the total to 910,000, according to the publisher. The series also runs on the B/R Football app and is shown in full on IGTV and Facebook.
"The intersection of sports and comedy is something we don't see a lot of elsewhere," said creative executive Sarah Lowen. "There was something about mapping it to reality TV, with all that wealth and egos. But we don't want to be dragging anyone through the coals. We want the players to feel they are in on the joke."
The pre-scripted shows serve as effective evergreen content and take 10 weeks from concept stage to production. If any new story breaks around a player, the team tweaks the episode to ensure the content is timely.
The first episode of the third series has clocked up just under 1.4 million views within two days on YouTube. The second season had 5.3 million views per episode, and 464,000 people per episode engaged with it via comments, the highest view rates recorded for any B/R show, according to the publisher.
A large chunk of these views came from the U.S., where football, aka soccer, is less developed but growing fast. Appealing to the U.S. soccer audience is a priority for BR, but it has to hit on the right balance of making it accessible for people newer to the sport, without diluting the impact of the series's depth of knowledge on the sport in order to keep European fans engaged.
That's a challenging balance to strike, but it seems to have paid off. The second series of The Champions attracted a large U.S. audience, and a surprisingly high one in Germany due to an episode dedicated to the Bundesliga, according to the publisher though it wouldn't break out figures.
The series is created out of B/R's U.S. office by a team of 25 dedicated producers and writers, 12 of whom are animators. They work very closely with the London office, to ensure the script has enough in-depth knowledge of, and cultural references to the sport, and will appeal to football supporters worldwide.