Amid shift to streaming, programmers try to maintain linear TV's dual-revenue model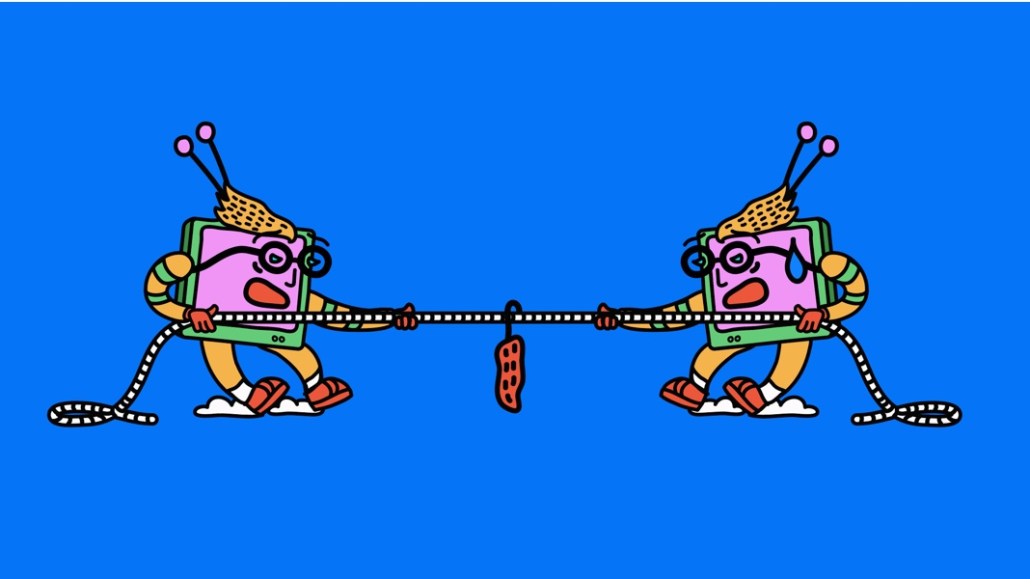 Ivy Liu
This article is part of the Digiday Video Briefing, which features must-reads, confessionals and key market stats. To receive the Digiday Video Briefing, please subscribe.
Linear TV is not dead, but its dual-revenue business model for channel programmers is in danger as the market shifts to streaming.
The streaming market for linear channels is diverging between subscription-based streaming TV services, such as Dish Network's Sling TV and YouTube's YouTube TV, and free, ad-supported streaming TV services, such as Viacom's Pluto TV and Samsung's TV Plus. That split is pushing TV network owners to determine how they can maintain traditional linear TV's twin income sources of advertising and affiliate revenue. "It's a real tightrope," said one former TV network executive.
On traditional TV, network owners typically make money in two ways. Advertisers pay them to advertise on their TV networks, and pay-TV providers, like Comcast and Dish Network, pay them a per-subscriber fee, known as a carriage fee, to carry their networks on the providers' services. This dual-revenue model has been a boon to network owners' businesses because the affiliate revenue is basically all profit and the dollar amounts can exceed network owners' advertising revenue. For example, Fox Corporation's cable networks generated nearly three times as much revenue in the fourth quarter of 2019 from carriage fees as from advertising, according to its most recent earnings report.
"That dual-revenue stream model that cable networks have is, besides search, the most incredible business model I've ever seen. So cable networks are in a bind because they don't want to give that up," said the former TV network executive.
However, the carriage fee is becoming a bit of a Faustian bargain that complicates the TV network owners' efforts to shift their businesses to streaming. In exchange for receiving the carriage fees, the network owners agree to limits on how they can distribute their linear channels to prevent that additional distribution from undercutting the pay-TV providers' services. The pay-TV providers "want to make sure that the content that their subscribers are paying for is not available freely. It's totally fair," said a TV network executive.
Pay-TV providers are certainly within their rights to protect the investments their carriage fees represent. But, with the number of people subscribing to pay-TV services continuing to decline, the TV network owners find themselves in a precarious position. They cannot afford to forgo the affiliate revenue, but neither can they afford to shun streaming, in particular the so-called FAST services like Pluto TV.
These free streamers have become the gateway to the connected TV market for mid-sized media companies, including cable TV networks that are not part of major media conglomerates like The Walt Disney Company or Comcast-owned NBCUniversal. More to the point, while streaming pay-TV services, such as Hulu's and YouTube's, have accrued single-digit millions of subscribers, FAST services count tens of millions of monthly active users. Additionally, the FAST services typically enable programmers to sell a portion of their channels' ad inventory, which can help the programmers to build up their streaming ad businesses.
Seizing the FAST opportunity is challenging given the carriage fee trade-offs. Because network owners cannot distribute their pay-TV linear channels on the free streamers, they must create entirely new channels for the FAST services. That requires not only investing in the technology to power those channels and the talent to operate the channels, such as executives to oversee programming schedules, but also the programming. Network owners have been able to rely on their libraries of old shows that no longer air on their linear networks, but they are also finding that they need to develop new original series in order for their channels to stand out among all the other channels on the FAST services. This emphasis on original programming introduces its own challenge of balancing the cost of creating that programming with the expected revenue. "That's the challenge: how do you make the economics work? We're trying to figure that out," said a second TV network executive.
What is becoming clear to the channel programmers is that they may be able to maintain their dual-revenue streams as their businesses shift to streaming, but they will need to work harder for that money. As nice as it would be for the streaming pay-TV services to completely offset traditional pay-TV declines, that has yet to prove true. "That ecosystem is limited in size and scope," said a third TV network executive that distributes separate channels on streaming pay-TV services and FAST services. Distribution on streaming pay-TV services "is good to have, but the biggest opportunity is the FASTs," said this executive.
https://digiday.com/?p=359786