AMC Networks' Kim Kelleher says the TV ad market is still speeding up
November 9, 2021 • 3 min read
•
•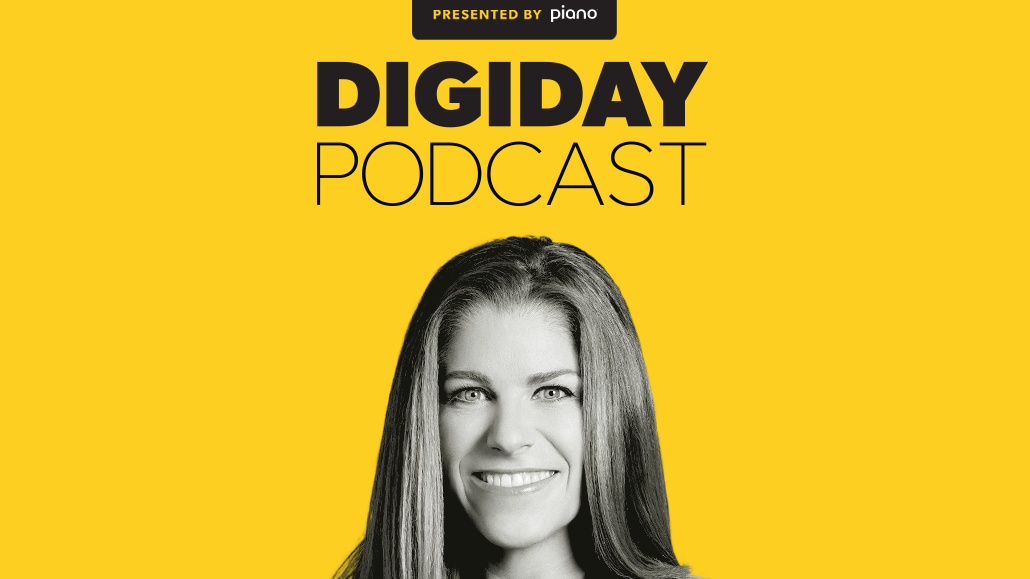 Subscribe: Apple Podcasts | Stitcher | Google Play | Spotify
Everything has accelerated since the pandemic, including the historically slow-moving TV ad market. Not only did this year's upfront cycle blow by, but early talks ahead of next year's upfronts are already underway.
"We're having earlier conversations," said Kim Kelleher, president of commercial revenue and partnerships at AMC Networks, in the latest episode of the Digiday Podcast. "Maybe it's because I come from digital media and publishing, which were always-on mediums, that television is starting to feel a lot more like the always-on world that I came from. We're having conversations already about next year."
To be clear, Kelleher described those conversations as "preemptive" planning discussions. "Certainly not negotiating," she said. Still, the fact that conversations about next's upfronts are taking place a month after this year's deals took effect indicates how the overall TV ad market is changing as the dividing line between linear and digital blurs and advertisers reevaluate their options for reaching audiences.
"There's a level of thoughtfulness that needs to go into the media mix and the distributions you're going to choose to tell and market your stories with," Kelleher said. "It's never too soon to start."
Here are a few highlights from the conversation, which have been edited for length and clarity.
Adapting to advertisers' supply chain challenges
Flexibility has definitely been the word for the last couple years, and I think rightfully so. Forcing [advertisers] into a situation where they're marketing something that's not on the shelves is just not the business we're in. So we're having a number of ongoing conversations. Things are shifting in real time: out of fourth quarter into first quarter, out of first quarter into second quarter.
The future of the upfront
At the end of the day, the upfront advertisers are securing price and inventory and the flexibility they negotiate. Based on this last upfront, it looks like demand for that is still very, very high. That could very well be, and likely is, tied to the uncertainty around avails and inventory overall. But I see the upfront staying relevant for at least a few more years, frankly until there's a better opportunity to meet their needs on their marketing side of things. Television still works. It's a mainstay of their plans.
Making more TV inventory available for household-level targeting
Initially we were overlaying [AMC Networks' own] promos [with household-targeted, or addressable, ads] because that was controllable inventory. We could run addressable units and overlay against our own house promos without interrupting any other advertiser's overall footprint. That is viable, but obviously that promo inventory works hard for us. We don't want to eat too much of that [promo inventory by repurposing it for addressable ads]. I do think there's an opportunity to start looking at [direct-response] advertising and overlaying DR. And then I also think there's an opportunity for advertisers that are large enough and making enough creatives to overlay against themselves.
Nielsen's potential role in next year's upfront deals
I don't think we have made enough united traction for it to change [from upfront deals being based on Nielsen's measurements]. That being said, I think it's an open and ongoing discussion. But time is going to get very tight for it to change in a meaningful or truly disruptive way going into this upfront. But that's just my opinion. Something could happen before then, and we're all ears and ready to react.
https://digiday.com/?p=431383
This week's Future of TV Briefing looks at how the streaming ad market's programmatic guaranteed vs. private marketplace debate is reaching a compromise.
This week's Future of TV Briefing looks at how this year's upfront and recent announcements from AMC Networks and Paramount indicate the progression of programmatic in the TV and streaming ad market.
This week's Future of TV Briefing looks at how major streaming service owners' subscription business fared in the third quarter of 2023.