Amazon is driving more transaction-based revenue for TV networks and studios
August 17, 2018 • 6 min read
•
•
Amazon has become a growing source of transactional revenue for TV networks, studios and other video producers selling movies and TV shows through Prime Video.
According to an executive from a U.S. cable network that makes its TV shows available for rent and purchase on Amazon Prime, Amazon surpassed both iTunes and Google Play last year to become the biggest source of sales and rentals. This year, Amazon will deliver more transaction-based revenues to this network than both Apple TV/iTunes and Google Play combined, the exec said. Overall, this network, which is exploring whether it should put more of its video library on Amazon Prime, makes about "high six figures to low seven figures" per year from EST (electronic sell-through, or when users buy movies or TV shows to own) and TVOD (transactional video-on-demand, or when users rent a movie or TV episode for a limited amount of time), the exec said.
"It's incremental — not a large amount of money just yet — but it's free money, and it's increasing year over year by 100 to 200 percent across the different platforms," the exec said.
A longtime film distribution executive at an independent studio said Amazon has grown substantially over the past 12 to 18 months as TVOD revenue provider for the studio, which as an indie studio finds more success in getting people to rent versus buy outright. The exec didn't provide specific revenue figures — "it depends on the film" — but said Amazon Prime and iTunes now combine for a lion's share of the studio's transaction-based revenues.
"It used to be iTunes would account for the lion's share or at least half of total revenue, but now that's being shared between Amazon and iTunes in most cases," the exec said.
Amazon's growing influence as a provider of transaction-based revenue for media companies should come as no surprise. The company has never disclosed how many of its Prime members — now surpassing 100 million, according to comments made by CEO Jeff Bezos earlier this year — actually use the video service, which offers a huge library of movies and TV shows. But internal documents leaked to Reuters earlier this year reported that Amazon had 26 million Prime video users as of early 2017. Considering that Prime video users have likely grown since then, it's a fairly sizable audience that's already used to watching movies and TV shows on the platform.
Amazon declined to comment for this story.
Meanwhile, Amazon's Fire TV stick, which competes with Apple TV and Roku as one of the top connected TV devices, also continues to gain market share, which has likely helped drive more people to watch Prime video and in some instances pay for movies or TV shows through the device. The Fire TV stick now accounts for 25 percent of connected TV devices in the U.S., up from 16 percent in 2016, according to a Parks Associates research study released earlier this spring. (Roku is still dominant with 37 percent of the market, and Apple TV comes in at third with 15 percent market share, according to the same study.)
"Amazon has become far more ubiquitous because of Prime and, to a lesser extent, Fire TV," said Alan Wolk, lead analyst at TVRev. "ITunes offers far fewer options and is largely limited to the Apple TV — you can't move it easily from device to device. Amazon makes it easy to buy or rent movies and TV shows, and people are now accustomed to buying everything from them. And you can watch Amazon on all four major connected TV devices, including Roku, Chromecast, Apple TV and, of course, Fire TV."
While Amazon's transaction-based revenue growth is a nice, incremental revenue addition, media sources said the biggest opportunity to distribute on Amazon remains within its Prime Video Direct program, which allows video makers to earn money in a variety of different ways.
Launched in May 2016, the Prime Video Direct program allows video makers to upload shows and individual movies and TV episodes to Prime. Video makers have multiple options in how they can make money: inside the subscription service (and get paid by hours streamed); they can sell full streaming channels as add-on subscriptions; or make videos and video packages available for purchase or rental.
The Prime Video Direct program has become a growing moneymaker for traditional and digital media companies. For instance, an executive from a second U.S. cable network, which makes its TV and digital programming available inside Prime's subscription streaming service as well as on a TVOD basis, said that Prime subscriptions account for most of its Amazon video revenue. The network is making some money from Amazon TVOD, but by making titles available within Prime's own video service, it becomes easier for customers to find, click and watch their shows.
"There's an algorithm there that serves people based on what they're interested in, and we've benefited because they've promoted our content on Prime," said the executive. The source added that since the network has only been uploading to Amazon for about a year, the total revenue from Amazon is growing but still not "significant" just yet.
Multiple sources said that Amazon is placing an increasing emphasis on distribution through Prime Video Direct. The first U.S. TV executive said Amazon has been trying to steer their network into uploading more videos through Prime Video Direct, instead of only making content available on an transactional basis.
"[Prime Video Direct] is the thing that will impact the industry so much," said the film distribution executive. "That's going to be the business because there will be so many options to reach the customer. If the customer's willingness to pay is high, you can charge them $25 for a movie. But if they are on the platform buying diapers and they see a film they like but don't feel like spending the extra $25 to buy it, they might see it again as a rental at a later time, or listed inside the Prime Video app. You can catch them at all these different points, and there's a decent chance they'd be willing to 'pay' for that content at some point along the chain."
It's for these reasons that Amazon will likely grow as a platform distribution option among video professionals, said Chris Erwin, co-founder of media and entertainment consulting firm Doing Work As. As awareness for Amazon's video products improves among video makers and as Amazon itself improves its outreach program for content partners, Erwin expects more publishers and creators to devote time and resources toward Amazon.
"It's a matter of when, not if, Amazon will earn one of the top positions versus one of the other incumbent creator-publisher platforms," Erwin said. "We predict the inflection point at between 18 to 24 months."
Get more exclusive coverage and analysis around the modernization of video, TV and entertainment by subscribing to the weekly video briefing email.
https://digiday.com/?p=299343
This week's Future of TV Briefing looks at how this year's upfront and recent announcements from AMC Networks and Paramount indicate the progression of programmatic in the TV and streaming ad market.
This week's Future of TV Briefing looks at how major streaming service owners' subscription business fared in the third quarter of 2023.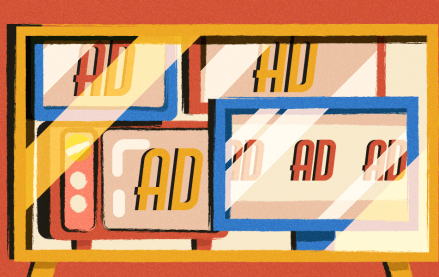 This week's Future of TV Briefing looks at what TV and streaming companies' latest quarterly earnings reports indicate about the state of the TV advertising market.