Agency ad buyers say there isn't enough addressable TV inventory
March 21, 2019 • 3 min read
•
•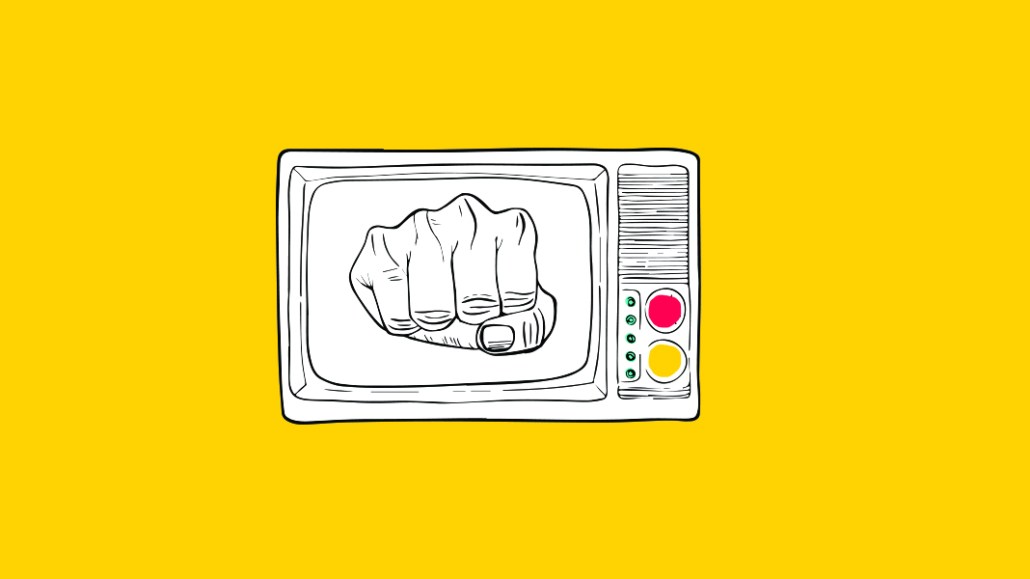 The share of TV households in the U.S. that can be targeted with ads on traditional TV continues to rise as the barriers to buying addressable TV inventory continue to fall. But agency ad buyers have another issue with addressable TV advertising: there just aren't enough addressable TV ad slots for sale.
Out of the 120 million TV households in the U.S., more than 65 million can be served addressable, or targeted, ads, according to advanced TV ad firm Cadent. However, within that smaller addressable TV footprint, only roughly one-eighth of the ad inventory can be used for addressable advertising. "Even though there are more households that can be approached from an addressable standpoint, there's not as much inventory," said one agency exec.
Heading into this year's annual TV upfront negotiations, ad buyers are seeking opportunities for clients to apply the audience-based buying strategies that are table stakes in digital. In particular, buyers are interested in hearing to what extent TV networks — especially the likes of NBCUniversal and Turner that are owned by pay-TV providers and are already pushing for more audience-based buying — are able to open up more addressable inventory on their linear channels so that advertisers will be able to set their ads to only be shown to households that fit their targeting criteria. For the TV companies that create more opportunities to target specific audiences, "there will be rewards," said a second agency exec.
TV companies have been working to create more opportunities to run targeted ads on traditional TV. In recent years, pay-TV providers, such as Comcast, have updated their equipment in order to be able to serve addressable ads to their TV subscribers and grow their addressable audiences. The expansion of the addressable TV footprint spurred interest among advertisers who then became discouraged by the difficulty of arranging a national addressable TV campaign. Because cable and satellite companies could only target ads to their own subscribers, advertisers had to stitch together deals with various pay-TV providers at a local level to cobble together a nationally addressable audience.
In April last year, NCC Media — a TV ad sales firm owned by Charter, Comcast and Cox — formed a division to sell targeted ads across 45 million households through all three of its parent companies' footprints. Then in September 2018, AT&T's advertising division Xandr struck deals with Altice and Frontier to sell those two companies' addressable TV inventory alongside AT&T-owned DirecTV's addressable inventory in order to sell ads that can be targeted across 20 million households in the U.S.
The progress that the TV companies have made in expanding the share of U.S. households that can be served addressable TV ads, combined with advertisers' interest in audience-based buying, is now drawing ad buyers' attention to addressable TV's other inventory limitation: that two-minute inventory allotment. Instead of increasing the number of households that can be targeted, at this point it might be more important to increase the number of opportunities to target them, said the first agency exec.
However it's unclear how soon that shift in addressable's share of linear TV inventory may come to pass. The second agency exec said that a share increase would help to attract more interest from clients in addressable TV, "but I've not heard anybody talking about that."
Subscribe to the Digiday Video Briefing: A weekly email with news, quotes and stats around the modernization of video, TV and entertainment. 
https://digiday.com/?p=326924
This week's Future of TV Briefing looks at how the streaming ad market's programmatic guaranteed vs. private marketplace debate is reaching a compromise.
This week's Future of TV Briefing looks at how this year's upfront and recent announcements from AMC Networks and Paramount indicate the progression of programmatic in the TV and streaming ad market.
This week's Future of TV Briefing looks at how major streaming service owners' subscription business fared in the third quarter of 2023.