Zergnet caters to traffic-hungry publishers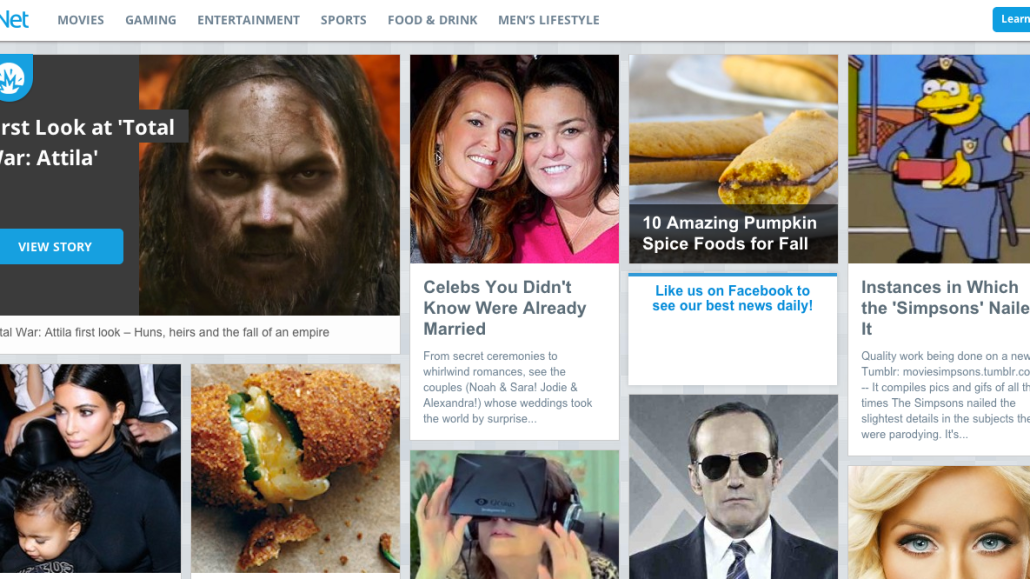 Publishers today are desperate for traffic, and content-recommendation widgets likes Zergnet are happy to help.
Launched in 2011, Zergnet's widgets feel a lot like those from Outbrain and Taboola. Slapped to the bottom of pages, the widgets have historically tempted readers with a mix of low-brow click-baity content. But by taking the relative high road, Zergnet has been quietly attracting its share of publishers.  Zergnet has attracted over 1,600 publishers to its network so far, including big-name publishers like Time Inc., Wenner Media and AOL.
But Zergnet also offers up a twist to the content-recommendation formula. When readers click a Zergnet link, they don't go directly the link they clicked on. Instead, Zergnet sends them to a Pinterest-style intermediary page full of provocative links with similar content. The result: While readers click on one Zergnet link, they inevitably end up clicking three or four more links (all of which open in new tabs) before their sessions are over.
Another twist: There's no money changing hands here. While publishers may go to Outbrain and Taboola to squeeze out incremental revenue out of each page view, Zergnet is positioning itself as a way for publishers to boost traffic, not revenue. For every click a publisher drives to a Zergnet partner, Zergnet sends one back. So the more traffic that publishers send to Zergnet, the more traffic they get back on the other end.
"We've never lost an A/B test when it comes to revenue," said Zergnet CEO Reggie Renner. "We send traffic back to publishers in large volume that they're monetizing at their own rates instead of at the minimal CPMs of the content-recommendation widgets. That's why we're growing so quickly."
That growth even extends to Zergnet's homepage. The site got 20.8 million unique visitors in August, up over 200 percent from the same time last year.
But there are a few limitations to the Zergnet approach. For one, the site is heavily focused on verticals like pop culture, celebrity gossip and gaming, making it a bad fit for most general-interest publishers.
Those vertical publishers have seen big results. Ray Pawulich, a product manager at the British company Future Publishing, said that while he was initially skeptical of Zergnet, it has more than proven its value since the company started using it in 2013. Pawulich confirmed that the influx of traffic from Zergnet was more valuable than the revenue Future got from its previous recommendation widget, Taboola.
The traffic is indeed significant. Pawulich said that Zergnet has become GamesRadar's third-largest traffic source — ahead of even Facebook.
Movie blog Slashfilm, which started using Zergnet's widgets in 2012, gets as much as five times the traffic back as it gives Zergnet. "We're really happy with the traffic Zergnet sends us," said Peter Sciretta, editor-in-chief of SlashFilm. "Good content works on Zergnet if done right."
Still, Pawulich said that Zergnet isn't the best fit for every publisher.
"If your site is well-monetized through direct-sold and programmatic ads, the traffic that you get from Zergnet is more valuable than squeezing another dollar out of your pageview," he said. "If your site isn't well-moneitized, the direct revenue from the traditional widget may be more valuable."
 Photo: Shutterstock
https://digiday.com/?p=89567