With sports on hold, Action Network adapts with pushup challenges, poker and baseball cards
May 4, 2020 • 5 min read
•
•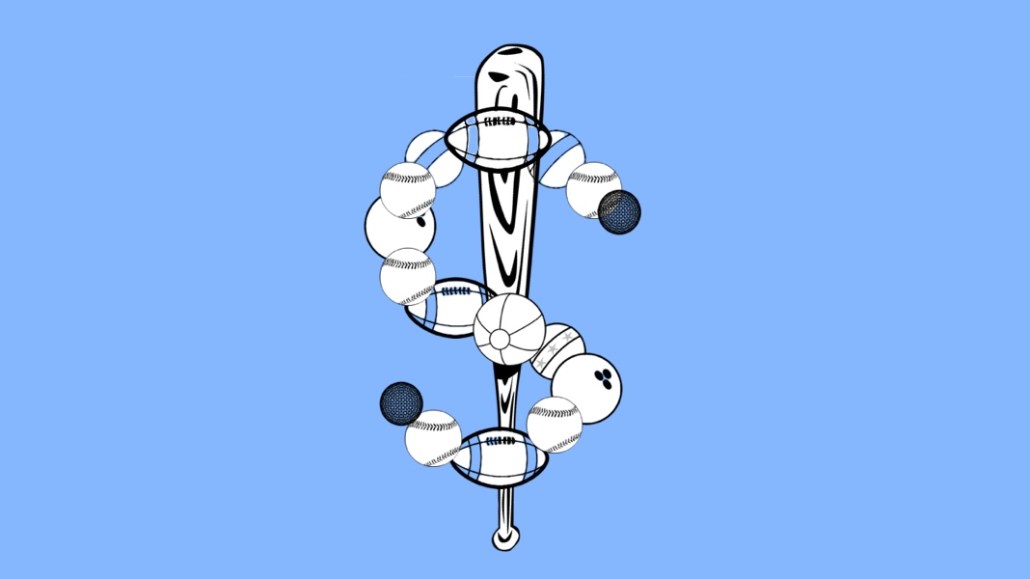 People's appetite for sports betting is not going away, despite the fact that nearly every sporting event has been canceled.
As a result of ongoing interest in betting, Action Network, a publisher aimed at informing sports bettors, has adapted to expand its content offerings in order to maintain engagement in a time that could otherwise be grim.
Part of this adaptation includes hosting poker tournaments, streaming pushup challenges Twitch and starting a sports memorabilia show. At a time with no major live sports — there is still table tennis to bet on in the Moscow Liga — Action has adapted its content approach.
In the latest episode of The New Normal — a weekly interactive discussion show focused on how media adapts to a new reality — Keane discussed his outlook for both the media and sports industries and how his business has been adapting to the steep drop off in coverage accompanying the cancelation of sports.
Below are some highlights from the conversation, lightly edited for clarity.
Getting creative with content and testing new channels
Action Network has adapted its content strategy to be more creative in the events that it covers, but also in how they are being covered. "People will bet on anything," Keane said. "There isn't a day that goes by where there isn't some darts event or a corn hole tournament that people don't want to have a wager on.
Esports, in particular, is a sport that Action Network has been doing more coverage of, and would do more of right now if there were more on-shore, legal sports books that were providing odds for this sector.
Other new projects include a sports memorabilia show, "The Last Dance," which features sports industry figureheads sharing the keepsakes that they have in their homes and memorabilia appraisers telling them what they are worth.
The publisher has been testing out new platforms, like Twitch, for content creation during this time. Last month, FantasyLabs co-founder Jonathan Bales streamed a 12-hour push up challenge on Action Network's Twitch account that challenged him to do 2,400 pushups within that time frame for $2,000.
Poker is also a game that Keane said can be covered similarly to the other areas on the platform and for that reason, the publisher started hosting live streamed poker tournaments featuring some of its talent and with professional players.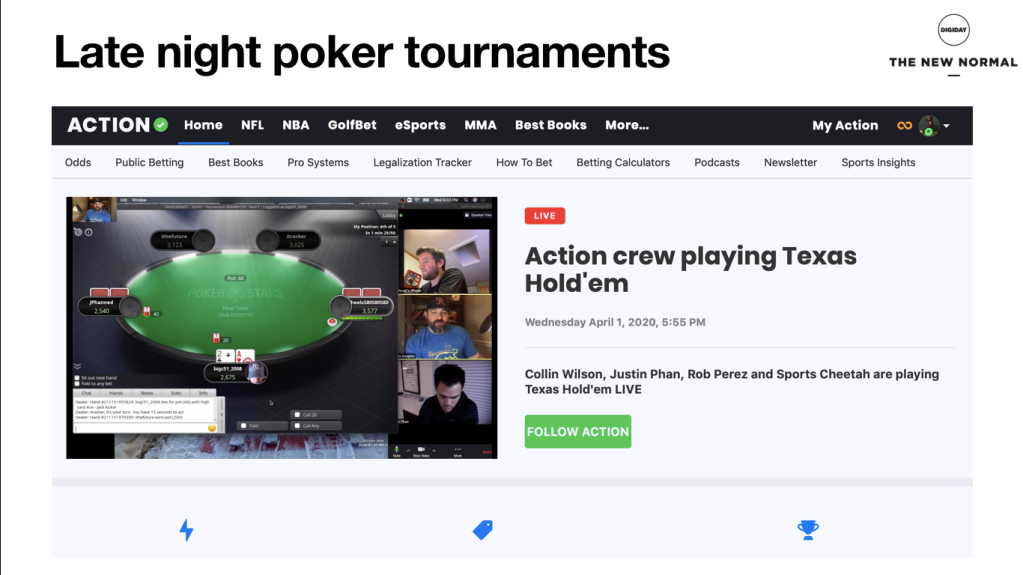 Image description –
Unlike other casino games, Keane said poker fits in with the edge of sports betting that Action Network is known for.
Bridging the gap
Keane said that in order to still produce content during this time, the publisher has stepped further into its role in servicing the betting industry. When Colorado made mobile sports betting legal as of May 1, his editorial team covered that like they would any other sports beat, he said. "We want to be a reference brand for sports betting, which is not just from a consumer perspective, but we want to cover our own category" in a business sense.
A hunger for sports is driving traffic
Action Network "thrives on sports being live and sports happening," Keane said, and as long as people can bet on sports and watch sports on TV, CEO Patrick Keane said "business is going to be just fine," however, there is a lot of unpredictability around when sports are going to come back in full.
This month, golf is slated to make its return with a charity golf match between Tiger Woods and Peyton Manning and Phil Mickelson and Tom Brady. Keane predicts that much like this year's NFL Draft — which brought in 37% more viewers during round one over the prior year, according to the NFL — this golf event will have "extraordinary" ratings. "You're going to see ratings that look like Cheers' final season," Keane said.
And because of this increase in live viewership, as well as a concentration on the NFL Draft for making bets, Keane said that Action Network's audience for its NFL Draft content was up nearly 150% year over year.
How the behavior of sports betting will change
"Sports betting has been part of the culture and vernacular forever and it's only going to get bigger because there are so many new people coming into it," Keane said. The younger generations — Gen-Z and millennials — are in a unique position because they've grown up with betting and having access to unlimited data nearly their entire lives, making them more informed betters than ever before.
Geographically, however, in New Jersey, Keane said that around 87% of bets are done on mobile platforms while 40% of bets are placed within a two-mile radius of the border. He said that this indicates that a lot of people are coming in from the border of New York. "We'll see how that behavior changes post-COVID," he said.
How the digital media industry will change
Keane said that the similarities between this coronavirus-induced economic downturn and previous economic impacts to the media industry include immediate cut backs on advertising and marketing, however, in this instance, unlike others, there is less predictability around what the outcome will be.
"There weren't any systemic issues in the general monetary system. This was something that was such an unpredictable factor that unfortunately there will be businesses that will see generational decline and I don't think we felt that in the recession of 2008 or in 2001," Keane said.
This Friday, at noon ET, we are airing our next episode of The New Normal, a weekly interactive show focused on how publishers are adapting their businesses. This week, Barstool Sports CRO Deirdre Lester will talk with Digiday editor-in-chief Brian Morrissey about adapting the company's revenue strategy in the absence of (non-virtual) events. Register here.
https://digiday.com/?p=365948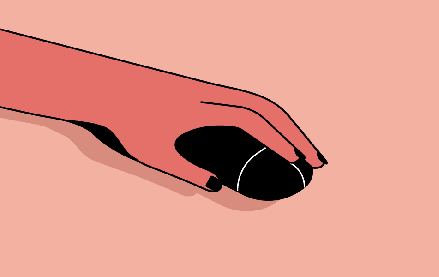 December 1, 2023 • 3 min read
People claim that the role of chief diversity officer is vanishing. However, AI is booming, and the CDO can help ensure responsible AI.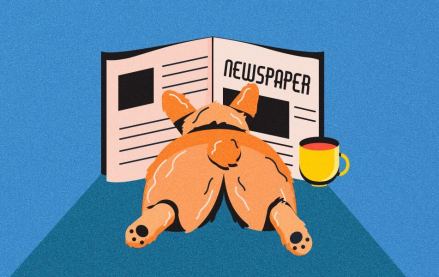 November 30, 2023 • 4 min read
Digiday+ Research found that publishers' programmatic ad revenue didn't quite live up to expectations this year, but they still see it as a growth area.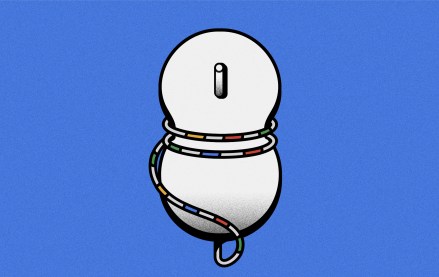 November 30, 2023 • 13 min read
For a couple of publishers, referrals from Google are down upwards of 60%.