'Week-over-week growth': How travel ad spending is starting to rebook across Europe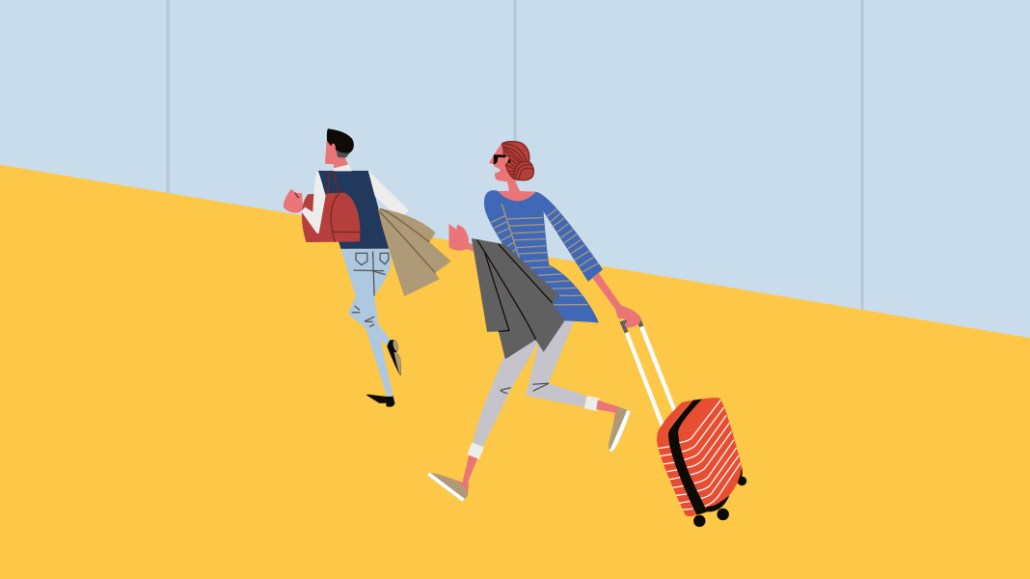 As travel restrictions relax across Europe, optimistic holiday advertisers are buying more ads to make up for lost time — but those commitments are selective and focused for now.
Though tourism is returning to the region — ranging from Greece to Lithuania — its resurgence has been tempered by new outbreaks and inconsistent travel rules between countries. Total ad spending in Italy, Spain, France, Germany, and the U.K. for the first half of the year was down nearly half (46.2%) compared to the same period last year, according to Nielsen Ad Intel. But the real pandemic-induced decline in digital traffic came in April, when performance marketing agency Roast saw a 62% reduction from March, with some of its advertisers similarly pulling significant portions — if not all — of their paid media ads.
However, each subsequent month has seen a growth in ad spending, notably in paid search, which nearly doubled traffic from May to June, according to SimilarWeb cited by Roast. And while ad spending in travel is still far below pre-pandemic levels, according to four travel experts interviewed for this article, it has been slowly on the rise since May when countries like Italy, Spain and Estonia outlined plans to restart tourism.
Between Mat 20 and June 20, ad spending across Italy, Spain, France, Germany and the U.K. was up 6.3% on the previous month, according to Nielsen. It may be only a fraction (16.2%) of what advertisers spent in January, but the increase suggests advertisers are getting more confident in their ability to salvage some sales over the summer.
"We're still generally seeing a very soft advertising and media market. said Alessandra Di Lorenzo, CEO of Forward, the media business of the online travel site Lastminute.com.
Consequently, the main travel advertisers that buy ads from Forward's Display Open Marketplace are not back to the levels they were in terms of spending, which is causing weakened demand pressure that's unable to drive up the price of ads that are "very soft" compared to last year, said Di Lorenzo. Still, she added: "As the positive trend of the online travel agency volumes increases, things are starting to improve with week-over-week growth across our audience and display publisher portfolio."
Reaching those customers is not without its challenges as they emerge from lockdowns as different types of travelers than they were before the pandemic began.
Shorter booking windows, flexible policies, competitive pricing, stricter health screening measures and mobile bookings are some of the trends emerging from the lockdown. There's also the mindset of would-be travelers to consider. The pandemic has been a time for reflection and many people are choosing to do things that they would've usually put off and are therefore choosing to do things that may be closer to home — a trend that Scotland's tourism board VisitScotland has tried to tap into in recent weeks.
"Our strategy, therefore, sought to support the businesses in tourism and therefore the wider economy as well as providing the positive wellbeing benefits that visitors were seeking," said Stuart Randall, head of strategy at VisitScotland's creative agency Whitespace. "We also wanted to feature the people behind Scottish tourism to add warmth and a sense of connection all with the scenic backdrop and warm welcome that Scotland is famed for."
It is, however, unlikely that travel and tourism will fully recover in 2020. Not when people are still worried about their safety.
Nearly two-thirds (64%) of adults across Great Britain would not feel safe traveling by plane currently, up from 40% on 8. June, according to a recent 1,612 person survey by YouGov. There is a similar unease about other types of international transport. Over half of those surveyed (55%) say they'd feel unsafe traveling by train, while 48% would not feel comfortable on a ferry. In both cases, this is a substantial jump from 31% on June 8 for both modes of travel.
"Content is shifting in response," said James Calvert, chief data strategy officer at M&C Saatchi. "If marketers don't feel like they can sell someone a holiday right now, then they're trying to find ways to inspire them for when they do decide to go."
Still, advertisers in the sector are mindful of how much demand they stoke while social distancing measures are enforced. Airlines, train operators and coach companies have seen their capacity dramatically cut as their costs are likely to increase. Little wonder then why most advertisers are prioritizing the low hanging fruit of targeting those people they know who do want to travel. Usually, advertisers would have chased prospective customers.
"The key focus for travel marketers right now is making sure people who are in the market for a holiday convert with your brand, whether you already know them as a previous customer or via some lead generation activity," said Alastair Poole, account director at media agency NMPi by Incubeta. Retargeting, particularly on social networks like Facebook, has been a crutch for many of these advertisers that are looking to reach as many people as they can with targeted ads.
Between March and April, Facebook ad spending from travel advertisers across Italy, France, Germany and the U.K. dipped from $11.5 million to $3.8 million, according to Pathmatics. Since then ad spending has risen and hovered at $9.5 million for the first 21 days of July.
It will take some time for ad spending to fully recover in travel. Given how volatile the situation is, no advertiser wants to spend lots of money chasing sales when the rules of traveling may change.
"I don't see many travel advertisers back on TV yet," said Calvert. "Everyone is still wary. A lot of the companies in the sector are running reduced services and with those reductions come lower expectations. They're more focused on the customer base they can go back to and talk to at the moment."