The Washington Post's millennial women-focused spinoff The Lily is going the distributed route
June 12, 2017 • 3 min read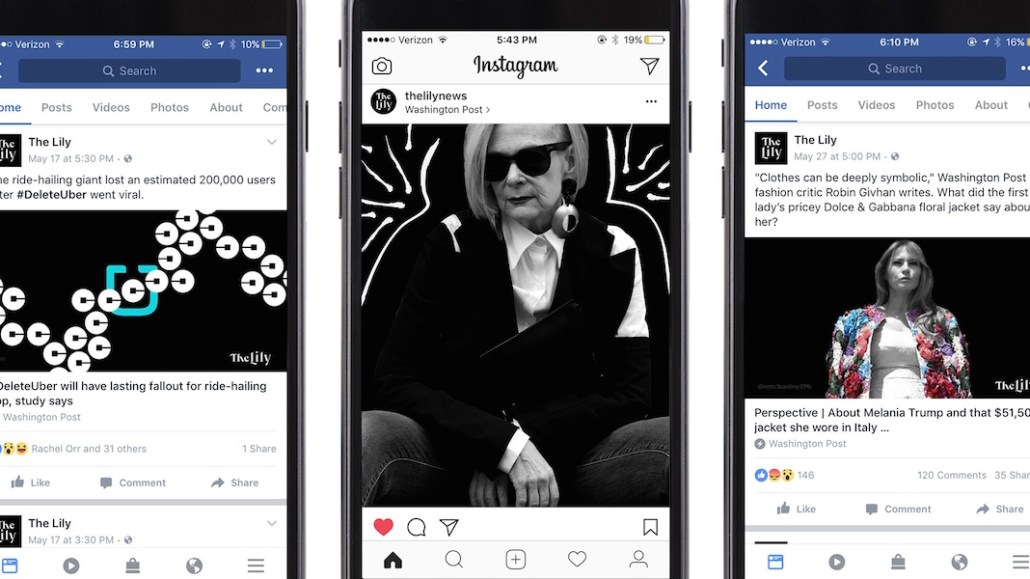 The Washington Post may be best known for its award-winning journalism, but it wants its new distributed media brand for millennial women, The Lily, to stand out for its design.
Launching on June 12, The Lily will feature original and repackaged journalism from the Post that will initially be distributed on Medium, Facebook, Instagram and Twitter, and via a twice-weekly email newsletter, Lily Lines.
The Lily's editor Amy King was a features designer at the Post before joining its emerging products team, which is producing The Lily. Her official title may be editor, but she also calls herself "creative director." It's common for publications to take a distributed-only approach these days, but King said the crowded social environment means it's important for The Lily to have a strong design strategy. (That's especially true in the case of brands like The Lily that are detached from the parent brand.)
"There's just so much content out there, so if you're not conscientious in how you present your information, people will just look by you or not recognize it as coming from a consistent location," she said. "It's just important to stand out in all the sea of images on Facebook and Instagram."
Out of The Lily's dedicated staff of six, two are art directors. Initially, they'll publish around 10 pieces of content a day. Each piece of content will get a custom illustration that's platform-specific. On Instagram, it's looking for ways to tell stories using formats other than the ubiquitous photo with a giant caption. When it's repackaging Post content, The Lily will break it down and tell it in different forms.
The emphasis on design will carry over to the ad side. For JPMorgan Chase, which is The Lily's exclusive sponsor for the rest of the year, WP BrandStudio — the Post's branded content arm — drew illustrations by hand that are customized for each channel. The Lily will only run native ads, and they'll be native to each platform and to The Lily, said WP BrandStudio director Annie Granatstein, whether it's visually driven on Facebook or a blog-style post on Medium.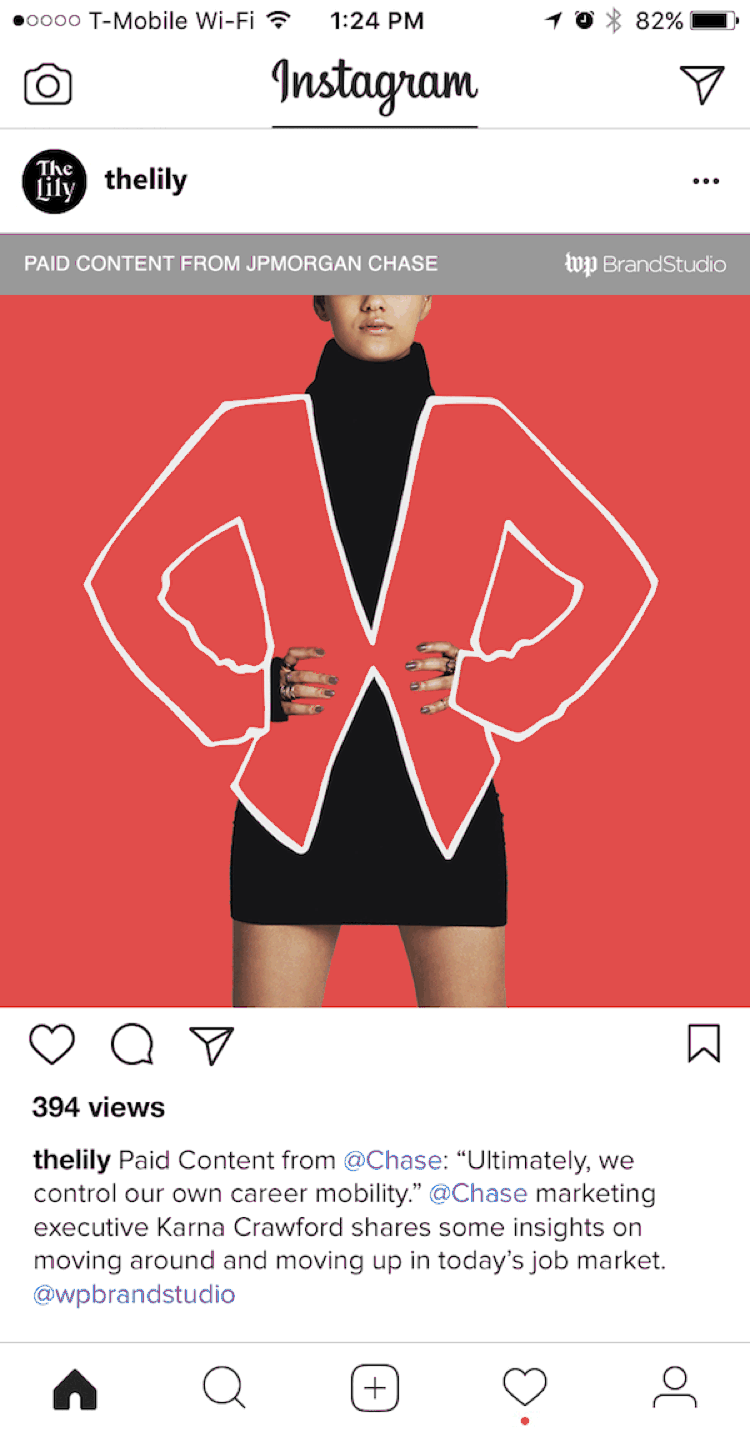 In another departure for the Post, the branded content ads will be distributed right on The Lily's editorial social feeds. Until now, the Post's BrandStudio (and traditional publishers in general) distributed advertising content through the studio's own social handles and targeted it to Post followers on social. That was to maintain a strong separation between sales and edit. With The Lily, all the content, edit and advertising is being distributed through the same handles because the publication is social-only, Granatstein said. (The branded content will be labeled "paid content" and WP BrandStudio to distinguish it from editorial content, however.)
"The value to the advertiser wouldn't be as high because there isn't some other place people could be reading the content," she said. "We're going to reach The Lily followers more directly."
The Lily took its name from the first U.S. newspaper for and by women. There have been slew of new media brands trying to appeal to millennial women, from the sincere Lenny Letter to the to-be-read-between-sangria-sips TheSkimm. The Lily leans toward the serious, describing itself as spotlighting the Post's award-winning journalism and aspiring to "start important discussions and debate" around stories such as health care.
https://digiday.com/?p=240680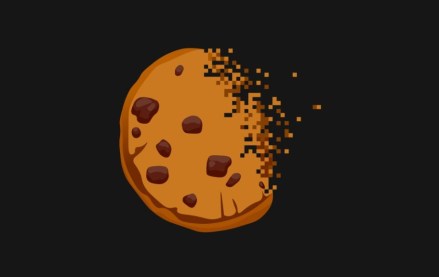 September 25, 2023 • 1 min read
During the Digiday Publishing Summit, execs from companies including Condé Nast, Dotdash Meredith and Thomson Reuters assessed the industry's readiness.
September 25, 2023 • 5 min read
Publishing executives shared their honest and unfettered opinions on the rise of generative artificial intelligence technology and its impact on traffic, IP protections, content production and jobs at the Digiday Publishing Summit last week.
September 25, 2023 • 5 min read
Here is A sampling of other AI-related news from last week.