'Turn of the tide': Industry execs strike a more hopeful note at Advertising Week Europe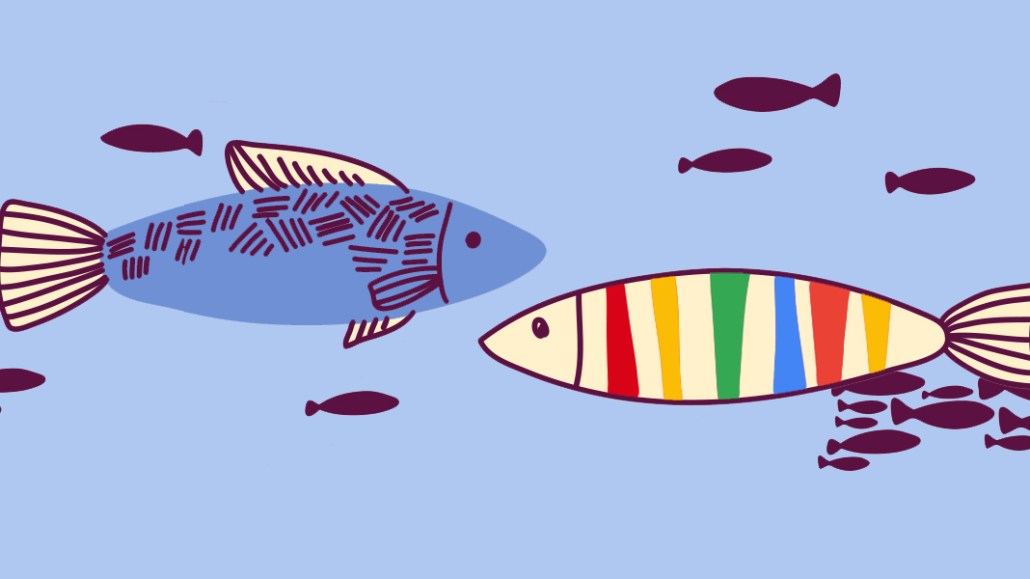 Tensions between publishers and platforms and between advertisers and platforms have long been mounting. Recent reports about Facebook's major data breach and conspiracy videos on the YouTube Kids app put those tensions front and center during Advertising Week Europe this week. Here are three themes that emerged.
Publishers have their swagger back
Over the past several months, there's been a recognition by publishers that they need to stop complaining about the difficulty of monetizing on platforms and about the duopoly's domination of digital advertising and instead focus on what advertisers need.
"Publishers need to listen more to what brands need, rather than just launching things we think they want," said Oliver Lewis, News UK's director of digital strategy. "We're seeing better collaboration between publishers and brands, and there's the sense now that publishers are starting to rise up, put our shoulders back and stand a bit taller."
Joseph Harake, digital director at media agency OMD, referenced reports published this week that show Google and Facebook's share of digital ad revenue dipped to 56.8 percent from 58.5 percent last year. The duopoly faces growing competition from Amazon and Snapchat and challenges in serving clients directly, he said. "The tremendous growth Google and Facebook have had will be hard to sustain," said Harake. "Maybe that is why we're seeing a bit of a turn of the tide," he added.
Facebook's data breach will lead to more scrutiny of tech partners
The fallout from the Facebook-Cambridge Analytica data breach, two months before the General Data Protection Regulation takes effect, will encourage publishers to scrutinize their ad tech partners more closely.
"There's a desire in the industry to protect the status quo, for [ad tech] companies to continue to have all the access to data while the liability falls with the publisher but without telling publishers what they are using the data for," said Jason Kint, CEO of U.S. publisher trade body Digital Content Next. "If you look at what happened over the weekend [with Facebook's data breach], it would be crazy to allow that."
Publishers are already having a tough time ahead of the GDPR figuring out how their ad tech partners are using data. The Financial Times, for instance, is inspecting its ad tech partners and how they use data, but it's taken a year to fully understand how just one of them uses data, said Anthony Hitchings, digital advertising operations director at the FT.
People read the FT for business news if their company is planning to merge or acquire another firm, for example. This type of data could be dangerous in an outside entity's hands because readers may not want other companies to find out about their plans.
"One vendor we discovered was capturing all IP addresses in full and all URLs in the browser, building up a complete browser picture across the web," said Hitchings. "That's not what we want to do here. Publishers don't have the bandwidth to do the right amount of due diligence on anything more than a small handful of partners."
Limiting platforms' power
Since Facebook's data misuse was revealed, the U.K. has taken a tougher line with the tech platforms, calling for an end to the "Wild West" era. Margot James, U.K. minister of state for digital, culture, media and sport, said the harm caused by cases like Facebook-Cambridge Analytica is too big to ignore. A weakened duopoly could benefit publishers, which have balked at the power imbalance with the platforms. "The government has a responsibility to maintain a level playing field," said James.
Onstage at Advertising Week, Hossein Derakhshan, fellow at Harvard University's Shorenstein Center on Media, Politics and Public Policy, suggested that the tech companies should be forced to split up their hardware from their operating systems and software.
"You have the device, or in this case the platform, then you have the algorithm or the operating system, then the user data sits on top," he said. "Users would be able to choose which algorithm they would want; they might to buy a different algorithm from Facebook's, one that might seem more transparent or favors diversity over popularity. Platforms allowing third-party algorithms would solve a lot of problems around transparency and secrecies of data."
"We thought all we needed was regulations and sanctions," said Mariarosaria Taddeo, deputy director for the Digital Ethics Lab at Oxford Internet Institute. "But we need to start auditing technology before it's deployed."
Jessica Davies contributed reporting. 
https://digiday.com/?p=280461