The role of the CEO is expanding as people turn to business leaders for stability in time of social uncertainty
January 25, 2021 • 9 min read
•
•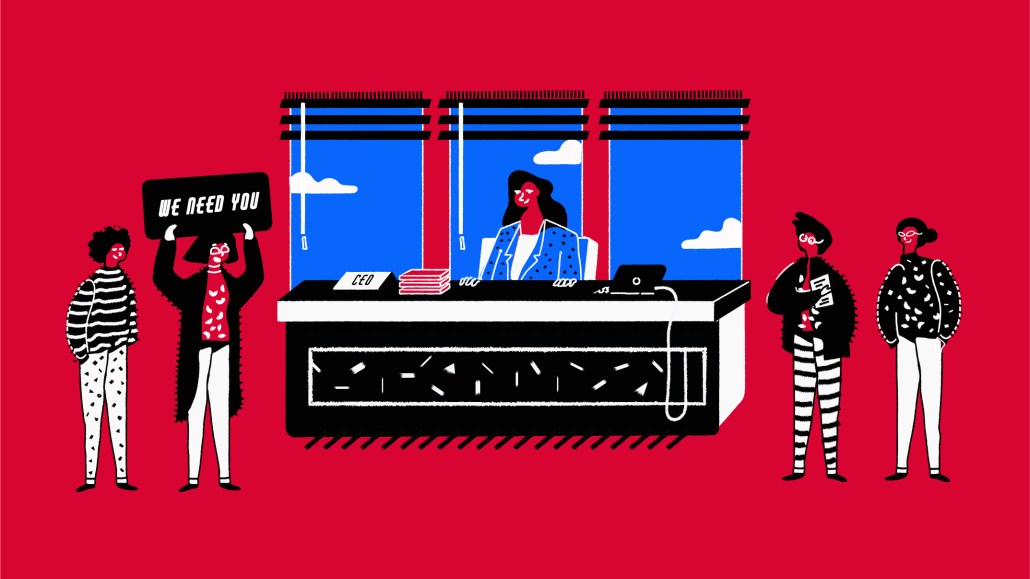 Ivy Liu
This article is part of the Future of Work briefing, a weekly email with stories, interviews, trends and links about how work, workplaces and workforces are changing. Sign up here.
Miranda Priestly in "The Devil Wears Prada." Franklin Hart in "9 to 5." Bill Lumbergh in "Office Space." Darth Vader in "Star Wars."
The trope of the bad boss is solidly embedded in our culture and in our collective psyche, not just because of Hollywood but the result of our firsthand experiences. But that stereotype is giving way to a kinder, gentler authority figure.
Faith in government leaders, traditional media and social media as a source for general news has reached an all-time low, according to a recent study from PR firm Edelman, which polled 33,000 respondents globally. Instead, people are turning to, and putting their trust in, their employers for leadership through the current crises.
And as society has become more attuned and responsive to the ills that plague it, we also want bosses who are woke, per the same report. More than 8 in 10 people, according to the 2021 Edelman Trust Barometer, said they want their CEOs to speak out on important issues like the impact of the pandemic and societal problems, while more than two thirds expect them to step in when the government fails to fix these problems.
The Wall Street Journal also reported recently that the role of CEO is evolving from that of taskmaster and lofty, untouchable figure to mentor and coach.
Marketing bosses are conscious of this shift in expectations around their roles and responsibilities. For many, the attack on the U.S. Capitol building earlier this month, and the murder of George Floyd in 2020, highlighted the complete "abdication of leadership" from the U.S. government under Trump "at the highest levels," said Chris Paquette, a data scientist and the cofounder and CEO of New York-based marketing technology firm DeepIntent, whose clients include Merck and Publicis Health Media. Over the last year or so, business leaders have had to "assume responsibility to uphold the moral fabric of American society" along with its ideals of equality, justice and promotion of the common good, added Paquette.
During the pandemic, CEOs have had to face a seemingly unending list of unprecedented decisions, while employees faced potential economic insecurities and personal safety insecurities, according to Daina Middleton, CEO of San Francisco-based creative tech firm Britelite Immersive, which does business with Facebook and the Golden Globe Awards. "When people feel connected to their organization, their leader and their team, they feel psychologically safe, have a better understanding of how to succeed, and feel empowered to go out and do great work," she added.
Courtney Beuchert, CEO of ad agency Eleven, also based in San Francisco, noted that empathy, plurality and collaboration are among the principals that define the new, supportive leader — a far cry from the CEOs he worked under early in his career.
"I grew up professionally in the era of the Gordon Gekko and Jack Welch leadership styles, where starkly capitalistic principles valued team competition, employee stress and public browbeating as management tools," said the exec, whose shop does work for Google and Lyft. "The rapidly and relentlessly changing business world has made that leadership approach vulnerable to disruption, unexpected innovations and employee rebellion."
The old model is like a pyramid, with employees at the bottom and the highest-ranking executive at the top, Beuchert said. The new model is an inverted pyramid, with employees and teams at the top and executive leadership providing a foundation of support.
"While my title is CEO, I really view my role as a coach," added Scott Harkey, president and CEO of the Phoenix agency OH Partners, which counts Airbnb and the Arizona Lottery as clients. "Fortunately, I've learned from both good and bad coaches, and being a father has helped me develop a nurturing coaching style. I aspire to be like my own coaches, who provide encouragement, but also continue to challenge me to do better."
Harkey noted the importance of keeping the self in check, admitting he needed a reminder of that amid a conflict at work this past year. His mentor pulled him aside and told him the hard truth: that he'd let his ego get the best of him. It was more eye-opening than even his own performance review, he said, adding, "No matter what conflicts we face, we should always be humble."
Just as it's essential to be authentic in marketing executions, a boss must also be authentic, as Harkey sees it. "Great leaders have the emotional intelligence to share insights from lessons learned and don't try to sugarcoat things," he said. "I'd rather be trusted than liked."
"There is a perception that CEOs aren't normal people," said Cathy Chan Butler, CEO of New York-based agency Organic, whose clients include National Instruments and Carter's children's wear. It's a perception she wants to debunk. "I put in the effort so that people really get to know me and to know that I care – a lot," she said. "Empathy and understanding are integral parts of a successful collaborative effort at any company, and so my goal is to create a company that feels personal."
3 questions with Paulette Forte, chief people officer at You & Mr Jones:
What makes your role different to a chief HR officer?
There are similarities between both roles, but the difference comes down to the size of the company. In my role, diversity and inclusion is an important component but there's more to it — D&I is a business objective. There are very specific goals, practices and partnerships we're putting in place to create the best experience for employees. It comes down to the company finding ways to give validation to everyone, when it comes to who they are, how they show up to work and the things that are important to them.
How are you ensuring D&I remains a key priority for the business?
We have a D&I board that's represented by people in leadership positions across the company. They're held accountable for their D&I goals. There are also training and educational programmes on D&I now in place. We've been deliberate about casting a wider net when recruiting to ensure that who we look like as a company is more reflective of the world and the people our clients engage with. We have 300 open hires right now. Recruitment, talent management and development are our biggest priorities. Remote working has helped because you're able to reach people in so many places in a few clicks. It's also made us rethink how some roles work given there's a lot that can be done remotely, from building teams to making partnerships. It's opening up a broader geography for our talent pool, which ultimately helps with D&I.
How is the business adapting to the impact of remote working?
No company in any business is expecting to go back to 9-to-5 in the office for five days a week once the crisis is over. People want more flexibility with regards to mixing working remotely and being in the office. It's not just about being flexible about where people work, though, there also needs to be more flexibility about when things happen during the working day. Even something as simple as having periods in the day when people don't need to be in internal meetings. We're working our way through different scenarios on how people return to the office, but it's purely speculative at the moment because we don't know what's happening with vaccines.
Numbers don't lie
—Risks involved in commuting and being in the office are listed as the top reason why 52% of 33,000 global respondents prefer to work from home for the foreseeable. Meanwhile the remaining 48% said they want to return to the office, with 33% of that same cohort saying they trust their employer to make it safe enough. [Source of data: Edelman Trust Barometer 2021.]
—The U.K. went into its third national lockdown in early January and in that period 92% of 1,000 people polled said they are experiencing "lockdown blues" [Source of data: online movie service Wevu.]
—After interviews with 3,500 families it was found that mothers are more likely than fathers to be spending their work hours simultaneously trying to care for children. Of those who were in paid work prior to the lockdown, mothers are 47% more likely than fathers to have permanently lost their job or quit as a result of the pandemic, and they are 14% more likely to have been furloughed. [Source of data: The Institute for Fiscal Studies and University College London.]
What else we have covered
—January has always been an unpopular month and this year has been grimmer than usual. With the holiday season firmly in the rear-view mirror, the go-to method to combat January blues is usually booking summer holidays. But with that now an impossibility, plus the ongoing strain of living under pandemic restrictions, morale is understandably low. But employers are going the extra mile to ensure morale is buoyed and that people feel motivated and supported.
—It's one thing to join a company or start a new role when you have a certain number of years' experience under the belt. But it's another thing entirely to start your career when you haven't met your team or boss in person. Before the enforced remote working brought about by the coronavirus, on-the-job training was taken for granted as a natural, inevitable part of beefing up the business skills of young talent. But in a virtual environment, it's impossible to replicate. We took a look at how young talent can ensure they get the training they need.
—Digital media companies have been challenged in a myriad of ways during the coronavirus crisis. Events have been canceled, advertising deals have been pulled and layoffs and furloughs have been a harsh reality. But another challenge facing employers is making sure that the remaining employees — those whom the companies' success relies on — are being taken care of and feel like they're still a part of a (mainly remote) team.
This newsletter was edited by Jessica Davies, managing editor of Future of Work, with additional reporting from Seb Joseph, senior news editor.
https://digiday.com/?p=388938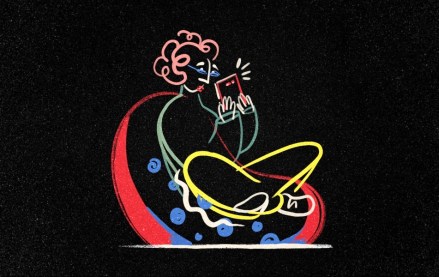 September 28, 2023 • 3 min read
•
•
The Financial Times has launched another lower-priced, subscription-based mobile app product a year after the debut of FT Edit to reach international readers.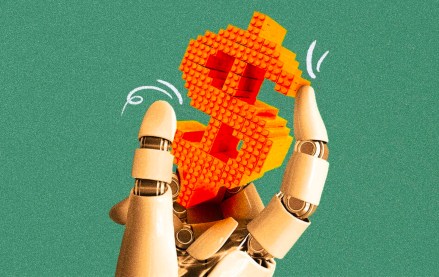 •
Publishers are starting to apply AI to their sales operations.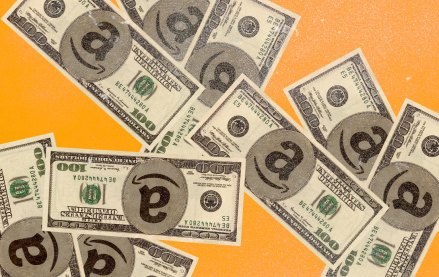 September 27, 2023 • 6 min read
•
•
The agency accused the e-commerce giant of conducting a range of anticompetitive behaviors that hurt both shoppers and sellers.