The Onion's Clickhole takes aim at viral site clickbait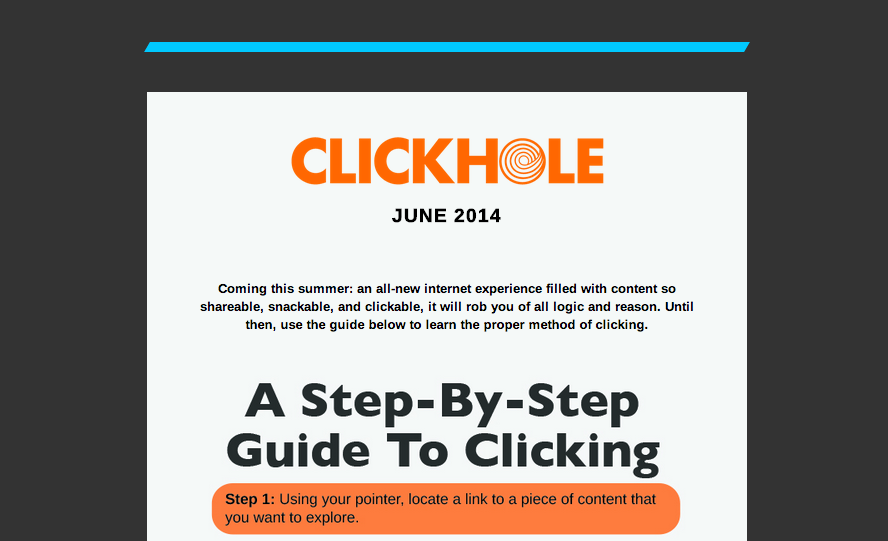 The rise of the viral industrial complex, wherein attention-grabbing headlines and social-friendly content rule, has given The Onion a whole new playground.
The satirical news juggernaut is finally taking the wraps off Clickhole, a new parody site that takes aim at the BuzzFeeds and Upworthies that have come to dominate the social media ecosystem. The site, which is the company's first vertical launch since the network news-lambasting Onion News Network in 2007, will bring The Onion's distinct flavor of satire to a content mix that includes sideshows ("Six kinds of hay"), listcicles ("7 pricks who defied the odds and didn't go into finance"), videos ("What this adorable little girl says will melt your heart"), and, yes, quizzes.
The side will be run by 3 editors, 4 writers and about 20 contributors, who will produce up to 10 pieces of content a day at first.
Clickhole's launch comes at a time when many of the most successful media companies are chasing the same general content strategy. Publishers use viral content and link-baity headlines to boost their readership, which, in turn, draws eyeball-chasing advertisers. It's a model that's worked well for viral upstarts like Upworthy and BuzzFeed, but also established media brands like Time and Washington Post, which have attempted to infuse their own newsroom's with viral tactics.
"It's right when something becomes such a big part of your world that it's most ripe for parody," said Mike McAvoy, president of The Onion. "With the Internet, all journalism is in the business of getting clicks."
In that sense, Clickhole launches in the tradition of the original Onion newspaper (now-defunct) and Onion News Network, which used the conventions of newspapers (op-eds, man-on-the-street interviews) and network news to not only comment on current events but also how media organizations report on them.
Clickhole is both an arbiter of the media ecosystem and a reflection of it. The Onion, like many of the viral sites it aims to satirize, is also in the business of getting people to click and share its content. It's also incorporating, in its own special way, the latest industry enthusiasm for sponsored content and native ads. Last year it launched Onion Labs, an in-house agency that creates ad campaigns for big brands like YouTube and Mike's Hard Lemonade
Expect more of the same from Clickhole, which is already drawing in the brand interest, starting with Jack's Links, which is sponsoring the launch. "When they came to us with the idea, we thought it was a great fit for the brand, said Kevin Papacek, marketing director at Jack's Links. "We're all about irreverent humor and no one does that better than The Onion."
The Onion's native ad strategy is, in a word, shameless. Because millennials abhor inauthenticity, the thinking goes, the best strategy is to advertise to them in the most straightforward, transparent way possible. This is why native ads on Clickhole will come with titles like "Which pizza should I have for dinner tonight? (presented by Pizza Hut)."  Millennials like to be in on the joke.
"Because it's humor," said Joe Germscheid, director of consumer engagement at Jack Link's partner agency Carmichael Lynch. "The line between church and state doesn't really exist here."
https://digiday.com/?p=78169