The end of the waiting game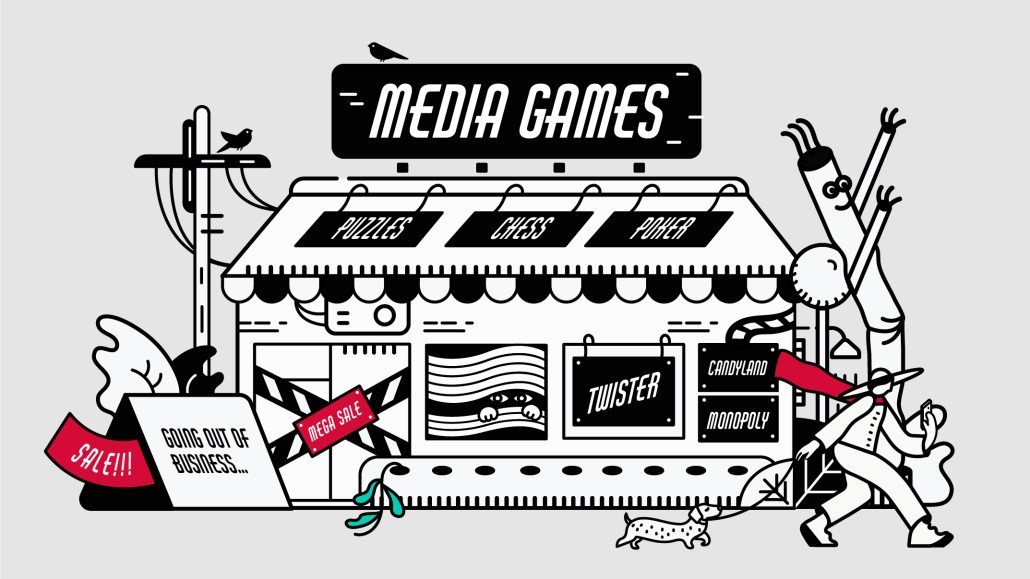 Ivy Liu
This story is part of Endgames, a Digiday Media editorial package focused on what's next, what's coming, and what's being phased out in the industries we cover. Access the rest of our Endgames coverage here; to read Glossy's Endgames coverage, click here; Modern Retail's coverage is available here.
We used to wait. It's the name of a song, and lyric, by Arcade Fire from their album, The Suburbs. I've been listening to it a lot lately as we approach the end of 2020 because I think it captures an important urgency in media and marketing's present reality — the waiting game is over.
When The Suburbs was released in 2010, the song was a lament for the quickening of an always on, on-demand culture that was curtailing free time, time to consider one's options, time to build romance, or anticipation while waiting for a letter or a favorite TV show.
The song has proved prescient. Driven by lightspeed advances in computer power and memory – at first in desktops and DVRs, then smartphones and social media and now CTV – waiting for something doesn't happen anymore. Just ask any 15-year-old to wait a week, or a day for that matter, to watch the next episode of the show they're binging. You might as well ask them to make time stop.
And with the coronavirus crisis, not waiting has become a business imperative. The media and marketing industries have traditionally thrived on optionality. The TV upfronts, agency reviews, ad creative choices and technology partners have all hinged on waiting for more options, better deal terms, stronger leverage, before making the right move.
But now, with a virus-induced economic meltdown crimping vital revenue streams, companies have to pivot quickly to simply stay in business. That meant projects and initiatives considered to have future potential were rushed off the backburner, tested much faster than usual and deployed. Five-year projects became five-month sprints and standing still was not an option.
This has certainly been the case with the TV streaming wars. The surge in CTV viewing this past year pushed the TV network groups to fast track their streaming TV strategies while at the same time de-emphasizing their billion-dollar linear networks. As audiences inexorably shift to streaming, the TV networks, as senior media editor Tim Peterson wrote in his Future of TV column earlier this month, couldn't wait to meet that new demand, even if it meant risking the billions of dollars in advertising and distribution that have been their stock and trade for decades — they've decided to "burn their boats" on the shores of CTV.
Publishers, severely battered in second quarter as the first wave of the coronavirus took hold, rushed nascent e-commerce, affiliate, virtual event and new ad product plays to market and somehow found a path to new revenue and stability in the second half of the year. Reporting out on our end of year publisher and agency survey, Max Willens, senior research and features editor, noted that more than half of publishers (53%) said that they'd increased the number of ad products offered since the start of 2020. Senior reporter Kayleigh Barber has covered this monetization shift at every turn this year and the future of revenue will continue to be an important area of focus for our expanding reporting team in 2021.
Brand marketers, along with their creative and media agency partners, moved to reduce the wait time on campaigns with shorter runs and more nimble executions powered by the rise of first-party data. For its part, the advertising market showed weariness regarding drawn out upfront negotiations and reliance of legacy measurement models like GRPs — eager to look ahead to audience-based metrics. And programmatic is enjoying a particularly frothy moment as advertisers are eager to see faster and more efficient results and returns that require much less wait time than traditional ad buying. Senior news editor Seb Joseph recently examined this market using the recent PubMatic IPO as a jumping off spot.
In order to keep employees healthy physically and mentally, media, marketing and tech companies scrambled to find way to institutionalize empathy into their cultures and new, health-focused ergonomics into their structures. Jessica Davies, managing editor of Future of Work, is overseeing this growing area of coverage for us, check out her recent Future of Work Briefing on the rethink of the 5-day work week.
Of course, (driven by forces largely out of our control) we have had to wait for some things in 2020. We've had to wait in line for coronavirus tests and too many have had to wait in long lines for food. Those who have lost their jobs, or been furloughed, are waiting for the next opportunity. And while there have been commitments made and platitudes rung, we still are waiting for leaders to create a more inclusive and equitable workplace reality that can be measured and held accountable. Senior marketing editor Kristina Monllos' latest Confessions piece indicates we still have a long way to go.
The ultimate wait for most will be for the coronavirus vaccine. But the return to normal it enticingly portends will, in fact, be a return to something different – a hybrid reality that has been shaped by the brave embrace of rapid change during 2020 by companies and individuals who declined to let fate simply take its course, who refused to wait.
https://digiday.com/?p=387319