Why the soft-sell approach to ad blocking doesn't work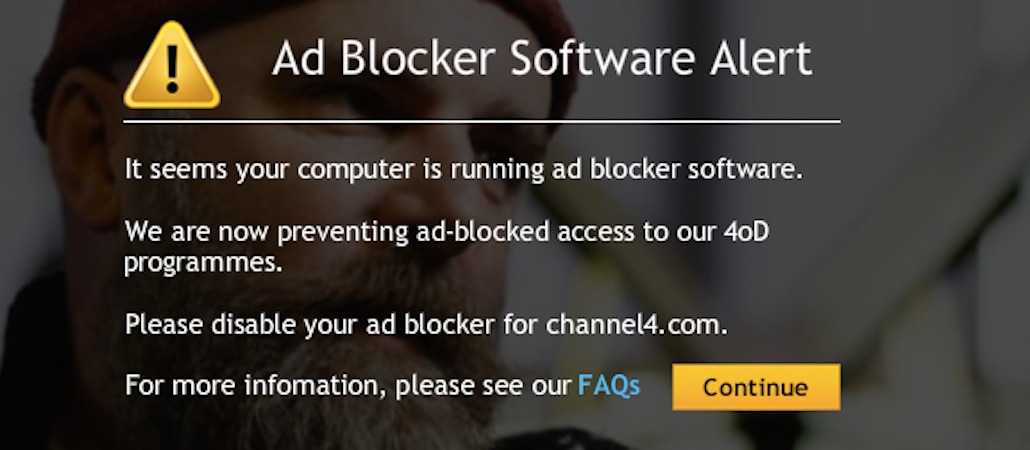 It's a growing problem for ad-supported publishers: How do you get people to stop using ad blocking software?
Short of forcing them to see ads they don't want to, many publishers including The Washington Post, Atlantic and the U.K.'s Channel 4 are trying to counter the rise of ad blocking by appealing to their readers' better instincts or blocking access to content altogether. "Please consider disabling it for our site, or supporting our work in one of these ways," The Atlantic asks before directing people to subscribe to its magazine or newsletter. The Washington Post has also begun testing such messages that start out friendly and get progressively terser. Forbes and Imgur have tried similar approaches.
It's easy to see the appeal of the softer sells, given the other end of the extreme — using technology to bypass ad blockers — would seem to risk annoying the ad block users even more.
The problem is, they don't work, some observers say.
One anti-ad blocking startup, PageFair, found similar results. Before introducing a tech solution to circumvent ad blockers, it ran 576 such appeals on 220 different sites. Only one-third of 1 percent of ad blockers unblocked the ads on the site. Only three out of a million users made a donation when given the option to do so.
PageFair makes money from selling its workaround tech to publishers, so it's not an uninvested party in this debate. But Sourcepoint, a startup that gives its anti-ad block tech available for free to publishers, found similar results. It has run tests with publishers who ran messages thanking readers for not using ad blockers, requesting they turn off the software or blocked their access to the editorial content. All three had little or no impact, said Matt Adkisson, co-founder of Sourcepoint, adding that the first tactic actually backfired on publishers: "All it did was encourage people to say, 'What's ad block?' and it increased the ad block rate," he said.
The other problem Sourcepoint found was that many of the people the messages were targeted to didn't even realize they had ad blockers installed in the first place, because someone else installed the software on their device or because it came preloaded with other software. So the ad blocking population is becoming more general, but the messaging hasn't caught up.
"Messaging is targeted at the very aware ad blocker audience, which is increasingly being replaced by the Internet population at large," said Adkisson, who believes the trend will only grow as services like Caribbean phone carrier Digicel add ad blocking technology.
Several of the publishers that are running or have tried such anti-ad block messages on their sites declined to share results or said it was too early to evaluate them.
But the experience of Ars Technica, a site for IT professionals, owned by Condé Nast, is instructive. Five years ago, the site, facing a 35 percent ad blocking rate, posted messages asking people to white-list the site or subscribe to an ad-free version. The response was negligible, and Ars realized in doing its experiment that many of even its educated, tech-forward readers misunderstood how digital advertising works, said Ken Fisher, the site's founder and editor-in-chief.
"Many people don't understand that we don't get paid if they click on an ad," Fisher said. "So that led me to think, what I need to do is address the whole audience." Fisher followed up with an article explaining how digital ads work and how blocking hurts publishers. "Our ad block rate dropped 8 percent and to this day, has stayed down below 30 percent. So many of our readers remember that story."
As part of a redesign in November, Ars is going to make the appeal again, along with asking people to white-list the site to view content for free or subscribe for $5 a month. Fisher wishes other sites would follow Ars' example in doing more to educate their readership generally. "They are not as aware as I thought," he said. "I do think the big what's-at-stake piece is missing."
https://digiday.com/?p=139053