SI's LeBron scoop was a social media sensation. So, what now?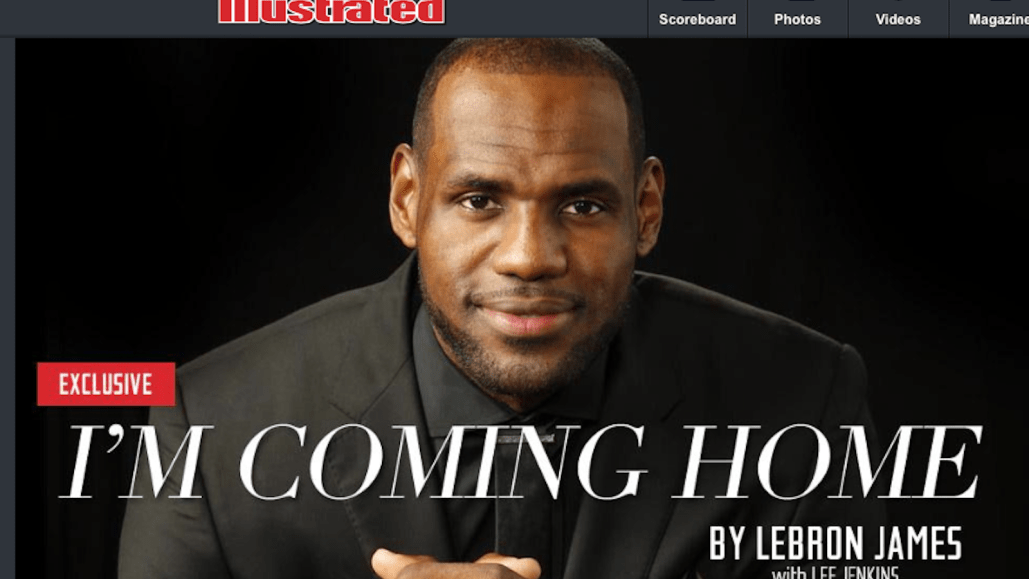 Sports Illustrated got the exclusive of the year Friday when free agent forward LeBron James announced in an open letter that he would be returning to NBA's Cleveland Cavaliers. Social media erupted.
Less than five hours after the story posted Friday, it had been tweeted a whopping 126,411 time, according to Simple Reach. It got 1,970 Facebook likes and almost an equal number of Google + follows (1,461). SI became a trending topic on Twitter, and so did James himself. (His handle @KingJames got 2.5 million mentions since the story broke on SI.com, according to Twitter Data.)
The story itself fell in SI's lap, with James promising them exclusivity in early July. Neither the editors nor the Cavaliers knew what James's much-anticipated decision would be before the open letter ran.
SI didn't immediately have traffic results for the story, except to say its traffic surge was the biggest in a decade, but its social following has been trending up generally. In the past three months, it gained 18.5 percent more Facebook followers, to 1.6 million, and 7.5 percent more Twitter followers, to 818,000, per Wildfire by Google.
It's always hard for publishers to capitalize on breaking news. Case and point: when Sports Illustrated got the big scoop, it didn't tell the ad side, lest SI compromise its exclusivity.
SI also didn't entirely get the benefit of its own scoop, as other articles that aggregated or otherwise re-reported the news came up first in Google search results. "It's something we are constantly working to improve upon," an SI spokesman said. "I think it's a systematic problem across the industry."
The question, then, for SI, is how to capitalize on interest in the story beyond the initial scoop. Since the story broke just after noon Friday, the sports brand has been focusing on maximizing its lead in the story.
The timing of the post wasn't by accident. By publishing it one hour before the airing of SINow, the brand's daily news video program, SI Now could do its own report on the news. The SI Now coverage was repeated later in the day for maximum effect. 120 Sports, SI's new digital sports network, also covered the story.
In the days ahead, SI will build on the news by publishing a magazine story and other follow-ups, said Chris Stone, SI's managing editor.
"This was LeBron's story to tell," Stone said. "We can complement this with a third-person story by Lee [Jenkins, the SI writer who helped James write the orginal first-person post]. There's still plenty of evolving layers to the story. The reaction in Cleveland, how it's going to be received. This story gives us a huge head start. But we have a number of stories that enable us to continue to control the conversation and put us forward as a leader."