This is the first in a four-part series, "Fixing The Publisher Model," looking at how publishers are experimenting with new models that can bring in additional revenue.

Publishers are often seduced by the siren song of "incremental." There are any number of intermediaries promising publishers magical revenue that will pad their top lines without calling for new inventory.
The latest in incremental: in-image advertising. The theory is simple: The Web's become a lot more visual, yet advertising, like banner ads, is made to frame text content. Why shouldn't publishers put in place new forms of ads that are — that word again! — "native" to photos? But the challenge for publishers is relevancy, whether targeting or contextual.
"It's a different paradigm to think about monetizing images and not pageviews," said James Everingham, CEO of Luminate, a tech company placing ads in photos. "Publishers used to just look at CPMs on pageviews, and to make that translation for images is difficult. Generally getting math that makes sense is a business challenge."
Luminate, which has clients like VH1 and FoxSports.com, provides in-image advertising and also ways to increase audience and engagement through the overlays. The New York Daily News, Boston.com, LifeHack are using GumGum, an image ad platform, to serve up overlays on images already on a publisher's site, using just a single line of code embedded onto an image.
For example, on this Boston.com article about how Fenway Park is a great place to see a concert in Boston, a Maybelline ad pops up over the lead image of Bruce Springsteen, Sting, The Rolling Stones and NKOTB.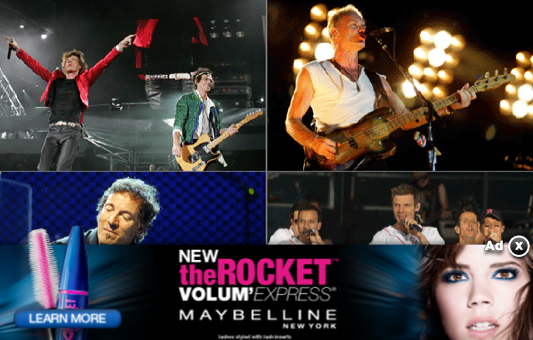 Publishers rely on ad networks for the ads. Several players have popped up, including GumGum, Luminate and in-text ad provider Vibrant Media. GumGum claims to pay publishers between $3 and $5 CPMs. Luminate says CPMs range, but on premium sites that are photo-heavy, the CPM could be around $10.
"We believe standard IAB ads are increasingly not effective," said Ophir Tanz, CEO of GumGum. "They take up valuable real estate on a page. We see a world that's more native. Publishers can use the entire real estate of the screen to deliver content and value to the user. A solution like this can monetize in the frameset of that content and image."
Zap2It, an online guide to find what's on television, has been running in-image ads since January 2012 through GumGum. Visit its site and hover over a photo of this slide show of America's Next Top Model, and you'll see a Twilight banner ad over the image of pretty people.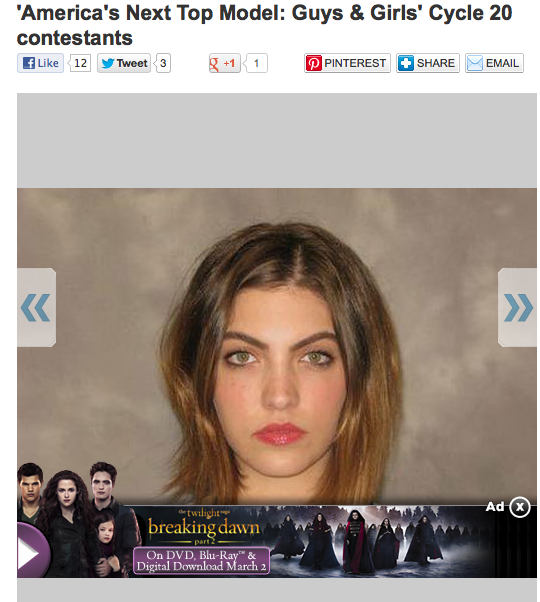 "It proves editorial content on a site still matters and has great value to an advertiser,"  said David Thomas, senior national advertising sales analyst at Zap2It. "Where the market is going with the rest of advertising, we work in a world where RTB has been labeled the future of business, but truth is, in-image is adding value to the site — proving content on the site can be just as valuable as the audience itself. It can drive serious engagement and serious advertising value to publisher and user."
The Washington Times started placing ads over images in November of last year. It runs about 100,000 images per month with ads, which is a small portion of its total images. And it only runs these ads on entertainment photos, like this photo set of the Super Bowl. Hover over the image, and you get a Cesar dog food ad, which isn't very relevant to the image at all.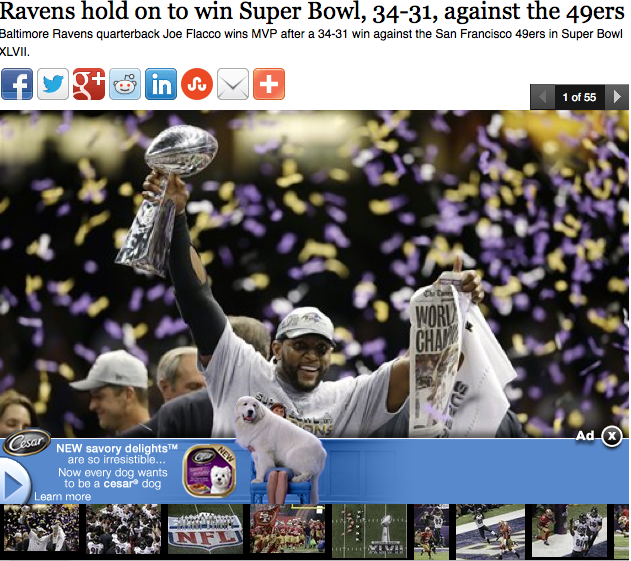 "It's an incremental thing we never had before, and as far as things we're always looking for, it's easy to implement, super easy to just start and get going," Lauren Best said. "The interface is great, which is always a struggle. You can go in and easily check out your revenue and interface. The ads look really cool. When they pop up, you see them right away, some are interactive and they just add some flair to images on the site."
Image via Shutterstock
https://digiday.com/?p=33387