With every ad dollar a struggle to come by, publishers are trying to tap into e-commerce. But while many have found e-commerce hard to pull off, an increasing number are finding there's money to be made in shoppable gift guides.
Skimlinks manages e-commerce for publishers including Gawker, IGN and Business Insider. Across its 2,000 larger publisher clients, users spent an average of $132 amount this past Black Friday, up from $104 in 2014, and three times the average transaction size for all of October. That's gone up because publishers have put an increased focus on gift guides and monetizing content in general, said Alicia Navarro, Skimlinks co-founder.
"2015 was an extraordinary year; normally editorial content sites don't do anything that special for Black Friday, and their revenues via affiliate reflect this," she said.
One publisher that's increased its e-commerce focus is Business Insider. It launched a small effort last fall and now has a two-person team that writes commerce-related posts under the "Insider Picks" banner, said Rich Kennedy, senior vp of business development there.
After commerce-related revenue "exceeded" expectations last year (though he wouldn't quantify it), Kennedy said BI plans to publish at least 25 commerce-enabled gift guides this season, across a range of different price- or category-related themes, like this one for low-cost tech gifts.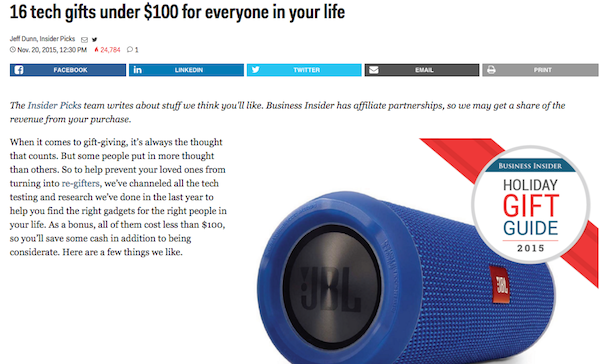 BI's readers are big online shoppers, and the publisher thinks it can help them by finding the best offers, Kennedy said. "There's a lot of deals on the Web, and it takes a lot of time to sift through them," he said.
Time Inc. has been expanding its e-commerce activities this year, with two publications, Food & Wine and Travel + Leisure, launching shoppable gift guides on their sites here and here. Collectively, the guides contain more than 300 items including products from Williams-Sonoma, Birchbox and Sephora.
One reason gift guides do well is that their readers are already in a shopping mindset. Buy buttons that may seem awkward in regular editorial content feel more natural in a gift guide. They also tend to have a longer shelf life than the typical article, so there's more opportunity for them to be discovered. In the case of Time Inc., the guides also are trading on the host publication's editorial reputation, as they're handled entirely by the editorial side.
For these reasons, the Time Inc. gift guides' conversion rates are "much higher than regular editorial," said Todd Kelly, vp of e-commerce at Time Inc. "Black Friday and Cyber Monday were huge."
Skimlinks ran workshops for publishers this year to give them ideas for how to create gift guides and other forms of monetized content. It teaches them how content can be a source of recurring revenue if it's kept up to date. With commerce-enabled content, publishers also can glean information about what types of products and brands their audience likes, which can in turn help publishers with their content and ad strategy, Navarro said.
But with commerce only contributes around 10 percent of total revenue at the most for publishers, publishers will need a lot more special occasions like the holidays to make commerce a significant source of revenue. According to Skimlinks, the average cut its publishers receive on a sale is 5 percent. And then there's the fact that a publisher may inspire lots of purchases, but it only gets a share of the sale when the shopper buys directly as a result of clicking on the commerce link.
That's why Time Inc. is pursuing other commerce models like its People store where  is the company taking a more direct control of the sales process (which lets it keep more of the revenue). "Affiliate is scratching the surface," Kelly said. "By its nature it has a ceiling — even if you sell a tremendous amount of product, you get a fraction thereof."
Image courtesy of Food & Wine.
https://digiday.com/?p=151038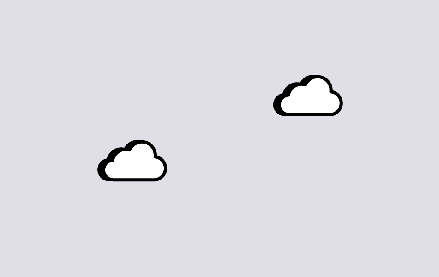 November 29, 2023 • 6 min read
Reducing carbon emissions from the digital ad ecosystem is an important priority, but various players are skeptical that much can — and is — being done to practice sustainability.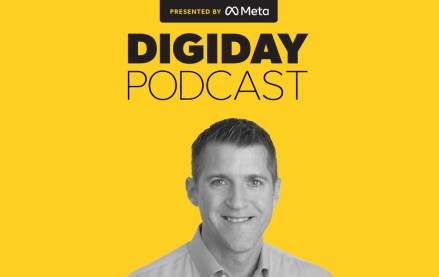 November 28, 2023 • 4 min read
Google's vp of global ads is confident that cookies will be gone from Chrome by the end of next year, despite all the challenges currently facing the ad market.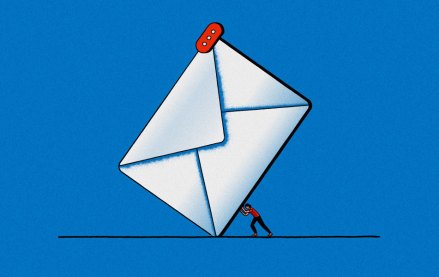 November 28, 2023 • 6 min read
Some email newsletter platforms' click-through rates are actually click-to-open rates, which are measured against the number of emails opened rather than the emails sent. But buyers seem to prefer it that way.